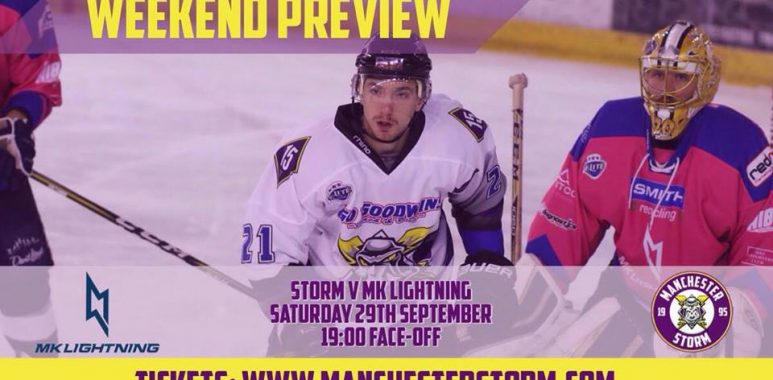 Latest News
Match Previews
WEEKEND PREVIEW: Storm to Defend the Title of the Patton Conference Against Lightning
Tickets for Storm's upcoming game against Milton Keynes Lightning can be ordered online HERE, or by calling the box office on 0161 926 8782, or in person at the box office.
This weekend sees Manchester Storm in a home game against Patton Conference opponents, Milton Keynes Lightning, before they venture across to Kirkcaldy to compete against Fife Flyers.
During the home game tonight there will be a one minutes applause  with 10:30 left on the clock as tribute for Cardiff Devils fan, Scarlett Thomas, who tragically lost her life earlier in the week.
MILTON KEYNES LIGHTNING- 29th September 2018, 19:00 face-off
New to the league last season alongside Guildford Flames, MK Lightning are no longer the new kids, and will be doing their best to stand out in the league. After some close games last season, there may well just be some tough competition for the Patton Conference trophy.
MK Lightning's GM and Head coach, Doug McKay has acquired quite a few fresh faces this Summer including Finnish foward, Joonas Huovinen, Latvian forward, Georgs Golovkovs and Canadian, David Norris – who is fresh out of Arizona State University.
Czech defenceman, Martin Mazanec will be finally playing  this weekend for the Lightning, after serving a belated suspension handed to him last season when icing for Les Aigles de Nice.
There will also be some familiar faces on Lightning's roster this season, as they have acquired four ex Sheffield Steelers, including Eric Neiley and  20 year-old Cole Shudra, who is on loan.
New to the EIHL and standing between the pipes throughout this season is netminder, Patrik Killeen, as well as Brit netminder and ex Blaze, Adam Goss.
One to Watch: Patrick Killeen, drafted #180 overall, round 6 by Pittsburgh Penguins, 2008.
FIFE FLYERS- 30th September 2018, 18:30 face-off.
The Storm make their way up to Scotland for the second time this season so far, this time to face the Fife Flyers.
Things got heated last season, with Storm winning four out of six games against the Flyers. After being knocked out by Flyers in the quarter finals last season and narrowly missing a top four playoff spot,  it'll be highly competitive and interesting to see what happens.
MATCH NIGHT INFORMATION
Doors open Saturday 29th from 6:00pm
Stick Raffle is Henry Pacl
50/50 & "Chuck A Puck" can be bought from the OSC stall, underneath block 113.
Webcast for the game can be bought here for £10
There will be a skating session available after the game, free with skates or £2.50 for skate hire.
The Station Hotel, Storm's official pub, will be open to fans for pre-match drinks.
Find the information for the rinks new entrance arrangements here.
The Storm's next game is a mid-week home game against Nottingham Panthers, 3rd October 19:30 face-off.
Don't forget you can still make a donation for Luke Moffatt's Charity Wing Walk event HERE, or why not secure one of the 2018/2019 Own & Loan jerseys Here.