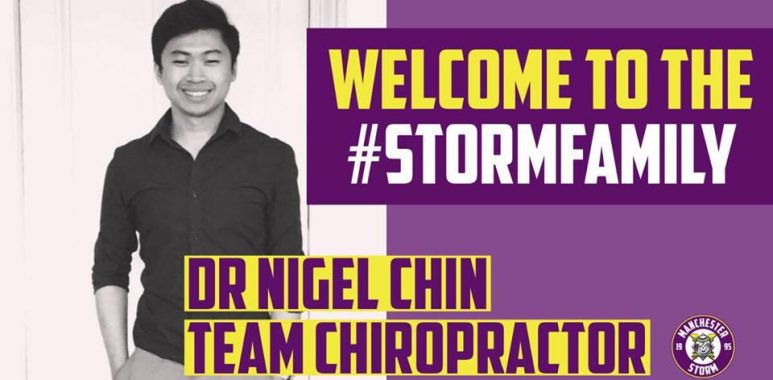 Dr Nigel Nathan Chin Back With Rehab Team for the 2018/19 Season!
Tickets for Storm's upcoming game against Milton Keynes Lightning can be ordered online HERE, or by calling the box office on 0161 926 8782, or in person at the box office.
Your Go Goodwins Manchester Storm, are delighted to welcome back Chiropractor, Dr Nigel Chin back to the club as part of Storm's rehab team for the 2018/19 season!
After a successful season, Dr Nigel Chin is returning to help the team reach its full potential alongside the rehab team at Manchester Storm. Nigel qualified as a chiropractor at the Welsh Institute of Chiropractic, where he developed a keen interest in treating sports-related injuries and rehabilitation. He adopts various treatment methods including Spinal Manipulative Therapy, sports taping, soft tissue release techniques, medical acupuncture, instrument assisted soft tissue manipulation (IASTM) and more. He also holds a certification in functional movement coaching, with the aim of targeting underlying movement dysfunctions and correcting them.
Throughout his career to date, Dr Chin has treated a range of patients: from toddlers, teens and geriatric pregnancies, to marathon runners, team GB track athletes, and professional footballers.
He currently offers consultations and treatments in private practice at Dynamic Chiropractic clinic in Sale, Manchester.
If you have health problems and want to enquire about treatments, you can look at the links below. Dynamic Chiropractic offer a range of treatments, from podiatry to massage therapy.
Email: nigel.chin@dynamicchiropractic.co.uk
Website
Don't forget you can still make a donation for Luke Moffatt's Charity Wing Walk event HERE, or why not secure one of the 2018/2019 Own & Loan jerseys Here.