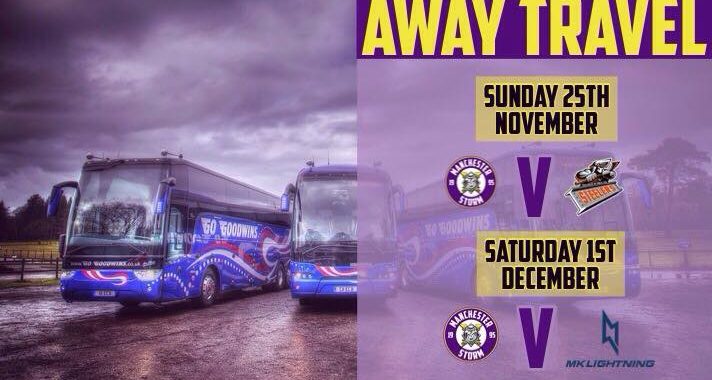 Tickets for Storm's upcoming game against Cardiff Devils can be ordered online HERE, or by calling the box office on 0161 926 8782, or in person at the box office.
Your Go Goodwins Manchester Storm are happy to announce Storm Force travel with Go Goodwins Coaches, this time to witness Storm face Patton Conference rivals MK Lightning – Saturday 1st December!
This game is the perfect opportunity to get another away game in before Christmas, so get yourselves booked via the Go Goodwins website HERE at just £35 for adults (including ticket). There's also still time to get booked with Storm Force for the upcoming away game against Sheffield Steelers this Sunday, 25th November. The deadline for this is Thursday 22nd November and is just £20 for adults (ticket included).
Sunday 25th November: Sheffield Steelers, 16:00 face-off, booking info here.
Saturday 1st December: Milton Keynes Lightning, 19:00 face-off, booking info here.
Tuesday 27th November is the inaugural Manchester Storm and Salford University Student Night event at Tiger Tiger Manchester! It's the perfect opportunity to socialise with friends and meet the players. Drink offers available, find more information HERE!