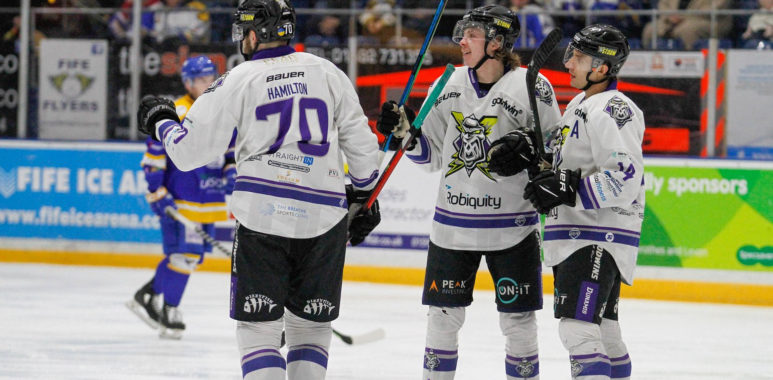 Storm edge past Flyers in OT
Manchester Storm avenged their 3-0 home defeat by Fife 23 hours earlier with an overtime win in Kirkcaldy by the odd goal in nine on Sunday night.
Carson Stadnyk tipped a shot past Jason Bacashihua with 4:50 played to give the Flyers an early lead, but it took just 20 seconds for Tayler Thompson to tie things up for Storm.
Two of Storm's young British players helped them build a 3-1 lead during the second period. Joe Hazeldine put the visitors ahead at 25:14 before Harry Gulliver deflected home Curtis Hamilton's feed at 35:20 for his first goal in EIHL league play having previously scored in the cup.
Kris Blumenschein threw a puck all the way through from the point to bring the score back to 2-3 37 seconds into period three, but 24 seconds later  Cameron Critchlow's speculative effort on the turn deflected off Shane Owen's stick and past himself into the net.
Matt Carter's slick finish in the slot from Jacob Benson's pass pulled the Flyers back to within one again with 9:10 left on the clock, with Benson then backhanding in an equaliser with 2:12 left after Erik Naslund's shot was blocked by one of his own players.
Fife pressed hard for the winner in overtime to lift themselves off the foot of the table, but they were caught out behind their own net and allowed Adam Brady time and space to fire in the winner at 62:45.