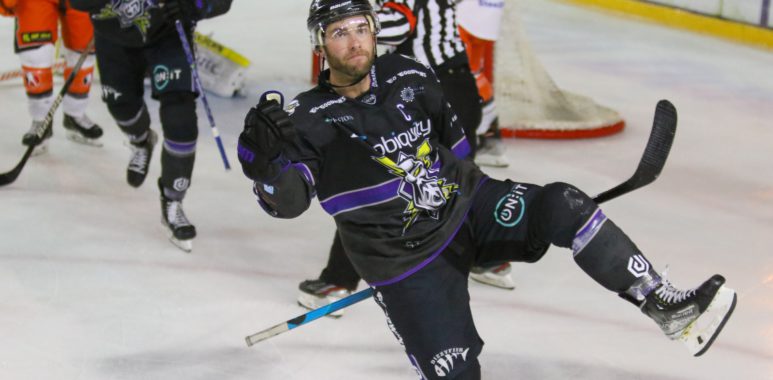 STORM DEFEAT STEELERS 5-3 IN PRE-SEASON THRILLER!
A battling performance by the Storm would secure their first preseason victory of the season, as they outlasted their bitter rivals from Sheffield 5-3
The new look Storm continued to excite the fans with their extra speed and attacking flair, as they looked to build upon the competitive matches against the Devils. A much deserved first goal for Korol was scored on the backhand, in the 9th minute, after an initial barrage of shots on Ostlund in the Steelers crease eventually generated a goal scoring rebound opportunity. Not long after, the hosts would double their advantage through Fawcett, in the 11th minute, courtesy of some impressive forechecking to maintain the zone presence. A contentious minor penalty assessed against the Storm would cost them, as the Steelers eventually found a way to get themselves onto the scoresheet – with a little over five minutes remaining in the period.
The two-goal cushion for the hosts was restored just after the midway point in the game – with captain Critchlow fastest to react to a loose puck in the slot. However, the Steelers would reduce the arrears just before the end of the middle period with the effective duo of Mosey and Latal combining to good effect. The 3-2 scoreline, in favour of the Storm, heading into the final stanza perfectly set-up a tense last twenty.
The hosts sprung back into action in the final period through Simmonds, in the 47th minute, as the Storm returnee gleefully converted the cross ice pass from Johnson – on the breakaway. A good team goal from the Steelers, in the 57th minute, would put huge pressure on Lavigne's net for the remainder of the match. However, the import netminder expertly withstood the pressure to secure the Storm their first well deserved preseason victory. The last piece of action was a buzzer beating empty net goal by Critchlow with just under one second remaining to underline the result.
Manchester Storm are back in action Saturday 3rd September inside the 'Storm Shelter' taking on Guildford Flames in pre-season action. Tickets can be purchased online HERE! Doors open 6PM for a 7PM start.