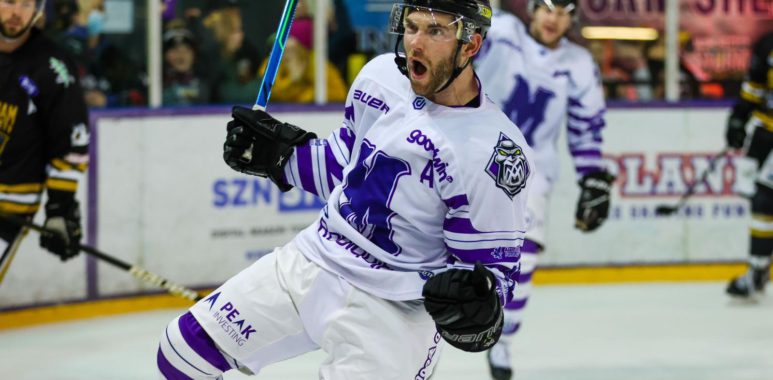 STORM convincingly DEFEAT PANTHERS, MOVE TO FOURTH IN LEAGUE
The new year was welcomed in by a sizeable Storm crowd, as the returning Matt Ginn shutout the visiting Nottingham Panthers to backstop a well-deserved 4-0 victory.
The initial stages of the first period were controlled largely by the visitors, as their heavy forechecking effort pinned the hosts deep in their zone for the opening ten minutes. However, an active Albrecht stick intercepted a pass from the Panthers blueline in the 12th minute of play to turn the Storm's fortunes. The deflected puck found the onrushing Critchlow, whose initial effort was well-stopped by Carr, until Thompson opportunistically converted the rebound from close range on the follow-up. This slender one-goal lead remained until the first intermission with both sides struggling to control possession on a particularly choppy ice surface, in the latter stages of the period.
The second period followed a very similar pattern to the first, as the visitors continued to press but any attacking attempts were immediately thwarted by a resolute Storm defence. Late in the period, the in-form Critchlow was able to find space in the slot following a precise set-up play by Thompson and Wilson. Following the passing play, Critchlow's low snapshot snuck between the pads of Carr, in the 39th minute, to double the Storm's advantage.
A quiet start to the final period was well-managed by the hosts as they kept the majority of the Panthers shots to the outside. The visitors frustrations would become apparent when two minor penalties, in quick succession, were assessed on the Panthers. However, a timid 5on3 effort came and went for Manchester with very few scoring opportunities created. Although, the hosts were quickly able to forget their inability to convert on the powerplay, as a failed clearance from the Panthers fortuitously bobbled into their own net- with Fawcett awarded the goal. An aggressive decision by Tim Wallace to pull the netminder with five minutes remaining, whilst on the powerplay, quickly backfired when Adam Brady expertly aimed a three-zone shot into the vacated goal. This fourth Storm goal iced proceedings and ensured the Storm would maintain their impressive home record.