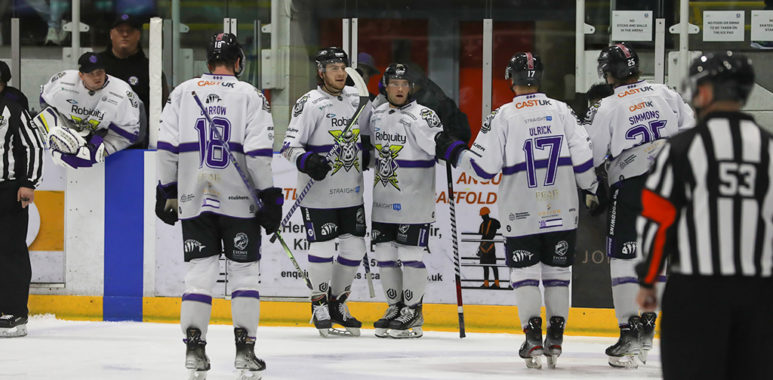 STORM COMPLETE HEROIC COMEBACK IN SCOTLAND, WIN 5-4 IN OVERTIME
Storm secured a huge two points on Tayside with a thrilling late comeback to secure a 5-4 overtime win against the Dundee Stars.
Dundee started quickly and Philippe Sanche opened the scoring after just 2:38. Romans Semjonovs doubled the lead at 15:26, and when Hugo Reinhardt added a third early in the second period it looked like a challenging night ahead at the Dundee Ice Arena.
Scott Simmonds got Storm on the board with the man advantage at 28:15, tipping in Zac Herrmann's point shot, but Elijiah Barriga restored Dundee's three goal lead early in the final period with a finish from close in. With the clock ticking down below 12 minutes, Michael Korol had a moment to remember, smashing home his first professional goal after being set up by captain Cam Critchlow.
The game turned five minutes later when the Stars turned the puck over while on the power play, allowing Kevin Ekman-Larsson to set up Tyson Fawcett to score shorthanded and reduce the lead to just one. Fawcett turned provider at 56:58, shovelling a face-off win to Dallas Ehrhardt to smack the puck past Anton Svensson in the Dundee goal and tie the game at 4-4, taking the match into overtime.
After a typically hectic period of 3-on-3 hockey, with Hayden Lavigne making a key save from Sanche with the game on the line, Cole Carter broke forward. Although his shot was saved by Svensson, top scorer Jesper Öhrvall was right on the doorstep to chip the puck in and secure the two points.
Storm have now won three on the trot and have a chance to make it four in a row tomorrow (Sunday 2nd October) as they take on the Cardiff Devils at Planet Ice Altrincham. Doors open at 4.30pm for a 5.30pm face-off and tickets are available online and on the door.
Tickets can be found online HERE or by calling 0161-926-8782 or in person at the Box Office.