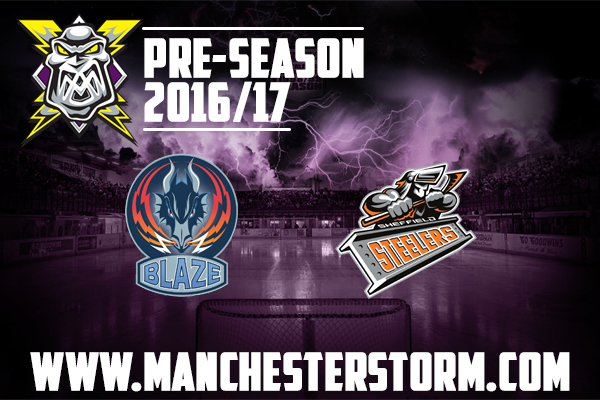 STORM ANNOUNCE PRE-SEASON FIXTURES!
The Manchester Storm are delighted to announce that our pre-season fixtures have now been fully agreed for season 16/17 season!
HOME FIXTURES:
WEDNESDAY 31st AUGUST vs COVENTRY BLAZE (7pm- EXHIBITION)
SATURDAY 3rd SEPTEMEBER vs SHEFFIELD STEELERS (7pm- EXHIBITION)
AWAY FIXTURES:
SUNDAY 4th SEPTEMBER vs SHEFFIELD STEELERS (5pm-CHALLENGE CUP)
WEDNESDAY 7th SEPTEMBER vs COVENTRY BLAZE (19.30pm- EXHIBITION)
Storm General Manager, Neil Russell, had the following to say about the pre-season fixture announcement;
"Firstly, I am delighted with these fixtures for pre-season. Coventry & Sheffield will provide tough opposition for us, and this is exactly what we want before heading into the regular season.
Sheffield, as current Elite League Champions, will be coming into our barn for the first time this season on Saturday 3rd Sept (7pm Face-Off), and I expect it to be another battle like all the games between the respective sides were last season! Sheffield also asked us for some assistance in organising a Challenge Cup game in Sheffield earlier than anticipated (Sun 4th Sept), and we granted that request. What a weekend of action that is going to be!!
Also, the 2 exhibition games vs Coventry are going to be really good tests for us. Blaze are under new leadership this season, with Danny Stewart now in charge there, and I expect both these fixtures to be hotly contested as both teams look to lay a marker down before the league action gets under way.
I cannot wait to get this season started!"
TICKETS FOR STORM HOME PRE-SEASON GAMES WILL BE AVAILABLE TO PURCHASE FROM TOMORROW (Tuesday 21st June) @ 11am. (The 2 home pre-season games are non season ticket fixtures)