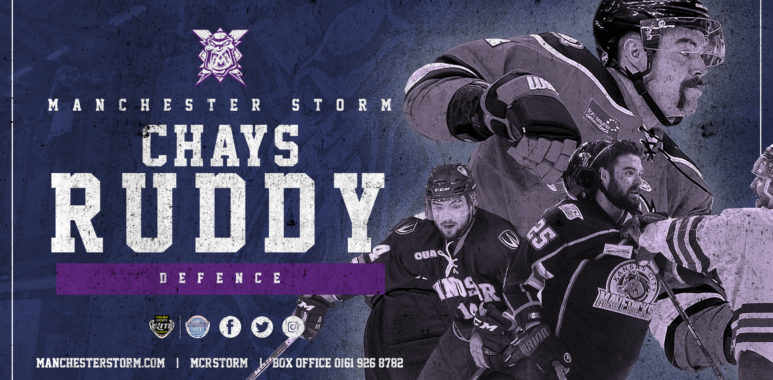 STORM ADD RUDDY TO SHORE UP DEFENCE AHEAD OF SEASON
Manchester Storm are thrilled to announce the signing of Canadian defencemen Chays Ruddy, most recently of Kansas City Mavericks (ECHL). 
The 24-year-old blueliner enjoyed a successful junior career winning the EBJCHL championship with Port Hope Panthers and following this up with the OJHL championship with Trenton Golden Hawks. 
This success saw him snapped up University of Windsor for the 2018-19 season, during which he would share the dressing room with former Storm utility player, Kyle Hope. 
Unfortunately, his finally season in USports was wiped out by the pandemic – but this would not prevent Ruddy from reaching the professional ranks in 2021. 
Ruddy would play 49 games in his debut season – splitting time between Fort Wayne Komets and Kansas City Mavericks.
Head Coach, Matt Ginn, had this to say about another new face joining his roster:
"Chays is a big presence on the blueline that loves playing a tough style of hockey and will always look to close out his opponent along the boards. 
He is calm and confident on the puck – with his ability to consistently clear the zone a huge reason for pursuing his signature. Chays takes a huge amount of pride in clearing traffic out infront of net and is always willing to stick-up for his teammates."
Catch Chays Ruddy in action next month along with the rest of the 2022/23 Manchester Storm squad! Tickets for our pre-season schedule are available now online HERE, by calling 0161-926-8782 or in person at the Planet Ice Box Office. See you soon, Manchester!