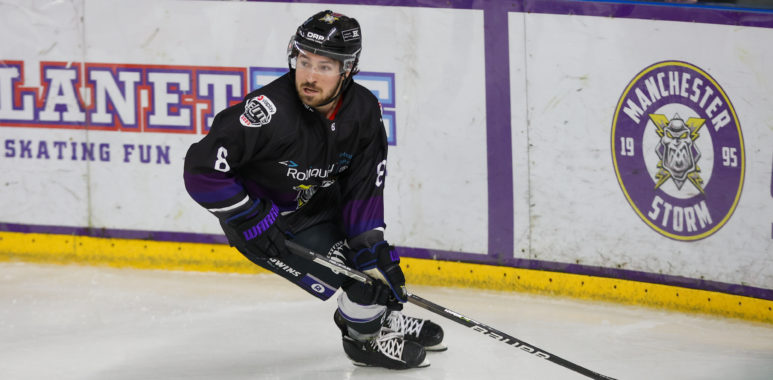 STORM 2-2 STEELERS – HOME LEG QUARTER FINAL
Playoff quarter finals night in Altrincham saw the Sheffield Steelers make the short trip across the pennines.
Storm were looking for a big result, in-front of a packed shelter, heading in to the second leg away in Sheffield on Saturday. A fractious start to the game saw the penalties handed out early as both sets of players came together in front of Greenfield. The Storm survived their penalty kill with some solid defending, boxing out the Steelers forwards. Despite the Steelers hitting the post neither team really had any clear cut chances to take the lead.
The scoreboard remained blank heading into the first intermission with the visitors slightly outshooting the Storm. It took just twenty seconds for the deadlock to be broken, at the start of the second, when Neumann converted from close range after a pinpoint pass from Ciampini. The Storm responded with some steady offence but couldn't make it count as Sheffield's defence stood strong and absorbed the pressure. A dubious interference call on the Storm gave the Steelers another chance on the powerplay late in the period. And it was Connolly who put his team up by two, taking advantage of the extra space.
A big final third was needed to try and draw level with the visitors. The Steelers were awarded a long five minute powerplay early in the third. It was Bricknell who received a five plus game major penalty for a check to the head which left Pitule down injured. The Storm survived the lengthy powerplay as the Steelers failed to beat the in form Brodeur. The home crowd erupted with just over seven minutes remaining when Critchlow fired the puck past Greenfield to half the deficit. Moments later the score was levelled after Barrow drove to the net and set up Simmonds who somehow manged to get the puck across the line.
The momentum was definitely in the Storm's favour at this point and they were unlucky not to take the lead. Time expired however, with the first leg score finally balanced at 2-2, with all to play for tomorrow night.