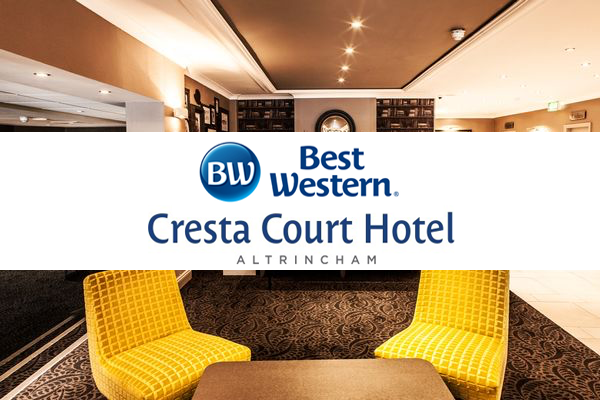 SPONSORS: Cresta Court Extend Their Stay!
SEASON TICKETS: The Go Goodwin's Manchester Storm are pleased to announce that season tickets for the 2017/18 Elite Ice Hockey League season are now available to purchase. Season Tickets can be ordered online by clicking here, by calling the box office on 0161 926 8782, or in person at the box office.
Your Go Goodwin's Manchester Storm are delighted to announce that the Best Western Cresta Court Hotel have signed up as a sponsor for another season & continue to be the clubs Official Hotel Partner!
Based in Altrincham and a short distance from both the rink and Manchester Airport, the Best Western Cresta Court Hotel boasts 140 rooms but they are equally well known for their events and excellent wedding facilities.
Storm General Manager, Neil Russell, was thrilled to have the Cresta Court back onboard for another season, commenting:
"I'm delighted to have the Cresta Court back on board as a sponsor here at the Storm for a second season. They are excellent to deal with and have been very supportive of all things Storm since our partnership started last season. I know that a lot of the travelling teams and fans enjoy staying there when visiting the Storm Shelter for games, and they are always looked after brilliantly well. We also enjoy using the hotel for various events throughout the year, and find the facilities and staff superb. A huge thanks to both Angela Grace and Paul Hindley from the Cresta Court, for all their help throughout the year."
Angela Grace, Corporate Sales Manager for the Cresta Court Hotel was equally delighted to renew the sponsorship with the Manchester Storm:
"All of us at the Cresta Court hotel are thrilled to renew our deal ahead of the 17/18 season. We love having numerous Storm events at the hotel throughout the year, and always enjoy having the players and fans here at the hotel. Equally, we are always delighted to have so many travelling teams and their fans come and stay with us when they're watching their team on the road. It always provides a great atmosphere within the hotel.
We look forward to seeing another year of progression for the Storm on and off the ice, and of course, if you're staying in the Altrincham area, be sure to come and stay at the Cresta Court Hotel and quote "Manchester Storm" for the best rates. We look forward to seeing you all over the course of the season."
You can find out more information about the Best Western Cresta Court Hotel by visiting the http://www.cresta-court.co.uk/ for all your accommodation requirements, superb tribute nights, wedding and meeting venue.