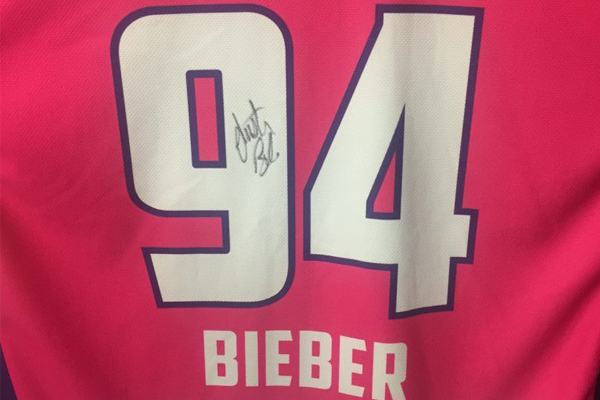 SIGNED BIEBER JERSEY – AUCTION NOW LIVE!!!
TICKETS: The Go Goodwin's Manchester Storm are back in action this Saturday 5th November, as we take on the Nottingham Panthers here at the Storm Shelter. Face off is at 7pm and tickets can be ordered online or by calling the box office on 0161 926 8782, or in person at the box office.
Unless you've been hiding under a rock the past couple of days, you will know the Manchester Storm had a very special guest appear at SilverBlades Altrincham last Tuesday night, as global superstar, Justin Bieber, came to skate with the team!
A few days later we were delighted to announce that we have a personalised Justin Bieber jersey, signed by the man himself whilst he was here at the Storm Shelter on Tuesday evening.
The signed top is a personalised Bieber "Pink The Rink" jersey which we will be auctioning off, with ALL proceeds going to the Christie Cancer Hospital in Manchester.
We are delighted to announce that fans are now able to bid on this unique jersey by clicking HERE, and that the closing date for the auction is Thursday 10th November at 6pm. Please note, if there is a bid in final 10 minutes, the auction extends a further 10 minutes.