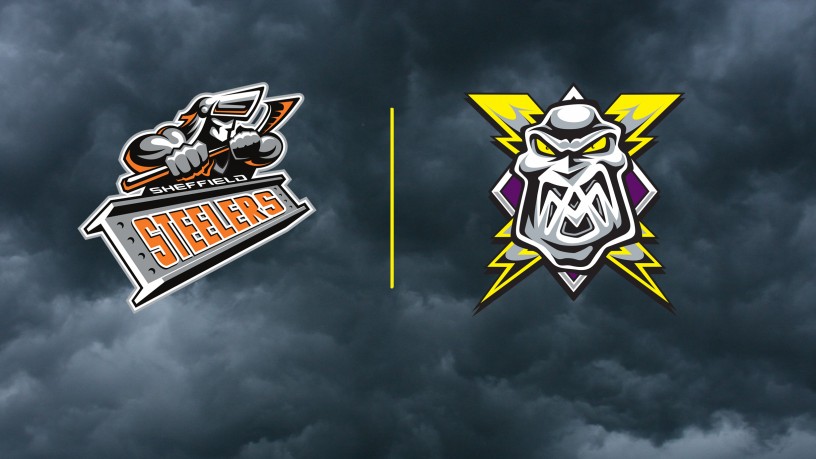 Sheffield Steelers 5-2 Manchester Storm
NEXT HOME GAME: The Go Goodwins Manchester Storm face the Braehead Clan at the Storm Shelter on Sunday the 10th of January (5:00pm face-off) in Elite League action. Tickets can be purchased online via the website, calling the box office on tel: 0161-926-8782 or on the day at the box office.
Over 200 fans followed the short benched Go Goodwin Coaches sponsored Manchester Storm to the Sheffield Arena, as they saw the Storm fall 5-2 to the Sheffield Steelers in Elite League action.
The Storm and the travelling fans were rewarded early on in the first period for their efforts with a beautiful goal by Matt Paton (6th of the season) just over 2 minutes into the period, to send the Storm 1-0 up over the home team. The Storm continued to press hard for goal number two, but were unable to stop a determined Steelers team from tying things up around 10 minutes later, when Levi Nelson slotted one past Zane Kalemba in the Storm net to make it a 1-1 game.
The second period saw fast and skilful hockey being played by both teams, as they both looked to find a way to take the lead. The Storm however, were on the receiving end of a Steelers goal, as Zane Kalemba, who was on his back after being knocked over, was unable to stop the shot from Russ Moyer with 1:30 to go in the period.
The Storms lack of men came to light in the third period, as tired legs were unable to stop the Steelers from scoring two more goals early in the third. The Storm however continued to fight back, and while on the power play & playing with an extra man after pulling Zane Kalemba, Grant Toulmin blasted home to send the travelling Storm fans to their feet! With the score 4-2 to the Steelers, and on another power play, the Storm pulled Zane Kalemba yet again to give them the extra man – but this double edged sword unfortunately wasn't as kind as the last goal, as the Steelers were able to break away and score an empty net goal and secure the two points for the Yorkshire side. Final score: Sheffield St.eelers 5-2 Manchester Storm.
MOM for the Sheffield Steelers: #19 Rodney Sarich
MOM for the Manchester Storm: #10 Luke Salazar
ATTN: 5790