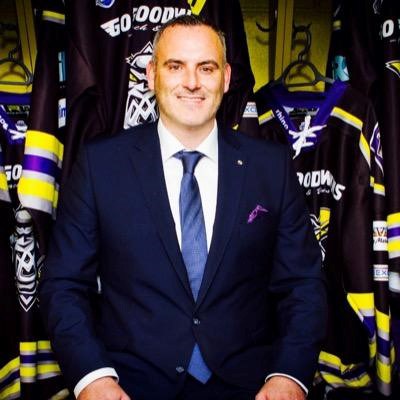 Hi Storm fans,
I hope everybody had a good Christmas and New Year, and enjoyed time with your loved ones. Like a lot of pro sports teams over the festive period, ice hockey has been all go go go!
It's been great to see the Storm Shelter getting busier and busier week-by-week. This past weekend has filled me with so much pride, you have no idea. A packed out barn on New Year's Day with an incredible atmosphere, and what a game too.
And yesterday in Sheffield? Wow. Two full coaches filled with Storm fans, and many more travelling in their cars helped create a superb sight for an away game. Easily over 200 fans made the trip, and sang the whole 60 minutes. Amazing.
The standing ovation given to our players at the end of the game was special too. Everyone inside that building saw how short benched we were, but they also saw a team 100% dedicated to the cause. As I've said on many occasions, that is all fans ask of their players. Pride and passion in the badge on the front of the jersey. We get that from our team.
I was speaking with the Steelers owner, Tony Smith, outside the arena post-game and he saw all the Storm players boarding the fan coaches, thanking them for making the trip. His words summed it up: "This is amazing, Neil".
Small things matter in ice hockey. A simple "thank you" or a brief conversation from players to fans means a whole lot. I saw the benefits and sense of community formed in Belfast for 16 years because of the fans accessibility to players, and I hope we have created something similar here in Manchester with the Storm.
This first season was always going to be about laying solid foundations for our club, and on the whole that is what we have achieved. The amount of people who took up our half-season ticket offer was simply superb, and it just goes to show that we can and will build something really special here with the Storm.
The other thing which is filling me with a lot of pride is seeing the amount of replica jerseys around the rink on game nights. It really is superb to see our fan base growing and wearing the Storm colours with pride. Thank you all for your support.
The players have loved seeing the stands fill up week-by-week too. They are just as aware as the management that we all set out on a big journey in the summer. We are now starting to see a lot of the hard work pay off, while never resting on our laurels and knowing we have a way to go before myself and other management are fully happy!
As mentioned last week, we have unfortunately lost Jamie Chilcott for personal/family reasons, and I would just like to thank Jamie for all his efforts with the Storm in the first few months of this season. He was an incredibly popular teammate, and a player who gave his all each shift.
Also, as you may have noticed, we have fallen foul to the dreaded injury curse, with some of our squad playing through the pain barrier, while others are now out of the line-up. Our superb medical team are working extra hard right now to get the guys ready for game action as quickly as possible.
Now to the subject of unallocated seating which we are trialling throughout January. There are a few reasons behind this, most notably the fact that the Box Office is getting swamped by fans arriving around 15 minutes before face-off. In turn, this leads me having to delay face-off, which is not ideal for the players or indeed fans who have arrived in good time for the game.
I can understand frustration from some quarters about this trial, but it's exactly that, a trial. Up until this season, the rink never operated with allocated seating, but we are exploring options to try make the whole process quicker and easier for everyone.
All season ticket holders have their seats clearly marked. For any group bookings of 10 or more please call the Box Office on 0161 926 8782, and the staff will be able to accommodate you with allocated seating.
So my simple message is this, PLEASE bear with us while we trial system this for a month.
I have every confidence that we will continue to see the Storm Shelter get busier and busier as the season progresses, there really is no better sport to come and watch LIVE. Hockey is a superb family night out, so keep spreading the word.
I look forward to seeing you all next Sunday (January 10) at our home game in Altrincham vs Braehead Clan (Face-off 5pm).
Get your tickets NOW by calling 0161 926 8782, and bring along family and friends to let them see in person what you've all been enjoying.
Also, we have 3 bus loads of fans heading to Braehead & Edinburgh on the 15th/16th Jan, if you would like to join us, please contact storm@gogoodwins.co.uk to reserve your spot! It's going to be one heck of a trip with so many Storm fans travelling!
Happy New Year to all Storm fans, and indeed hockey fans across the EIHL.
Thank you all for your incredible support to date, let's keep moving forward together.
Regards,
Neil