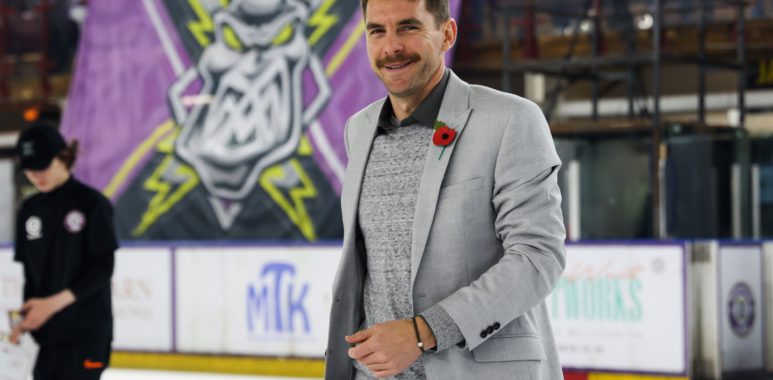 Resident Writer Callum Schora Sits Down With Head Coach Matt Ginn For Q&A
PRE-SEASON: Tickets for our pre-season fixtures on Saturday 16th September and Wednesday 20th September are available online HERE, by calling 0161-926-8782 or in person at the Planet Ice Box Office!
Our resident writer, Callum Schora, very recently sat down and caught up with Matt Ginn ahead of the fast-approaching 2023/24 EIHL campaign. 
CS: How did you find your first full season coaching the Storm?
MG: I really enjoyed my first-year coaching. There was obviously lots of ups and downs and learning on the fly, but it was a good group to work with and having Ryan and Mike around made the transition a lot easier. I think we made a good step last season and we are looking to improve on that this year. I think coaching is a job that you're constantly learning no matter how long you've been doing it, but I do feel more prepared going into this season.
CS: Do you think being a former goaltender helped with your transition to the bench?
MG: I don't know if I'd say that being a goalie helped with the transition, but it definitely gives you a good view of the game. One area is maybe as a goalie that relates is when you give up a goal you'd have to reset and I think that applies to coaching as well when something doesn't go as planned or something negative happens. You have to be able to flush that out and try to stay even keeled as the players feed off of you.
CS: How do you feel this roster compares to last season's squad?
MG: We tried to retain a lot of our core pieces going into this season and I think we were able to do that for the most part. Like I said, last season was a good start, but we aren't satisfied with just making the playoffs. We want to improve and I think we have done that. Last year we were the youngest team in the league (both on the ice and behind the bench), so we got a little bit older and added some experience throughout the lineup which I think is important to have that mixture of youthful energy and experience. We also wanted to be a physically harder team to play against, so we looked to improve in that area as well.
CS: After such a strong campaign in 2022-23, was recruiting players easier this time around?
MG: I'm not sure if it was easier to recruit, but we did notice that players wanted to come to Manchester. I think that is reflective of the direction that the club is going, and the hard work that goes on both on and off the ice. Manchester is a great city to live in, and we do everything that we can so that guys and their families enjoy their time here. I'm excited for this season and the group that we have brought in.
CS: What style of play can the fans expect to see in the Shelter this year?
MG: We want to a hard-working team that is tough to play against. The game is built around speed now and I thought that was probably one of our biggest assets last season. Therefore, the goal this year was to have good team speed, and make teams earn everything that they get against us. I think that hard-working and exciting style is one that the fans will be able to get behind. One area we wanted to improve, which got better as the season went on, was our defensive play. Again, we want to make teams earn anything they get against us and not give up easy goals. The blueline has some more grit to it than last year.  
CS: After the slightly unexpected loss of Scott Simmonds – do you feel we have that two-way high-energy forward replacement ready?
MG: I think we brought in a lot of guys that fit that two-way style of play. In our rink especially, there is nowhere to hide and you have to be ready to battle and compete so that is one thing that we stressed when looking at players this season. I think we have more depth this season, which makes it more difficult for teams to match up against us like they have in previous campaigns. We want to be able to roll our lines to keep the high-tempo pace that we want to play at. Hockey is an incredibly fast paced game and things tend to happen quicker in the Shelter. 
CS: The blueline group all appear to be excellent skaters, is that something you have targeted in your recruitment on the backend?
MG: On the back end, we did look for players that are able to skate and move pucks. Like I said earlier, you have to be able to skate now to be effective and that's both offensively and defensively. I think we have a good mix of size and puck moving defencemen back there. We wanted to improve the defensive side of our game and that's not just allowing less goals, but also ending plays earlier and getting the pucks to our forwards so we can play more in the opposing team's end.
CS: The stability in our leadership group has been something the club has wanted for a while now, do you think you have found the right balance between youth and experience?
MG: It was important to bring back a lot of our core players, which includes our leadership group. Having guys like Critchlow, Johnson and Ehrhardt and others who have been around and know the league is great. They will lead the way and obviously our league format is a little different to that in North America, every game is important and that will be stressed from the first day of camp. We also added some guys who have experience at the AHL level and top European leagues so that will be valuable for us. It is also important I think to have that youthful energy to drive the pace and bring life to our team as it is a long, grind of a season.
CS: The signings of Connor Lee and Alex Oldale have been well-regarded throughout the entire Elite League fan base, how did these deals come about and what impact can you see them having?
MG: I think it's great to add Alex and Connor to our group. Connor is someone that we've had our eye on for a few years and we think is one of, if not the best prospect in his age. It will be huge for his development to be around guys who have played at high levels and learn the pro game. There will be a learning curve for him, but he's a smart kid that wants to get better. It's great that we were able to sign him to a 3-year contract too, with the emphasis being on his development and growth as a player. 
Alex practiced with us last season and right away earned the respect of the coaching staff and the players with how hard he worked. He battles in practice and improved so much just from skating with us last year. I expect him to take another step this season and again I'm excited to work with him and see him continue to grow and improve. It's exciting for me as a coach to work with these kids and help them develop.
CS: With players are arriving very soon, what pre-season schedules do you have drawn up from them on arrival?
MG: I'm really looking forward to getting the players in. It's sort of that time where I'm chomping at the bit and ready to get going. They'll fly in, have an informal skate where they can test out the new equipment and get comfortable with that and each other. From there we will have our induction day and then training camp will start the following day. It's nice to have 4 exhibition games over the 2 weeks where we can mix things up and try to find chemistry throughout the lineup. We have a lot of versatility, which will bode well for us going forward.
CS: Do you have any final words for the fans before the season gets underway? 
MG: I hope the fans are as excited for the upcoming season as I am. I think we have a great group and will surprise a lot of people. The league continues to improve and I think every team got better so it should make for a fun season. The fan support was tremendous last season and it makes it a lot of fun when the Shelter is packed so continue coming out and filling the barn. 
I am looking forward to seeing everyone again and thanks for the continued support. Go Storm!
PLAYER SPONSORSHIP: If you're interested in sponsoring a Manchester Storm player or member of the coaching staff for the 2023/24 Elite League season, please contact RF@storm-office.com for more information!