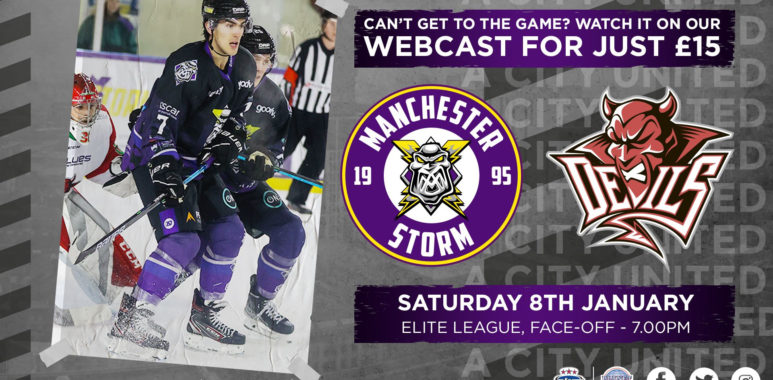 Latest News
Match Previews
PREVIEW: Storm chase points against Cardiff Devils this Saturday
Manchester Storm vs Cardiff Devils – Saturday 8th January 2022 @19:00 – Planet Ice Altrincham
Cardiff Devils will now travel to Altrincham instead of Dundee Stars, who have been placed into covid protocol. Read more information here. Anyone who bought tickets for Saturday ahead of the fixture change announcement will still be able to gain entry.
Storm travelled to face Cardiff on Wednesday 5th January for a closed doors game and will once again be chasing EIHL points, this time on home ice.
New Year's Day game was a huge success. A 4-0 win against Nottingham Panthers secured the Storm 4th place in the EIHL table with 20 points.
Doors open at 18:00 for a 19:00 faceoff.
View Manchester Storm fixtures for the upcoming 2021/22 season here. Please be aware some fixtures may change due to covid protocol and keep an eye out on social media for our rescheduled fixtures.
Tickets can be purchased online here. Alternatively you can book via phone by calling 0161-926-8782 or book in person at the box office. 
Webcast 
If you can't make Saturday's game, get the webcast via Storm TV here. 
TEAM NEWS 
Adam Brady sits in the top 10 EIHL players with 23 points, including 10 goals and 13 assists.
Storm forward Cameron Critchlow also scores high on the leaderboard with 19 points.
COVID-19
Due to the rapid rise of covid-19 cases across the UK, we have some new rules in place when visiting the Storm Shelter. 
Under the new government rules, face masks and coverings will now be required in the Storm Shelter. Those who are exempt must provide proof at match night entrances.
Planet Ice staff and match night stewards will also be wearing masks and as always will be happy to help with any enquiries. 
50/50 AND SHIRT OFF THE BACK RAFFLE
This weekend you can win Curtis Hamilton's game worn Winter Classic jersey. Enter here, tickets are just £1. 
50/50 is now operating as cash only and you can buy tickets from match night stewards around the rink and the Storm Support desk.
STORM SPORTS
Storm Sports Store will be open an hour before the game and during intermissions. Storm Sports sells a variety of Manchester Storm merchandise and various hockey equipment.
Can't make the game? See what's available via Storm Sport's website here. 
STORM SUPPORT
Head to Storm Support under block 112-113 to join the Supporters Club. Here you can purchase Storm merchandise such as pucks, and buy 50/50 tickets and your chuck a pucks. Chuck a puck is held during the second intermission.
Follow Storm Support on Facebook @McrStormSupport or Twitter via @Mcr_StormSuprt