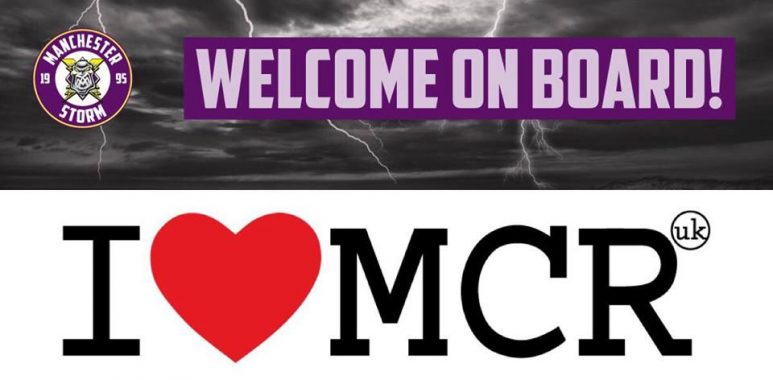 Partnership: I Love MCR signs up for 2018/19 season!
Tickets for Storm's upcoming game against Glasgow Clan  can be ordered online HERE, or by calling the box office on 0161 926 8782, or in person at the box office.
Your Go Goodwins Manchester Storm, are delighted to welcome I Love MCR on board as a partner for the 2018/19 season!
Described as "As Manchester as it gets," I Love MCR, are a small team of like-minded individuals with the same passion – an appreciation and adoration for the city of Manchester.
The organisation was launched as a response to the riots across Manchester and Salford in Summer 2011 – it's main aim to act as a remedy towards the anti-social behaviour, and instead, express their unconditional love for the city.
I Love MCR was originally created to inspire and bring together the communities across Greater Manchester, using a variety of marketing and advertising strategically. They collaborate and run campaigns with charities, businesses and media partnerships; aiming to boost the local economy and show the world the positives Manchester has to offer. Like ourselves at Storm, they are proud of what their city has to offer and hope to inspire others with news.
Amar Chana, Advertising Director for I Love MCR.  is looking forward to collaborating with Manchester Storm, commenting;
"We are proud to be getting behind another Manchester team. For most Mancunians, Ice hockey probably isn't a sport that springs to mind when you think of Manchester, but we have a great team in Storm and we are genuinely excited about this collaboration!
"Players skating at speeds in excess of 20mph and the puck travelling at 100mph? No other sport comes close to Ice hockey for non-stop action! If you've never been to a game before, give it a go. You won't be disappointed!"
Stuart Pendlebury, Sales Executive for Manchester Storm, commented;
"It's absolutely brilliant to have I Love MCR on board as a partner for the 2018/19 season. They will be helping us promote the Storm throughout Manchester city centre and the surrounding areas and we look forward to collaborating with them."
You can show your support for I Love MCR® on social media using the links below, you may even find out things about your city you didn't even know!
Twitter
Don't forget you can still make a donation for Luke Moffatt's Charity Wing Walk event HERE, or why not secure one of the 2018/2019 Own & Loan jerseys Here.