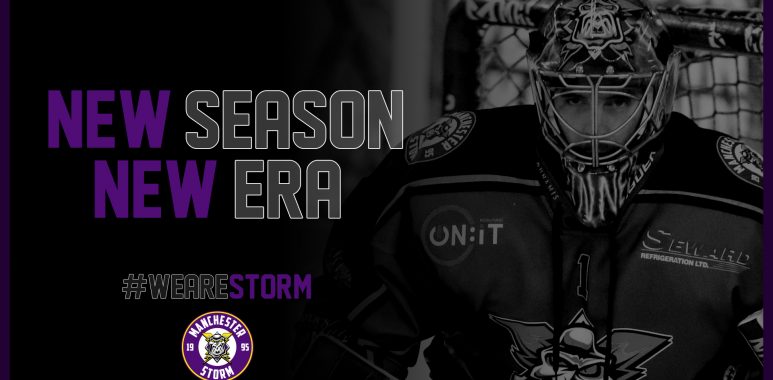 PARTNERSHIP NEWS: DUNAMIS SPORTS STRIKE TWO-YEAR DEAL WITH CLUB!
Tickets for Storm's upcoming preseason game against the Belfast Giants can be ordered online HERE, or by calling the Box Office on 0161 926 8782. Face-off is at 17:30 Sunday 15th September.
Your Goodwin Group sponsored Manchester Storm are pleased to announce that Dunamis Sports Wear have struck a two year deal with the club as the exclusive jersey manufacturer & official team-wear provider!
Founded in 2014 in England, Dunamis has rapidly become one of the most renowned brands in ice sports and more. The company has a brilliant reputation for high-quality sports clothing and equipment, and has played an important role in helping shape the Storm's identity across the last few seasons.
All the jerseys are designed and manufactured in the UK, ensuring a quick response to orders and dispatches.
We are excited to continue the special partnership with Dunamis Sports Wear and looks forward to future projects and jersey releases with the company over the next few years.
Alex Styles, owner of Dunamis Sports Wear commented,
"We are very privileged to be working with Manchester Storm franchise. Ryan, Emma and the Team at the Storm shelter have really helped us grow as a leading company.
 "This year we are extremely excited with not only doing Storms on ice clothing, but also doing Storm off ice clothing too. Ryan and Storm have both jumped on board with Dunamis Sports vision of becoming a leading brand in the Sporting industry, and signing a two year deal with them just keep us pushing toward that goal."
Head Coach, Ryan Finnerty added,
"It's been a great working relationship, Dunamis has always delivered and we have built a fantastic working relationship with Alex and his team. We are excited for what the future holds, as we continue to bring out more exciting jerseys for our fans."
Dunamis' company logo will be proudly displayed on the jerseys this season, as well as the ice and boards in the Storm Shelter.
You can show your support for Dunamis  by following them on Social Media below:
If you would like to become an official Manchester Storm sponsor for the 2019/20 season, please get in touch with Liam Hesketh at Liam@storm-office.com for more information! Full player sponsorship, rink advertising, brand placement, kit sponsorship, SMO and more available now.