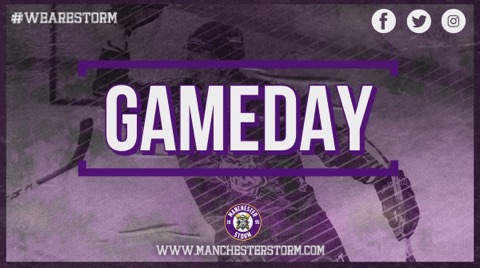 Latest News
Match Previews
WEEKEND PREVIEW: Storm to face Steelers and Giants!
Tickets for Storm's upcoming game against the Belfast Giants can be ordered online HERE, or by calling the Box Office on 0161 926 8782. Face-off is at 17:30 Sunday 15th September.
Your Goodwin Group sponsored Manchester Storm are BACK this weekend following a home opener win against the Dundee Stars last week!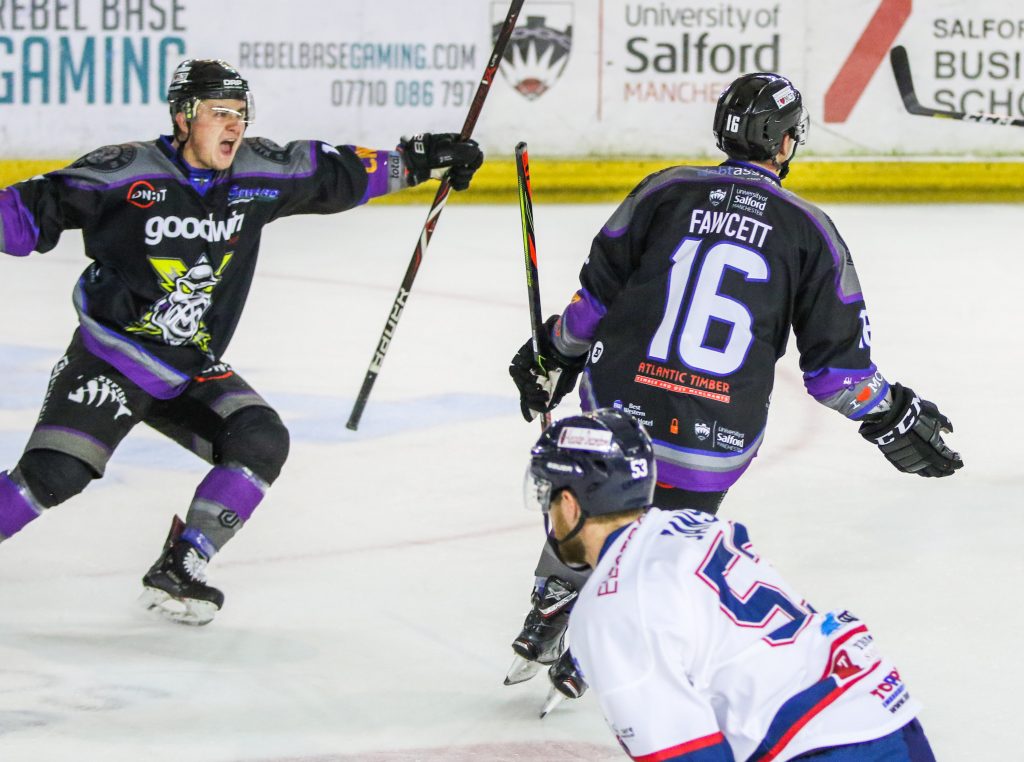 Manchester Storm v Sheffield Steelers – Saturday 14th September – FlyDSA Arena, Sheffield (Challenge Cup) –  F/O 19:00
The Storm travelled across the Pennines yesterday to face the Sheffield Steelers and kick start their Challenge Cup campaign. This season, Storm sit in a group with Steelers and Nottingham Panthers. 
The Steelers and Panthers began their Challenge Cup the first weekend of September. The results were mixed, Steelers winning 8-4 on night one and Panthers made a comeback on the Sunday, beating Steelers 5-1. 
The Steelers have also had mixed results with their EIHL campaign so far. Last weekend saw back-to-back games against Coventry Blaze, this saw them losing 6-4 at home on Saturday and winning 4-1 away on Sunday. 
The Storm fell 3-1 to the Steelers last night. Overall, it was a competitive game; both sides and their fans teaming up to applause Vicki Thomas for 44 seconds. Today, the Storm look for their second win on home ice in EIHL game against The Belfast Giants.
For more information on Challenge Cup ticket information, click here.
Manchester Storm v Belfast Giants – Sunday 15th September – Planet Ice Altrincham – F/O 17:30
Storm face visitors, the Belfast Giants at home this Sunday for a 17:30 face-off time. This will be the first game of the Giants EIHL campaign, as they look to defend their 2018/19 championship title. Expect to witness a highly competitive game between both sides. 
Recently, the Giants faced faced Czech team, Bili Tygri Liberec and German side Ausberg Panther in the group stage of the Champions Hockey League.  
There are plenty of new faces added to the Giants roster; including NHL draftees Curtis Hamilton and Liam Reddox, plus defenceman, Patrick Mullen and Jesse Forsberg.
One to watch: Patryk Wronka 
Match Night Information
The Storm family were hit with the devastating news this week regarding the passing of Vicki Thomas, wife of Mark Thomas. The club would like to pay it's respects by holding a one minute silence prior to the National Anthem. We also want to encourage everyone to wear something pink this Sunday. So, lets pack the shelter and show our support. 
Doors open Sunday 15th September, 16:30PM
Face-off is at 17:30PM
Ticket information for games can be found here
Tonight's Shirt off the Back is netminder, Matt Ginn
We also have a match night stick raffle, tonight you can win Adam Hughesman's (left-handed)
Match night raffle tickets can be purchased by match night volunteers around the rink and from the OSC
Visit  the OSC stall underneath block 113 to purchase 50/50 and Shirt off the Back tickets, also enter the match night "Chuck A Puck" competition
If you can't make Sunday's  game, Storm TV have you covered, buy the webcast here
There will be NO free skate following tonight's game
If you're looking at group bookings for final game this season, contact liam@storm-office.com for more information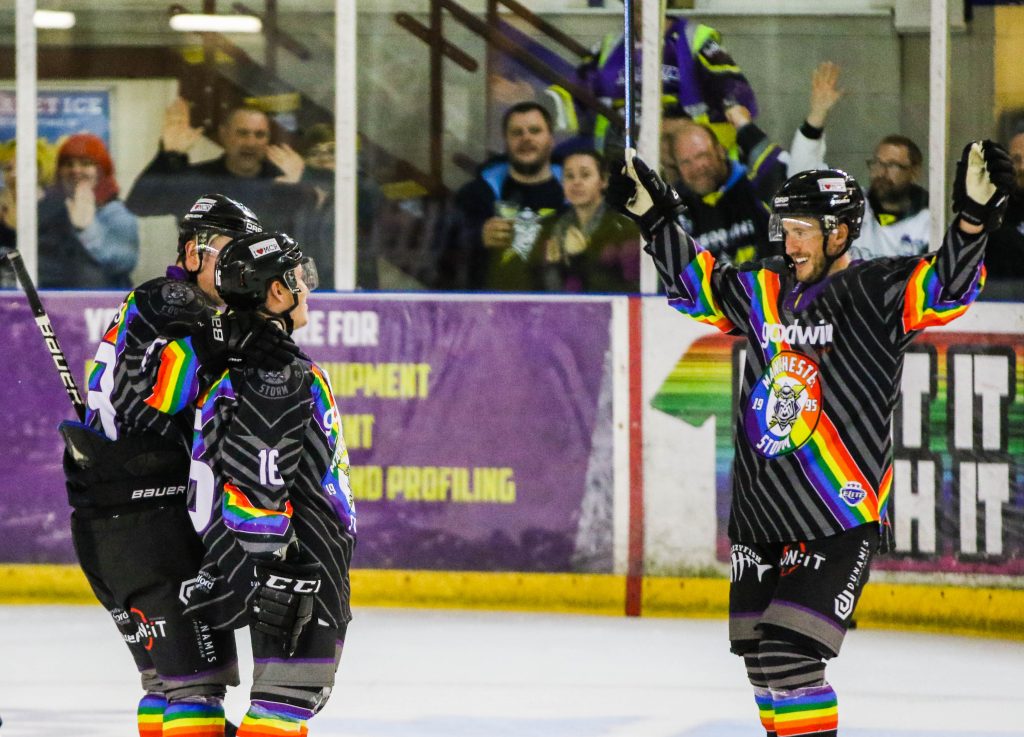 Don't miss the Storm's next home game on Saturday 21st September against the Nottingham Panthers (Challenge Cup.) Doors open at 18:00 for a 19:00 face-off. 
Tickets for Storm's upcoming game against the Belfast can be ordered online HERE, or by calling the Box Office on 0161 926 8782. Face-off is at 17:30 Sunday 15th September.