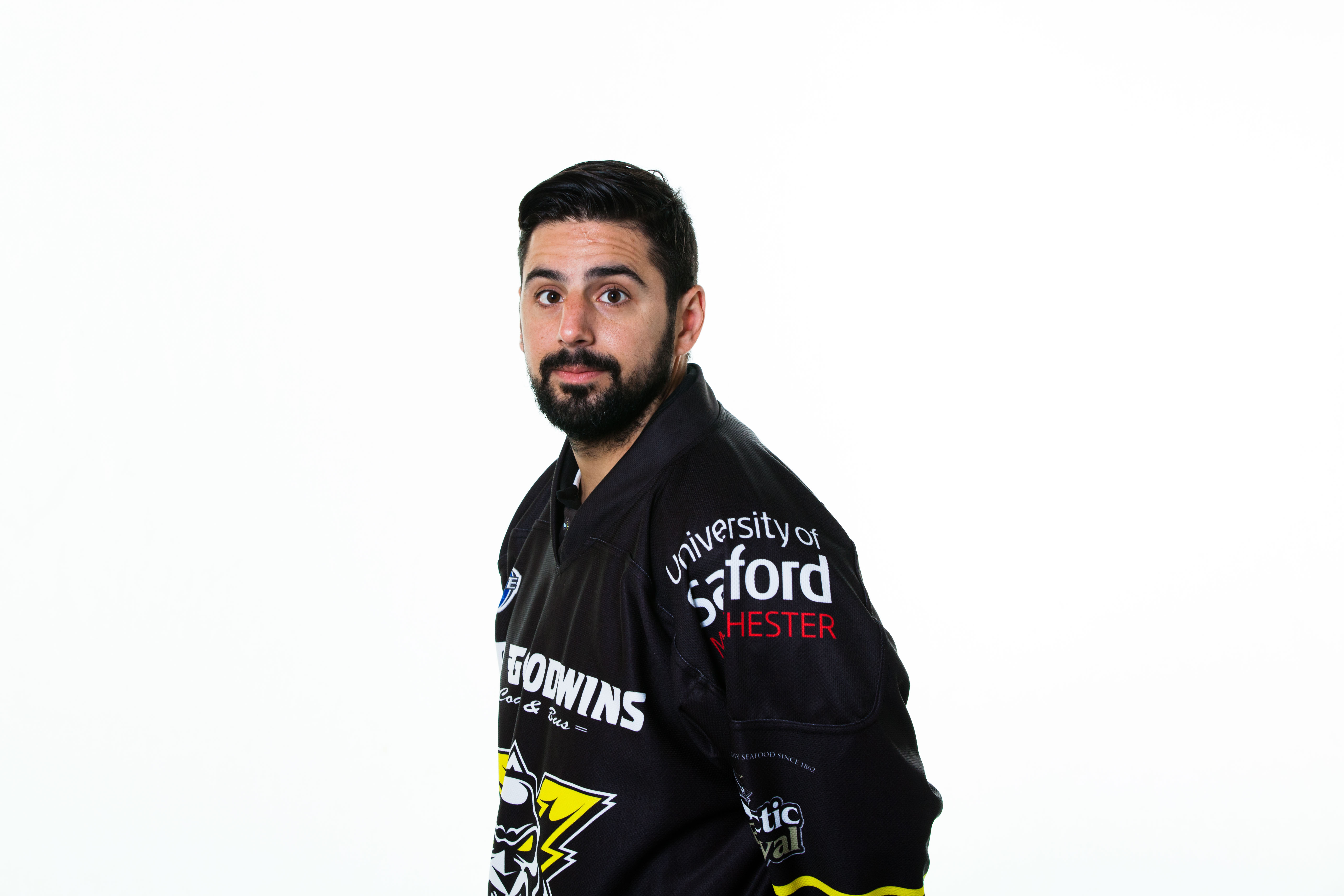 PACHA KEEPING POSITIVE AHEAD OF DUNDEE VISIT!
TICKETS: The Go Goodwin's Manchester Storm are back in action on Saturday 28th January as we face the Dundee Stars in EIHL action. Faceoff is at 7 pm and tickets can be ordered online, by calling the box office on 0161 926 8782, or in person at the box office!
Manchester Storm player-coach Omar Pacha insists he's focussing on the positives after his team took a point from three games in Scotland this week.
The Storm return home to face Dundee Stars on Saturday and although results didn't go Manchester's way north of the border last week, Pacha admits he's worried by the lack of goals.
"Obviously, taking a point from the three games was disappointing from a results point of view," the coach said. "On Friday, I thought Braehead played their best game against us.
"We played a solid game, but we got lackadaisical in our movement and the way we moved the puck.  Against a team like Braehead, you have to play 60 minutes.
"The Saturday game, I thought we were a bit indisciplined.  We took too many minor penalties and on Sunday, fatigue kicked in and we had trouble with that.
"Edinburgh came in hungry after not playing all weekend, but we couldn't get the goal in the third that would have tied it up.
"The positives are consistently the same for us every week in so far as our defensive game.  I don't think we give up too many Grade A chances.
"Throughout the weekend, we played good defensive hockey, but at the other end we were sluggish.  We had good intentions, but it's been creeping up for a while.
"We're trying hard to score the goals and you can see, scoring five goals over three games isn't good enough and we'll take the positives and move on."
Storm host the shot-shy Stars on Saturday, who were shut out in both games to Belfast Giants (6-0) and Coventry Blaze (4-0) last week.
But with the end of the season just a couple of months away, Pacha couldn't stress the importance of every game from now on in.
He added: "I just hope, with both of us struggling for goals, it's not a 0-0 tie that ends in a shootout.  In reality, we've been studying Dundee and see they've been struggling to get the goals too.
"But we have to focus on ourselves and every week, you want to see improvement and things coming together so this is a key weekend for us to get back at it.
"It's a big weekend for us and every game for the rest of the season is gong to be important.  If we keep improving and working, I'm confident we'll get the results.
"We look at every game like it's a must win and Saturday is no different.  We've lost a lot of games by one goal and we want that tide to change.
"Every game is a play-off game for the rest of the season and whatever result will happen before we can prepare for going back to Edinburgh."
AUDIO LINK: