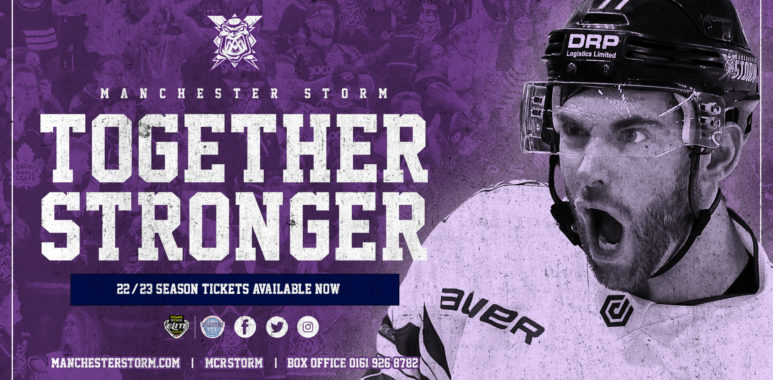 Own & Loan Launch for 2022-23 Season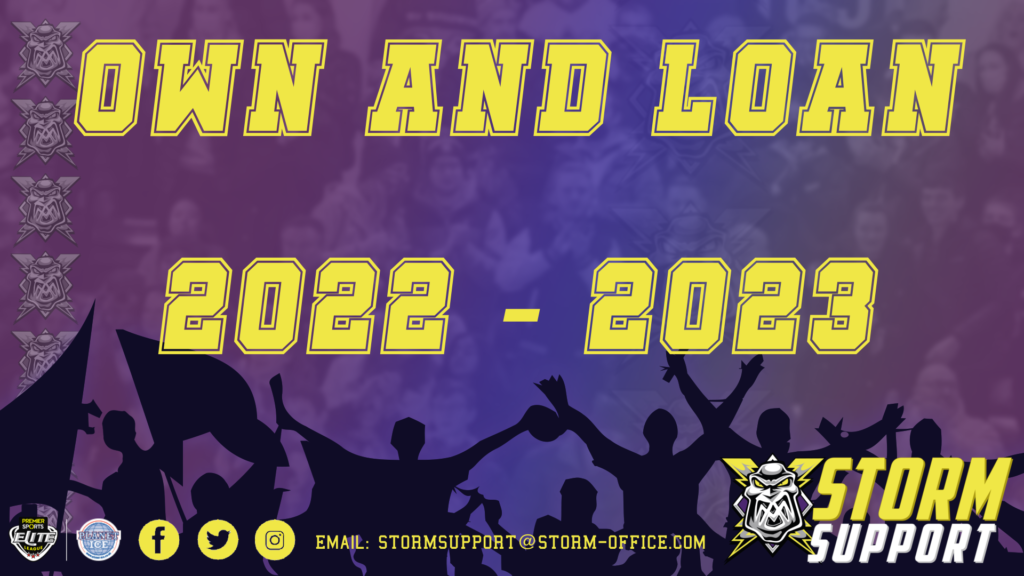 Hello Storm fans!
We hope that you're all having a great summer and not missing Storm too much! Having just about recovered from the last season, it's already time to turn our attention to the upcoming season with our new signings arriving imminently.
The new signings are only half of the off-season excitement though as our eagerly anticipated jersey designs will be revealed before the Meet the Players event so you can get a good look at them and choose your favourites. This will be a tough task for all fans as once again Andrew from Andrew Duxbury Design has excelled himself and created 4 incredible jersey designs. Your Manchester Storm will be wearing 2 different Home jerseys, an Alternate jersey that will be used throughout our Challenge Cup Campaign and the traditional Away jersey.
As with every season, our biggest job over the summer is getting the much loved Own & Loan scheme up and running. This year, we have all been faced with challenges and for many of our fans, these challenges have been due to the rise of living costs. We, along with Ryan, have tried to create a new pricing structure that allows fans to still get their favourite players jersey but also generate vital funds to ensure the clubs growth.
We have listened to feedback from fans and have made some changes to the scheme – we are very aware that the inserts inside the jersey was something that many fans did not like, and it was with regret that we were unable to deliver the usual placement of O&L sponsor names last season. We can finally reveal that O&L sponsor names will be returning to the back of the jersey! Following the success of having multiple O&L collection events, we have decided to split the collections again between two events. The first will be mid-season to collect the Alternate and 1st Home jersey, the second will be at the end of the season for the Away and 2nd Home jersey. The dates for both events will be announced shortly after the fixtures.
The biggest change to the Own & Loan process is our launch. The majority of jerseys will be launched via a 7-day email auction with the option for bidding or to "Buy it Now" for a small premium. All auctions will start within 48 hours after we announce a player. Any unsold jerseys will return to Storm Support and a second launch date will be announced for purchases to be made through our traditional channels. The jerseys not included in our auction will be entered into a Raffall draw to offer a cheaper, chance-based option to fans. Further details about our auction and T&Cs will be available very soon – keep an eye on our socials for this information.
The pricing structure for the 2022/2023 season is:
Jersey
Base Price

Home jersey 1 (to be used for the 1

st

half of the season*):

From £125

Home jersey 2 (to be used for the 2

nd

half of the season*):

From £125

Away jersey:

From £125

Alternate/Challenge Cup jersey:

From £100

*Both Home jerseys guaranteed to be worn for 10 games.
We hope that this is something you can all get behind this season as Owning and Loaning a jersey goes a long way to help support the club and putting the best possible product on the ice.
Thank you and we look forward to seeing you back in the Storm Shelter in the new season.
Storm Support.