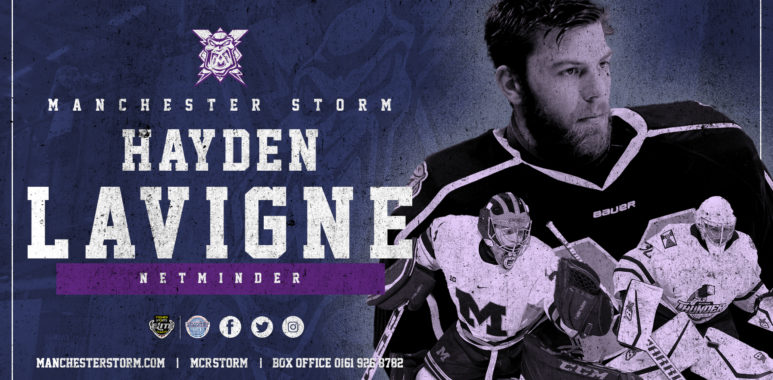 Manchester Secure Services Of Starting Netminder
Manchester Storm are excited to announce their new starting netminder Hayden Lavigne, most recently of Pensacola Ice Flyers (SPHL), ahead of the 2022-23 EIHL campaign.
The 6ft3 goaltender is extremely well-travelled, within a relatively short professional career to date – with multiple loan spells between ECHL franchises between 2020 and 2022. 
Lavigne comes from good goaltending pedigree with four seasons spent learning his craft in the competitive major junior USHL for Tri-City Storm, Waterloo Black Hawks and Bloomington Thunder. He went on to make 100 USHL appearances posting 2.93 GAA and .899 SV% – with five shutouts and 46 starting wins. 
Lavigne would then take on the starting netminder reigns at the prestigious University of Michigan between 2016 and 2020. During this four-year period, Lavigne would share the dressing room with several current NHL players: Quinn Hughes, Cooper Marody and Josh Norris. The netminder would enter the ranks of professional hockey with 67 NCAA starts, .903 SV% and 2.91 GAA. 
A pandemic hit 2020-21 season would see Lavigne split his time between the ECHL and SPHL – with the netminder earning 12 starts across two divisions as a rookie goaltender. Last year, Lavigne accrued 26 appearances across five different franchises. The import netminder will arrive in Manchester hoping to carve out a more defined role for himself within professional hockey – in his debut season within European hockey.
Head Coach Matt Ginn had this to say about recruiting his new starting netminder:
"Hayden is a big goalie – with great athleticism that allows him to cover the crease. He comes from a winning background, as he led Michigan State to the Frozen Four finals during his time with them. This is an excellent opportunity for him to settle somewhere and establish himself as a starting goaltender in Europe. I am really excited to have Hayden aboard and I know he will give us a chance to win every single night."