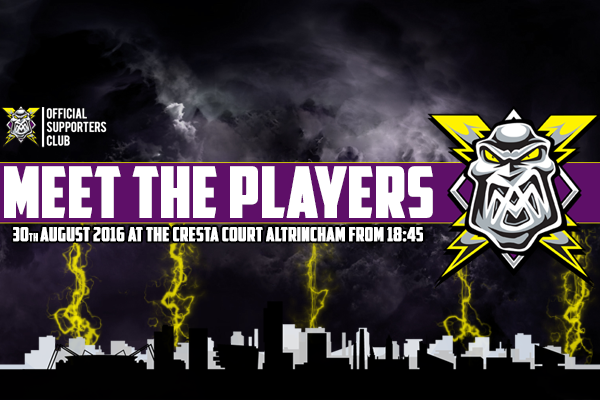 Latest News
Supporters Club
OSC: Meet the Players Tonight!
With just over 6 hours to go until Meet the Players, preparations are underway at The Cresta Court Hotel for what promises to be a fantastic evening!
With over 200 fans in attendance, the event is sure to be very busy! Therefore doors will be open at 6:00pm for everyone to arrive. Please make sure you bring your tickets with you as these will be used to enter you into the Jersey Raffle to win the very first Manchester Storm 2016/17 Home Jersey signed by the Team.
During the event, you will be introduced to the full roster, have a chance to ask questions during our live Q&A, and get your first look at this years long anticipated Jerseys! We will also be giving everyone the opportunity to snap up the last remaining Own and Loan Jerseys, and Kit Club Sponsorships, as well as enabling Season Ticket Holders to collect their Season Tickets. There will be a very limited stock of the brand new 2016/17 Manchester Storm merchandise for sale, as well as tickets for the upcoming Storm Quiz Night on Sunday 11th September.
Please be aware that unfortunately we will not have access to a card machine this evening. The Cresta Court do have a cash machine on site, but it is chargeable for withdrawals. Therefore we encourage you all to bring cash with you for any purchases you wish to make
We will be starting promptly at 6:45pm so please don't be late! For anyone who was unable to secure tickets for this evening, The Official Supporters Club will be streaming the Q&A session LIVE through our Facebook Page, and the Jersey Launches will be streamed via the Manchester Storm's Facebook page.
We hope you are all as excited as we are to meet this Team and get the season started! See you all tonight!
Manchester Storm OSC