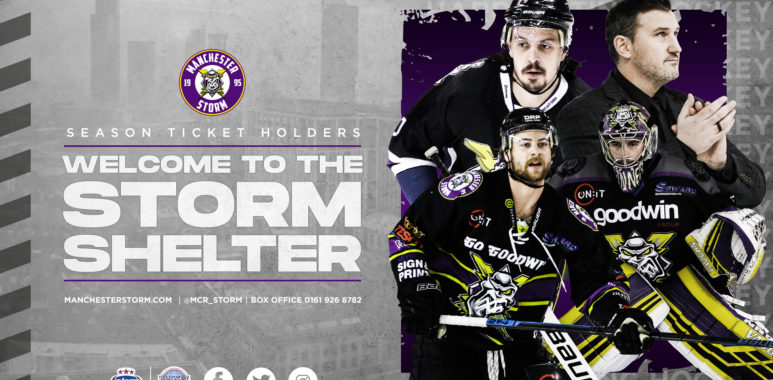 OPINION PIECE | RESIDENT WRITER CALLUM SCHORA LOOKS AT GOALTENDING AND DEFENCE AHEAD OF NEW SEASON
TICKETS | Manchester Storm #ReturnToTheShelter this September taking on the Cardiff Devils and Coventry Blaze in pre-season action! Tickets can be ordered online HERE, by calling 0161-926-8782, or in person at the box office. 

Less than one month before the season starts usually means one of two things for Storm fans, find the funds to purchase a season ticket and/or review the roster assembled by Ryan Finnerty…this piece of work will understandably focus on the latter of the two.
Our Head Coach is a man who likes to get his business done early and leave little to chance in terms of bringing import skaters in – particularly wise in the current climate.

Goaltenders:
Matt Ginn – to say I was shocked we managed to secure his signature for a third campaign would be an understatement. I know he had big money offers from Austria; Germany and Slovakia, so it really does attest to how much he loves this franchise to return to Manchester.
In my opinion, the import goaltender is a make-or-break position in our league – due to the amount of starts they are expected to make. I wouldn't be shocked in Ginner tops his electric .921 SV% and 2.84 GAA this year, his return makes anything possible.
James Downie – it would be disingenuous of me to say I know much about Downie's goaltending skills. However, with Adam Long snapped up by Guildford – it makes perfect sense to bring in a young hungry netminder that is capable of making a few starts across the season and Downie fits the bill in that respect.
Defence:
Dallas Ehrhardt – its hard to think of the new-era Manchester Storm without Dally coming to the forefront of your mind. Originally brought in by Omar Pacha with relatively little experience, Ehrhardt has grown into one of the best import blueliners in the league and his performances for team GB does indicate of an ability to compete against elite talent. Now with over 200 EIHL appearances, Dally knows the league and will spearhead our blueline corpse once again.
Joseph Hazeldine – one of the many youngsters within the roster signed to a long-term deal showed flashes of what we can expect from in the EIHL Series. A smooth-skater with good hands who will likely interchange in the bottom pairing with Ben Solder, but with huge potential. I would expect Hazeldine to start climbing up the depth chart in his second and third year at the club – a luxury three-year deal is exciting for both parties and I look forward to seeing Joe progress here in Manchester.
Marc McNulty – perhaps the most intriguing and exciting of our blueline acquisitions. 6ft7 and 95kg provides a daunting challenge for opposition forwards on home ice. The former NHL draftee has 35 professional games under his belt and will be desperate to leave his mark on the Elite League, as well as a few onrushing forwards. This under the radar signing could well turn out to be an incredibly shrewd piece of business by Ryan Finnerty come the year end.
Ben Solder- initially brought in to the Elite Series squad to bolster the ranks, Solder's impressive training session performances saw him immediately drafted into the line-up. The full compliment of 14 EIHL Series games are an indication of how Solder seized the professional hockey opportunity with two hands. At the age of just 20, Solder still has plenty to learn but with three-years in his contract the Storm could well have bagged themselves a future full GB international player at the very beginning of their career.
Linden Springer – what you see is what you get with Springer, 437 penalty minutes in just 154 EIHL appearances is somewhat of a throwback to the old-school hockey style. Springer was one of the very first Finnerty signings in Manchester, an initial one-month trial contract soon became a three-year deal. The increase in contract was achieved through Springer's team-first approach and impressive all-round play. A move to Glasgow and subsequent retirement from the professional game would have ended the hopes of many Springer loving Storm fans – but a change in personal circumstance for Linden has afforded him and the fans another opportunity to enjoy each other's company. One thing is for sure – its never quiet when Springer is in town!
Zach Sullivan – the trust between Sullivan and Finnerty is evident when you consider the British blueliner has only spent two of his seven elite campaigns away from the tutelage of Finnerty. A consistent, stay-at-home blueliner with aspirations of reclaiming his team GB squad spot. His right-handed shot balances out the defensive group, particularly on the penalty kill and with over 300 EIHL appearances youngsters Solder and Hazeldine will have a homegrown Brit to learn from.
Ben Wilson – the chances of the Storm signing somebody of Ben Wilson's stature do not come around often, so when Ryan Finnerty got this deal over the line our defensive group came together. A four-year captain in Kalamazoo (ECHL) illustrate his leadership credentials; an AHL professional try-out highlights his talent and his ability to play both defence and forward demonstrates his adaptability. I am expecting big things from Wilson and his right-handed shot gives Finnerty an abundance of line-up options, as a fan this flexibility reminds me of the 2017-18 roster we assembled.

TICKETS | Manchester Storm #ReturnToTheShelter this September taking on the Cardiff Devils and Coventry Blaze in pre-season action! Tickets can be ordered online HERE, by calling 0161-926-8782, or in person at the box office. 

#WeAreStorm | #Manchester