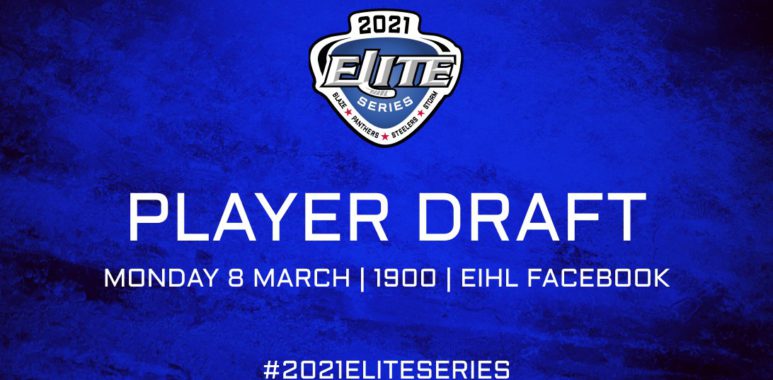 Community
Elite series
Latest News
Opinion piece: Elite Series 'fantasy' signings from around the shelter!
We love to hear from people around the 'Shelter', so we decided to ask some Manchester Storm members of the off ice team who they would sign for the upcoming #2021EliteSeries. Each person was allowed to pick 5 British players and 5 import players to pull on the Storm jersey for the Elite Series, which starts next month!
Mark Cowell – Manchester Storm Supporters Club.
Imports:
•Frankie Melton
•Tyson Fawcett
•Mario Puskarich
•Ivan Sijan
•Jared Aulin
With only 5 weeks of play, I thought it would be prudent to focus on players who have played as a team to reduce any bedding in period.

We have always had success with smaller and faster players such as Sisca, Scarsella, Cartier and Dziurynski and in an effort to maximise our goal scoring opportunities; Frankie, Tyson and Mario would give us that offensive edge.

Sijan felt like he was only with us for a heartbeat but he won over the fans with his physical prowess. Anyone that has been keeping up with his social media can see he has been putting in #BeastMode performances to stay fit and healthy and lets face it; we are the #BadBoys of the league.
GB Draft:
•Ben Bowns
•Mike Hammond
•Ciaran Long
•Luke Ferrara
•Ross Venus
I was going to focus more of the GB attention to the younger players but with the announcement of Storm getting the first draft pick we have to go big!

We have the opportunity to make a huge statement on our #EliteSeries mission and any of these five players would be a huge scoop for any team. I don't envy Coach Finner having to make this decision.

Just imagine the combo of Hammond and Long or Ferrara and Venus or Bowns in a Storm jersey.
We are incredibly lucky to have any kind of hockey season after what has been such a long, arduous year for everyone. All credit goes to the league and heads of the clubs for making this happen, we are all massively grateful!

With the change in the tournament structure and the GB Draft its going to make this season very interesting.

I hope every EIHL fan gets behind the #EliteSeries, supports their favourite players and takes on a team just for fun, that's what we all need right now, some fun, exciting isn't it! #LetsGoStorm.
Aden Millen – Match Night Announcer
Hey Storm Fans!
Long time no see, but hope you're all keeping safe and well. It was so exciting to see the announcement the other day and it's going to be a great couple of months. I just wish we were all able to be together again, but hopefully that won't be too much longer away.
We thought it would be fun to go around the Storm Shelter and share who our top five draft pics would be from the Brits and Imports if money were no object. I'm at least keeping mine restricted to players we've seen in the Elite League.  Here goes:
GB Draft:
Dallas Ehrhardt – It wouldn't be right seeing Dallas pulling on any other teams Jersey. He's our Captain and his coast to coast goal against the Steelers is my favourite goal of the new Storm era.
Mike Hammond and Ciaran Long – Listing these two guys together as that's just how they should be. They were a lethal combo for us a couple of seasons ago and i'd love to see them both back in Storm jerseys.
Ben Davies – Big fan of this guy. Loads of grit and energy and a hero to many of us after his overtime winner against France for GB.
Liam Kirk – Hopefully he can be the next Janne Niskala in Storm colours. Janne came to Storm back in 2000 as a youngster and went all the way to the NHL with the Tampa Bay Lightning. Really excited to see his progress after a couple of seasons across the pond.
Imports:
Matt Ginn – Absolute no brainer for who I want to see between the pipes for us. Ginner blew me away game after game for two seasons and my favourite Storm netminder since a certain Frank Pietrangelo.
Sam Herr – Occasionally you see a guy come into the Elite League and just looks head and shoulders above every player on the Ice. Herr is one of those guys. In many games last season, it felt like we had the Panthers on the ropes, then this guy would do something brilliant and it wasn't just us this happened to either.
Calle Ackered – Growing up watching players like Dale Jago and Mikeal Wiklander, I always loved a defenceman who could blast in shots from the blue line. In the modern Elite League, Calle stands out as that guy.
Matt Marquardt – One of the privileges of being by the dressing rooms at the shelter is getting to observe how the teams act before getting onto the ice, and my favourite away team in that aspect is the Dundee Stars. They come across as a very positive and together group and this guy is their captain. Nice guy off the ice, big and tough on it. Plus he scored at nearly a point a game for a team without the firepower of others in the league.
Jared Aulin – I'd love to see Jared on the ice one more time before he calls time on his stellar career. A top guy and a quality hockey player. He's one guy I think benefits from playing on the bigger ice surface at the NIC. With a bit more time on the puck, he can see plays which other guys in our league can't.
Darren Evans – Manchester Storm Match Night Steward
GB Draft:
Dallas Ehrhardt – Always been a rock for us over the last few seasons and never let's the team down whether club or internationally
David Phillips – Slightly controversial pick with some storm fans but in my opinion a solid stay at home tough D Man always does a job.
Ciaran Long – A gifted Brit whom would grace any Elite league side and always there or there abouts with the goals.
Ben Davies – A Hero with that goal for GB who could forget that one! But also whenever I've seen this guy play over the years he always puts a shift in and is a nice guy as well.
Mike Hammond – Goes without saying, a goalscorer all the way, was gutted when we lost him the firs time around.
Imports:
Jared Aulin – A top pro and a players player just the sort you need on your roster a calming influence and mentor for the younger guys.
Tyson Fawcett – We know what this guy brings a speedy in your face Goalscorer who can change the game also with his tough style of play.
Joey Martin – This player scores for fun wherever he plays and has always delivered wherever he's played a top player.
Anthony De-Luca – Again another Goal success wherever he's played also that pest of a player whom can get up the oppositions noses as well we know! A great forward to have on the team.
C.J Motte – I picked this goalie as our own Matt Ginn is currently ripping it up in Kansas City but I sat and thought of my stand out goalies I saw last year and this guy came to mind great numbers and no surprise, he is right up there stats wise.
Just a footnote for all involved, we want to say a big, big thank you from us all for organising this at such short notice. I can only imagine what a tough job it is getting all the blocks in place, so huge respect to you all. Stay safe all and to all the fans out there whoever you support let's get right behind this and enjoy the Hockey. All that's left to be said is "Let the Games Begin."
Richard Evans – Former Head Manchester Storm Steward


British 5:
Dallas Ehrhardt
Mike Hammond 
Josh Batch
Liam Kirk
Ben Davies 
Import 5:
Jared Aulin
Tyson Fawcett 
Gleason Fournier 
Marc Vallerand
Shane Owen (G)
I decided to pick Owen because Matt Ginn is currently with Kansas City Mavericks. 

The club would like to thank Mark, Aden, Darren & Richard for their input ahead of the #2021EliteSeries. The British #EIHLDraft takes place live on the Elite Leagues official #Facebook page on Monday 8th March at 7pm.

Don't forget, you can help the club by having your 'Face In The Crowd' for all the #2021EliteSeries fixtures! Click HERE for more information!
#WeAreStorm | #2021EliteSeries