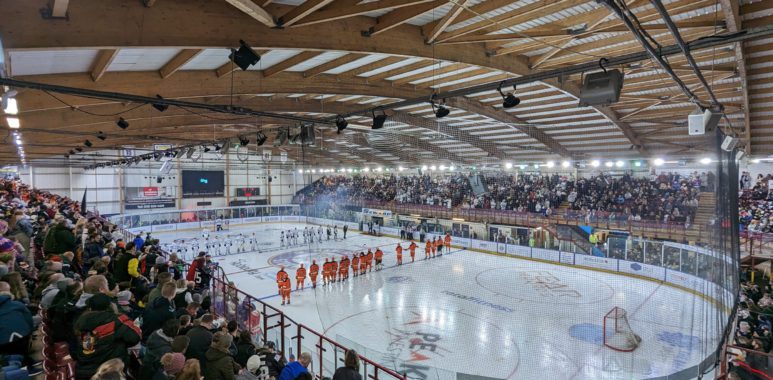 OPINION PIECE: 23/24 SEASON FIRST LINE OF DEFENCE BY RESIDENT WRITER, CALLUM SCHORA
PRE-SEASON: Tickets for our pre-season fixtures on Saturday 16th September and Wednesday 20th September are available online HERE, by calling 0161-926-8782 or in person at the Planet Ice Box Office!
The new season is quickly approaching, as a little over five weeks remain before the first puck drop in the Storm Shelter. The typically Mancunian weather, throughout July, may well have dampened matters outside – but spirits within the Storm camp are at fever pitch, as the Ginn-Finnerty combination have continued to assemble a quality filled roster. 
The following will be the second-part of an opinion-based review discussing the announced goaltenders and defencemen for the 2023/24 Elite League campaign:
Evan Weninger – arguably sporting one of the best CV's within our entire roster. Weninger is product of the NCAA system and has performed admirably across a variety of leagues since turning professional. The standout years, so far, have been 20-21 with Wichita Thunder (2.74 GAA and .923 SV%) and 21-22 with HC Banska Bystrica (2.30 GAA and .925 SV%). Both of these divisions, ECHL and Slovakia, are probably most comparable to the EIHL and if these numbers can be replicated, the Storm will no doubt find themselves jostling amongst the key play-off positions down the stretch. For me, Weninger could well dislodge Matt Ginn as our best goaltender since the reformation. 
Alex Oldale – being a non-arena, it is always difficult to extend the budget enough to cover all bases and carrying multiple import goaltenders throughout the year is not always possible, especially as the Storm act quickly to cover player injuries. However, I believe Oldale is a competitive and like-for-like replacement of James Downie. Our General Manager, Ryan Finnerty, has spoken about creating a pathway for exciting young British talent to establish themselves in the top-flight and I believe Oldale has the opportunity to do this. The back-up role within the EIHL is a unique one in world hockey. Yet, if and when called upon, I feel Oldale will do more than hold his own. 
Callum Fryer – another in the growing list of former NCAA skaters to join the Storm. Fryer is perhaps one of the few lucky players to have somewhat benefitted from the pandemic. After graduating from Lakehead University, Fryer was able to join Knoxville Ice Bears (SPHL) and learn his defensive craft in a league of veterans and hard-nosed players. At 6ft3 and 90kg, Fryer has the physical attribute to be a success on the small icesheet and with over 120 professional games now under his belt – the British born right-shot has experiences to lean upon. Lastly, after being named an ECHL All-Star in 2022-23 and taking home the Hardest Shot (97mph) title. This could very easily turnout to be a stellar piece of business.
CJ Garcia – a deal almost three years in the making. CJ Garcia and the Storm have finally become one. The smooth-skating defencemen has long been on the radar for the franchise and the management group are delighted to have secured this addition. Currently playing in Australia with Perth Thunder, Garcia was a huge part of Anglet's escape from relegation in 2021-22 and Brasov's title challenge in 2022-23. Garcia's year in the Erste Liga, playing alongside several former EIHL players, has no doubt helped bring in our man. A blueliner who likes to protect the net and make solid outlet passes, Garcia will be expected to log big minutes and lead the penalty killing unit. 
Chase Harrison – having signed in early November 2022, the blueliners consistent play made his contract renewal a priority for Matt Ginn. A solid skater and all-round player, Harrison's experiences of the EIHL will prove invaluable to the likes of Fryer; Garcia and Parran. I am excited to see how good Harrison can be with a full season to work with and likely significant role in the Top 4. I would not be surprised to see his offensive output increase either in his sophomore season. 
Tommy Parran – the lineage of NCAA to the Storm is furthered by Parran. A regular season champion with Ohio State and promotion with Tyringe SoSS, Parran is both a leader and winner. Signed as the franchise cornerstone in Sweden, Parran captained and dominated the league amassing 29 points (12G 17A) in only 38 league appearances. His highly-impressive first campaign in Europe caught the eye of several suitors before his return to the ECHL. Parran is another young body with plenty of professional experience and a solid hockey background. I would expect to see Parran's role within the roster flourish over the course of the year. 
Zach Sullivan – back for his fourth full campaign at the Storm and ninth within the Elite League. Sullivan is a dependable and reliable blueliner. Sullivan is a solid skater and will be hoping for an injury free campaign, after the last couple have been curtailed by unfortunate knocks. Sullivan's role within the dressing room is largely understated, as he takes pride in his defensive work and holds his group to account. More of the same from Sullivan will be anticipated by all parties involved.  
Declan Balmer – signed on a two-way deal from Hull. A key component of their roster, alongside Bobby Chamberlain, it will be a pleasure to watch him lace up the skates again after performing well during his previous three-year stint. Fixture clashes might make appearances difficult to predict, but having someone of EIHL quality to call upon, when needed, is a huge boost for the club. This deal reminds me of a similar one struck with Sam Zajac, in 18-19, who was able to log minutes for the team when required. 
Yet to be announced:
The defensive group will be completed by the addition of a veteran blueliner – who has several years of EIHL experience and will no doubt be the leader of this youthful contingency. 
The final import slot is currently being careful considered by Ginn and Finnerty, as they have several options available and are looking for the perfect fit to complete an extremely impressive squad. 
This is undoubtedly the most promising roster created since the 2017-18 campaign!
PLAYER SPONSORSHIP: If you're interested in sponsoring a Manchester Storm player or member of the coaching staff for the 2023/24 Elite League season, please contact RF@storm-office.com for more information!