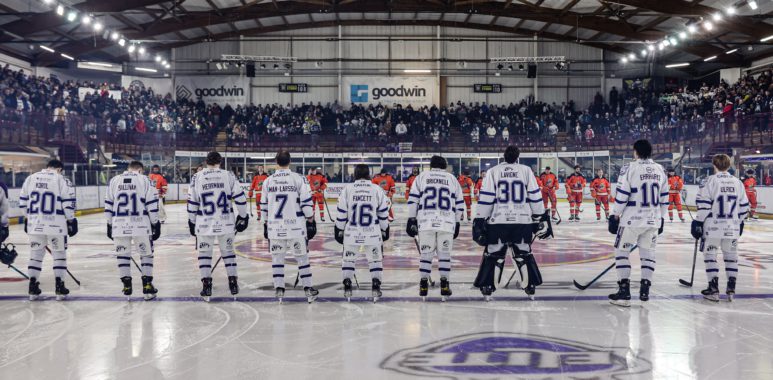 Opinion Piece: 23/24 season firepower by resident writer, callum schora
PRE-SEASON: Tickets for our pre-season fixtures on Saturday 16th September and Wednesday 20th September are available online HERE, by calling 0161-926-8782 or in person at the Planet Ice Box Office!
With just over two months to go before the first puck drop, it is unsurprising to see Storm fans pouring over the roster and eagerly anticipating further signing news. 
Head Coach, Matt Ginn, and General Manager, Ryan Finnerty, are both on the same page when it comes to getting business done early in the off-season. Neither like leaving anything to chance and the current squad being assembled could well challenge that of the infamous 2017-18 season…
The following will be an opinion-based review of the announced forward signings for the 2023/24 Elite League campaign:
Johnny Corneil – with five years of development in the OHL and a year in Scandinavia, as well as the ability to play centre and wing. Corneil will bring a well-rounded game to the Shelter and speed in abundance. I know how hard Ginner had to work to secure this signature – ahead of some arena teams – and the opportunity for Corneil to have a bumper year really helped get this one over the line. Corneil's increased flexibility within the line-up I feel will only boost our chances of success. 
Cam Critchlow – now entering his fourth full ElHL season and second as captain. Critchlow is a hardworking two-way forward that has undoubtedly grown into his role. A natural leader and clear voice in the dressing room, Critchlow is well-known for holding his team to account each and every night. The international call-up, this off-season, came as no surprise to the Storm faithful, as he was eventually rewarded for a string of consistent performances. Lastly, the dual-national flourished running our powerplay, from the point, and scored several crucial goals in this position. I would not be surprised to see Ginn make use of this again – particularly in opening weeks. 
Tyler Hinam – aged just 24, the forward will be making his EIHL debut in September with experience in the AHL. Another major junior alumnus, Hinam has good size (6ft1) and offers a right-hand shot from the wing. A natural eye for goal and CHL Memorial Cup Champion, I feel this signing his flown slightly under the radar. In his final 10 ECHL regular season appearances for Maine Mariners, Hinam was a point-per-game player and with increased ice-time Hinam could consistently light the lamp for the Storm. 
Stephen Johnson – a member of the leadership group and solid producer of offence, 41 points (15G 26A) in 50 games. I believe it was a shrewd bit of business to get Johnson back on a two-year deal. A hugely popular member of the squad and fan favourite. This top-six forward will be a key component of our success throughout the year and I would expect to see similar numbers posted again from Johnson in 2023/24. 
Michael Korol – an incredibly hardworking individual, both on and off the ice. Korol made waves in his rookie campaign at the Shelter. The British forward was delighted to receive his first professional contract back in the summer of 2022. However, his contract renewal was arguably one of the easiest decisions to be made by the coaching staff. The demand for quality British forwards – within the EIHL – continues to raise with roster rule adaptations and securing Korol for another season makes perfect sense.
Mitchell Martan – a first year professional with a similar pathway to Ryan Barrow. Martan joins the Storm straight from the NCAA. A five-year education within academia and hockey will no doubt stand Martan in good stead. Martan balances out the forward group nicely with his left-hand shot and preference for the wing. It is always difficult to predict how rookie professionals will go – but if Ryan Barrow was anything to go by Martan could well bring the Shelter to its feet. 
Will Merchant – a key piece of the puzzle for Ginn and Finnerty was this man. A hugely impressive career and consistent goal scorer – across multiple leagues. Merchant has made an impact wherever he has gone. I would back the American to do the same in Manchester this season. Furthermore, with six years of professional experience Merchant will be an invaluable personality for some of the younger members of the roster – over the course of the year. 
Samuel Tremblay – another sizeable player, with experience of major juniors; USports and ECHL. Tremblay is a well-regarded player for his abilities in the face-off dot and work ethic. In 2017-18, the Canadian was named as the Outstanding Player in the USports play-offs, when he produced nearly a point-per-game. The forward joins with year of professional hockey already under his belt and on the small icesheet in Altrincham, Tremblay's style of play will be well-suited to the environment. 
Loren Ulett – a professional hockey CV that speaks for itself. A heavy hitting forward, that is not shy to drop the gloves. Ulett adds a physical dimension to a highly-skilled roster of speedy forwards. 507 PIM's in 251 ECHL games illustrates what we can expect to see this campaign. Ulett is able to play both forward positions and with five years of professional – he is confident in his own abilities. The Shelter faithful have been treated to some of the most infamous enforcers in recent EIHL history with the likes of Rosehill; Springer and Gagnon all passing through. Ulett will be eager to join this storied trio. 
Yet to be announced…
The forward lines will be rounded out by some extremely exciting additions. A forward from the Nordic states that has dominated on the continent – who possess lightning speed and silky hands. A marquee signing to say the least. Head Coach Matt Ginn is working hard to get this deal over the line and if it happens, I'm confident he will be a firm fan favourite inside the Storm Shelter this coming season. 
Further depth through two-way contracts are being negotiated, at present, but on the surface things appear to be moving in the right direction.
PLAYER SPONSORSHIP: If you're interested in sponsoring a Manchester Storm player or member of the coaching staff for the 2023/24 Elite League season, please contact RF@storm-office.com for more information!