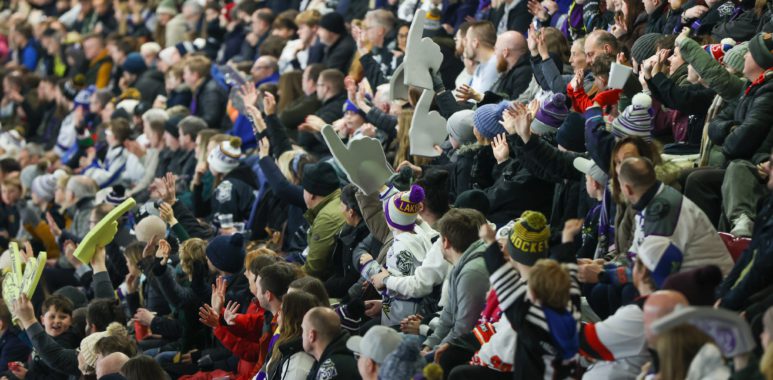 CHANGES TO SEATING PLAN AHEAD OF 23/24 SEASON
PRE-SEASON: Tickets for our pre-season fixtures on Saturday 16th September and Wednesday 20th September are available online HERE, by calling 0161-926-8782 or in person at the Planet Ice Box Office!
We want to let you know about a small change to the seating allocations for the 2023/24 Elite Ice Hockey League season. With match day attendance rising significantly last season, we have looked at how we organise the seating at the Storm Shelter.
As a result of this, we have decided to reallocate block 115 which will now be available to home supporters. Away fans should book tickets in blocks 116 and 117. For a small number of fixtures where we expect a large away following, we may choose to allocate an additional block for away supporters.
If you would like to be amongst the first Storm fans to sit in the newly-reallocated block, tickets are on sale now for our pre-season games against the Guildford Flames and the Coventry Blaze and all competitive games up to and including our Boxing Day fixture against Guildford Flames.
Click HERE to secure your seats!
You may have noticed when purchasing tickets that blocks 101 & 102 are no longer available on public sale, this is due to us utilising these blocks as part of our brand new community initiative ahead of the new season. Over the last few seasons we've built an incredible relationship with the Scouts, Cubs and the Girl Guides alongside increasing our visits to schools and community groups with help from the incredible 'Storm Support'. We are expanding our community outreach even further for the 23/24 season with some very exciting news which will be announced in the coming weeks.
Following the league's fan survey, the data collected showed Manchester Storm as having one of the youngest fan bases in the league, which indicates a bright future for the club and we intend to continue building this through the 23/24 season and beyond.
Thank you so much for your incredible support, and we'll see you loud and proud in September!
PLAYER SPONSORSHIP: If you're interested in sponsoring a Manchester Storm player or member of the coaching staff for the 2023/24 Elite League season, please contact RF@storm-office.com for more information!