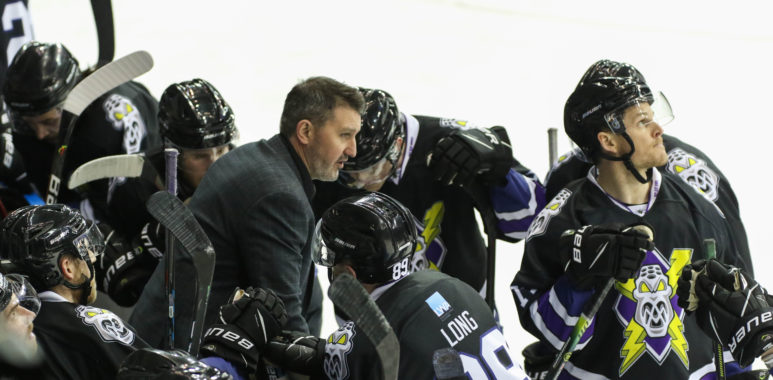 NEWS | A Message From The GM!
Hi Storm fans,
It's been far too long since we caught up and now the dust settled from the Elite Series, I wanted to reach out to you all and give you some insight on what has been going on behind closed doors here at the Manchester Storm and also talk about what we have to look forward too as we head towards another Elite League season.
First of all, I'd like to say a huge 'Thank-you' from the organization for the support from each and every fan before, during and after the conclusion of the 20/21 Elite Series, it's not been easy for everyone, but the take up on our online raffles and merchandise has helped keep the wheels turning and put us in a solid position heading into the new season as we look to make a full post-pandemic recovery here in Manchester.
ON THE ICE

In terms of on-ice recruitment, our goal as always to is maintain and build that core group of guys, which all successful Elite League outfits have. I am very happy to say the contracts have now started to role in and I know we will be announcing some signings soon!
The standard of the Elite League has improved massively since I first arrived in the UK in 2007 and the style of play is also very different. The emphasis on speed in the NHL has made its way into British hockey and the Elite Series was a brilliant example of how our league could look with further development. As a result, the roster I am assembling will be full of speed and players that are hungry to make a mark over here. The number of players heading to major European leagues from the Elite League is growing year upon year and the pandemic might inadvertently benefit the global perspective of British hockey.
The market is currently saturated with young talented players wanting a contract, but as a coach it is my responsibility to do my due diligence and ensure the CV matches what we get here in Manchester. The demand on Elite League import goaltenders is unique and having a dependable back-up is now a must in order to compete, the guy we have lined-up for this role definitely fits the bill. Our blueline has been spearheaded by Dally for several seasons now and as a club we are always looking to develop young British talent, and I cannot see this method changing for the year ahead
One area I'm currently working hard on is finding effective goal scorers, but as we know, these guys don't come cheap and, on our budget, we need to think outside the box and make use of our attractive MBA courses. We cannot underestimate the importance of our Season Ticket sales this year, we build our playing budget around our fans renewing their season tickets and of course, first time Manchester Storm ST holders. If you're a fan, tell your friends, family and work colleagues about our great club and let's grow here in Manchester together. We will have more information shortly on number of fixtures, prices and payment plans and we urge you to put your trust in us, so we can have the biggest and best season at the Storm Shelter yet. 

OFF THE ICE
Our off ice team are now hard at work looking to bring in sponsorship to the club ahead of the new season and are doing a great job so far. We have much more work to do as we make our post-pandemic recovery but we're certainly seeing some good signs and from the conversations we've had, we have lots of returning sponsors and even some brand new, exciting sponsors have signed up for the 21/22 season. We're lucky here in Manchester to have such loyal sponsors and we look forward to continuing to build relationships going forwards. There will be more information on returning sponsors and brand new sponsors over the coming weeks, so stay tuned.
SEASON TICKETS
The take up so far on renewals of season tickets has been fantastic, It's a great feeling to see so many familiar names there who are along for the ride as we look to continue to grow into what we know we can be. Thank-you to all who have signed up once again for the new season and if you would like to secure your seat, email seasontickets@storm-office.com and you'll be taken care of and we will be in touch shortly with all those who have emailed the club to renew.
We hope to have much more information to you after the league meeting next week but at the moment we're just focusing on securing seats for those that want to be part of the ride here in Manchester once again.
The year ahead will be positive and a great time to be a Storm fan! I cannot wait to watch the side skate out at the Shelter, as soon as we can, and hear the infamous roar from our faithful fans.

Finner.