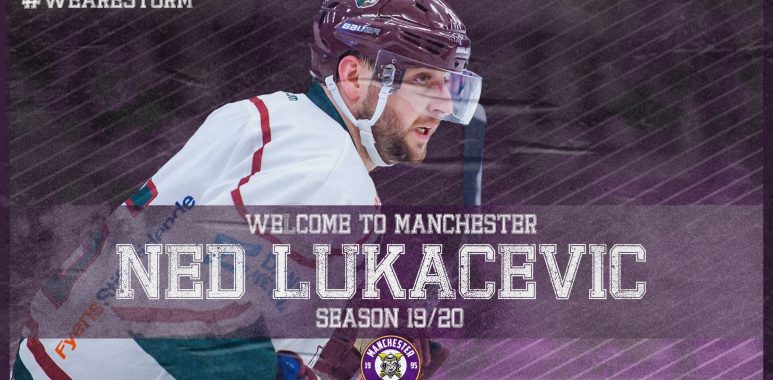 BREAKING NEWS: Welcome to Manchester, Ned Lukacevic!
The Manchester Storm are delighted to announce the signing of EIHL veteran Ned Lukacevic from Tours in the FFHG Division 1 (France).
The dual-national was born in Podgorica, Montenegro (formerly Yugoslavia) before immigrating to western Canada. The talented forward made his major junior debut for Spokane Chiefs in the Western Hockey League. In 238 WHL appearances, Lukacevic produced 137 points (63G 74A), which was enough to draw the attention of several NHL suitors. The 2004 NHL Draft was in Lukacevic's favour, as he was  selected 110th overall by the Los Angeles Kings.
It would take until the 2006-07 season for Lukacevic to embark upon his illustrious and globe-trotting professional hockey career. The forward spent the best part of six years in North America making 231 ECHL and 112 AHL appearances, before heading out to Sweden in late 2012. The move from Las Vegas Wranglers to IF Sundsvall Hockey (Allsvenskan) would kick-start his journey through the European leagues.
Since then, Lukacevic has played in eight different professional league's and represented thirteen clubs overall. In 2013-14, the forward swapped the ECHL for the EIHL when he joined Fife Flyers for an extremely productive 18-month stint; in his first 87 EIHL appearances Lukacevic tallied 100 points (40G 60A) before swapping Kirkcaldy for Coventry. The 2015-16 season saw him split time between the Midlands and Edinburgh Capitals, before heading back to the European mainland in 2016-17 with KH GKS Katowice. This stint in southern Poland was somewhat brief, as Lukacevic stayed for 10 games and generated 10 points (6G 4A) before returning to the ECHL with Quad City Mallards.
Lukacevic originally joined UTE in the Erste Liga for the 2017-18 season, but finished the season with Odense Bulldogs (Denmark). A contract extension for the forward kept Lukacevic in Denmark until December 2018, before returning to Canada for personal reasons. However, less than one-month later Lukacevic would find himself back in professional hockey with Tours. This short stopover in France was again productive, as the dual-national produced 9 points (4G 5A) in as many games.
The Storm Head Coach, Ryan Finnerty, had this to say about the new signing:
"I have seen Luka playe over the years and when he's dialled into the game, he can dominate them. He will be coming here with a clean slate and a fresh attitude. 
"He is at a great place in his life and I'm hoping we can get the best out of him here in Manchester. I am really excited to see the level he can play for us this season, he could be one to watch in the league!"
Player Profile
Position: Centre/Left-Wing
Age: 33 years old
Height: 6ft
Weight: 92kg
Read Lukacevic's Elite Prospects profile here 
If any businesses or individuals would be keen to learn about a fantastic "full player sponsorship" for Lukacevic, please email liam@storm-office.com for more information.
The Manchester Storm OSC are delighted to announce the launch for 2019/20 Own and Loan. You can find out more information here. Keep your eye on the OSC social media for more future announcements.
Words by Callum Schora