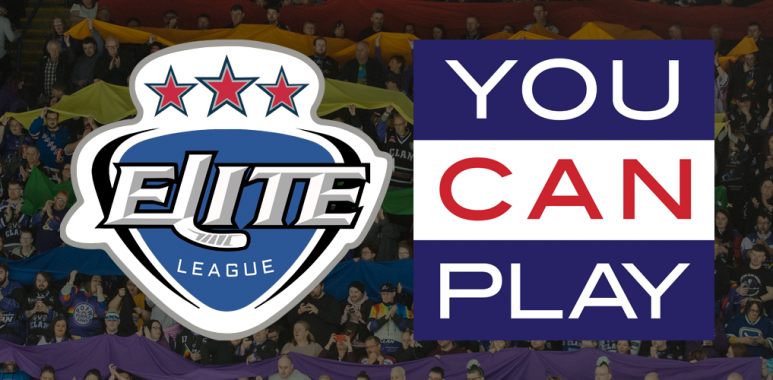 ELITE LEAGUE NEWS: PARTNERSHIP WITH 'YOU CAN PLAY' PROJECT & PRIDE WEEKEND ANNOUNCED!
The Elite Ice Hockey League is thrilled to announce it is partnering with the 'You Can Play' Project to organise the league's first Pride Weekend!
As a league, the EIHL is committed to ensuring equality, respect and safety for all athletes, fans, staff and volunteers without regard to their sexual orientation and/or gender identity. This season, Friday 24 – Sunday 26 January 2020 will be designated as EIHL Pride Weekend to promote that message as one league.
"Several of our teams have held their own individual events during past seasons, but I am delighted that we'll carry this important message across the EIHL," said Elite League Chairman Tony Smith. "We are very proud to have a diverse fanbase across ice hockey in the UK. Our fans showed at the Playoff Finals Weekend that inclusivity is something they value in our sport, and we want everyone to feel welcome whenever they're in our arenas or attending our events."
Ryan Pettengill, Executive Director of You Can Play added: "You Can Play is proud to be a part of the Elite Ice Hockey League's ongoing work to promote inclusion in and around the sport of hockey. The EIHL and You Can Play partnership sends an important message to athletes, coaches, and fans throughout the UK and beyond about how important this work is in creating a safe and healthy sport culture for all."
Alongside this exciting news, keep an eye on the official Manchester Storm website and social media channels for an announcement coming soon which see's the club link up with 'Manchester Pride' for our pre-season fixtures at the 'Storm Shelter'! More on this to follow…
Pride Weekend Fixtures:
Friday 24 January
Dundee Stars vs. Glasgow Clan
Saturday 25 January
Belfast Giants vs. Glasgow Clan
Fife Flyers vs. Cardiff Devils
Nottingham Panthers vs. Guildford Flames
Sheffield Steelers vs. Manchester Storm
Sunday 26 January
Cardiff Devils vs. Nottingham Panthers
Coventry Blaze vs. Sheffield Steelers
Glasgow Clan vs. Fife Flyers
Guildford Flames vs. Belfast Giants
Manchester Storm vs. Dundee Stars