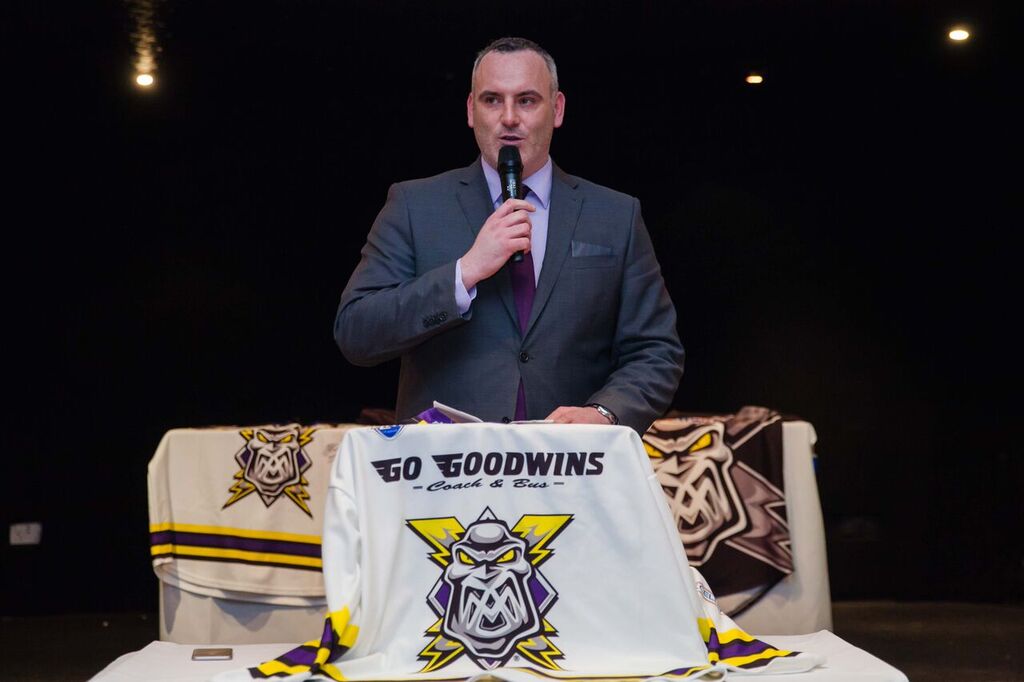 SEASON TICKETS: The Go Goodwins Coaches sponsored Manchester Storm are pleased to announce that season tickets for the 2016/17 Elite Ice Hockey League season are now available to purchase. Season Tickets can be ordered online by clicking here, by calling the box office on 0161 926 8782, or in person at the box office.
Hi Storm fans,
Well, how's everyone coping without any Storm ice hockey to watch? It sucks, eh! The past few weeks since the season ended has been filled with getting all the players out of the country and on their way home, player's houses cleared, meeting with estate agents, landlords, and copious amounts of other admin associated work, to end out the season!
The question you all want to know I suppose, is how Pach is getting on with recruitment?! Well, it's fair to say he's getting on very nicely. Recruitment isn't as easy as some might think, it's not a case of saying "I want this guy" and you simply go get him. Or certainly it's very rare that this happens. It takes time to negotiate. Also, players review their options at the end of a season, just as clubs review their player's performances too. As teams are getting wrapped up across many leagues in Europe & North America, we'll see a lot more activity with agents pushing more players our way. The task for any coach is as much about research on those players as anything else. Speaking to old coaches, line mates, opposition players, whoever, to try and gain a broader picture on not just the player, but the man himself. Something Pach and I are placing huge significance on ahead of next season. All in all, things are progressing nicely, we have a couple of contract offers out presently, and are hopeful on both, but we will take our time this summer in ensuring we have the right man for the role, so be patient! No stone will be left unturned in pursuit of what we want here in Manchester ahead of next season.
Also, as I alluded to in my previous article, as you all know, this past season has been a whirlwind from start to finish for myself (still ongoing!) With that in mind I have asked a few individuals that I've gotten to know fairly well this past season, to help out with taking some of the slack off my shoulders so to speak. I value fan engagement VERY highly. It's a vital cog in a club/business such as ourselves as we build on the solid foundations that have been laid this season, but being straight to the point, I don't have the time presently to organise these important events anywhere near to the level that they all deserve. You guys deserve the best, and that's what I'm hoping will be achieved from the group I've asked to help.  Nick Barlow, Brian Ashton, Andy & Bernadette Shaw, Jess Patten, Alan Johnson, Paul Tracey & Hayley Boardman are the guys entrusted with helping drive these events with the help & support of myself. These individuals are fans of the club, just like you, and they are giving of their own free time to help drive the club forward, and provide an even stronger event programme for you all moving into next season and beyond. Encourage them all please, they will be open to all suggestions and offers of support. The first off season event is "Quiz Night" on Saturday 14th May @ 5.30pm! Open to one and all, bring friends, family, work colleagues along and we'll all be sure to have a good evening!
In conclusion, it's all still "GO GO GO" here at the #StormShelter! My focus will be on many things over the summer period, primarily on the commercial front which has already started off very positively, so if you know of any businesses that are searching for sponsorship opportunities, please get in touch with myself. (gm@manchesterstorm.com)
Pach and I are determined to build a team for next season that has fans on the edge of their seats. Keep your eyes peeled to social media over the next few weeks for more signings & exciting off ice news that I received yesterday after a lot of hard work was put in, oh……and don't forget, the "Early Bird Season Ticket" offer finishes at the end of May! Just on that, season tickets have been selling very well indeed, so a big thank you to all who have purchased already.
See you all at the Quiz Night on Saturday 14th May!
Regards,
Neil