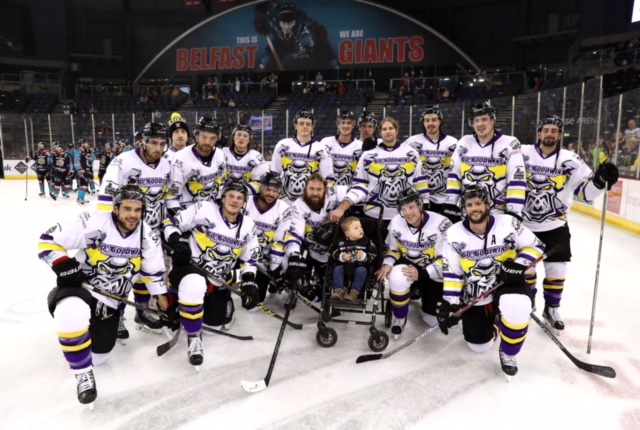 MESSAGE FROM THE GM: A NIGHT TO REMEMBER FOR SEBASTIAN!
There are just some things in life more important than any sporting result. I give you the story of a young Storm fan, Sebastian Pitts, a kid who is approaching his 3rd birthday in June. He suffers from an illness knows as Leigh Syndrome, which is a severe neurological disorder. The prognosis for sufferers of this illness is not good.
I first received an email way back at the start of the season about the possibility of Sebastian doing "puck-drop" at a home Storm game, with some mention of him not being overly well. We organised everything, Stephen & Yvette (Sebastian's parents) brought him down rink side and performed their puck-dropping duties with aplomb! It was only after the game in Jack's Bar when I spoke with Stephen about Sebastian that I started to get a full grasp on the battles he was going through. Stephen then mentioned to me about a "Bucket List" that they were working their way through for Sebastian, and one of those was to take a trip on a plane to go watch his beloved Manchester Storm play in Belfast.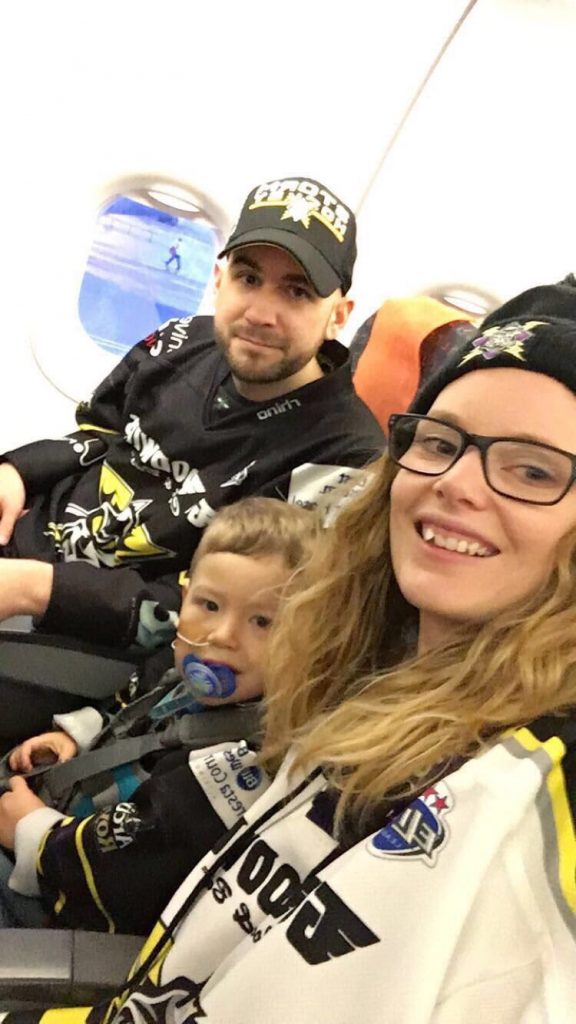 We have a really good bunch of guys here at the Storm this year, guys who "get it", a term you often hear me use, so when I mentioned Sebastian's story to Captain Trevor Johnson & Eric Neilson, the players wanted to do something cool for him. The guys got a stall in our locker room at the SSE Arena all done up for him and we brought Sebastian in pre-game to meet the players. The family then came onto the Storm bench for warm-ups, where players of both Storm & the Belfast Giants came over and spoke with the young Storm fan and his parents, Stephen and Yvette.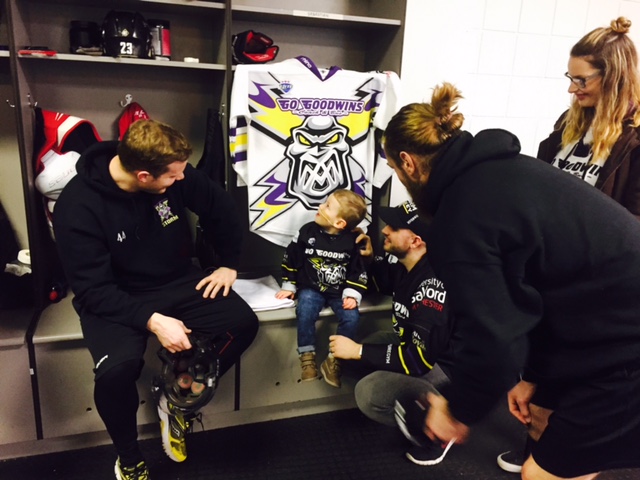 Then during the game, Sebastian appeared on the huge screens at the SSE, which in turn got both players benches stood up and the whole of the SSE giving him a huge cheer. You can't buy that type of reaction. At the end of the game, we then had Sebastian present the Storm MOM award. I'm not sure about the rest of you, but when TJ & our Storm  players then took Sebastian round the ice for the post game lap in his wheelchair to another rapturous applause, I had to try hold it together when stood watching from the side lines. Those are memories being created for the whole Pitts family, something really special.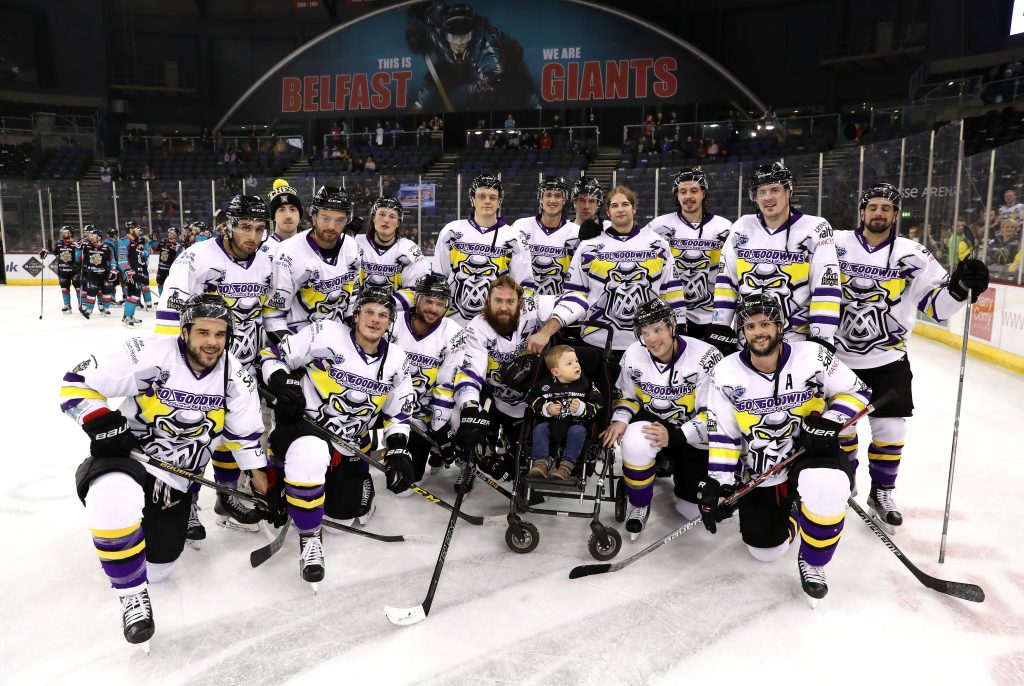 Then after all the players had left the ice, Belfast Giants Captain, Adam Keefe, a man who does an incredible amount of community work for the Giants, invited Sebastian into the home locker room to meet the team & present a Giants jersey to the Pitts family. A fantastic gesture from a great club.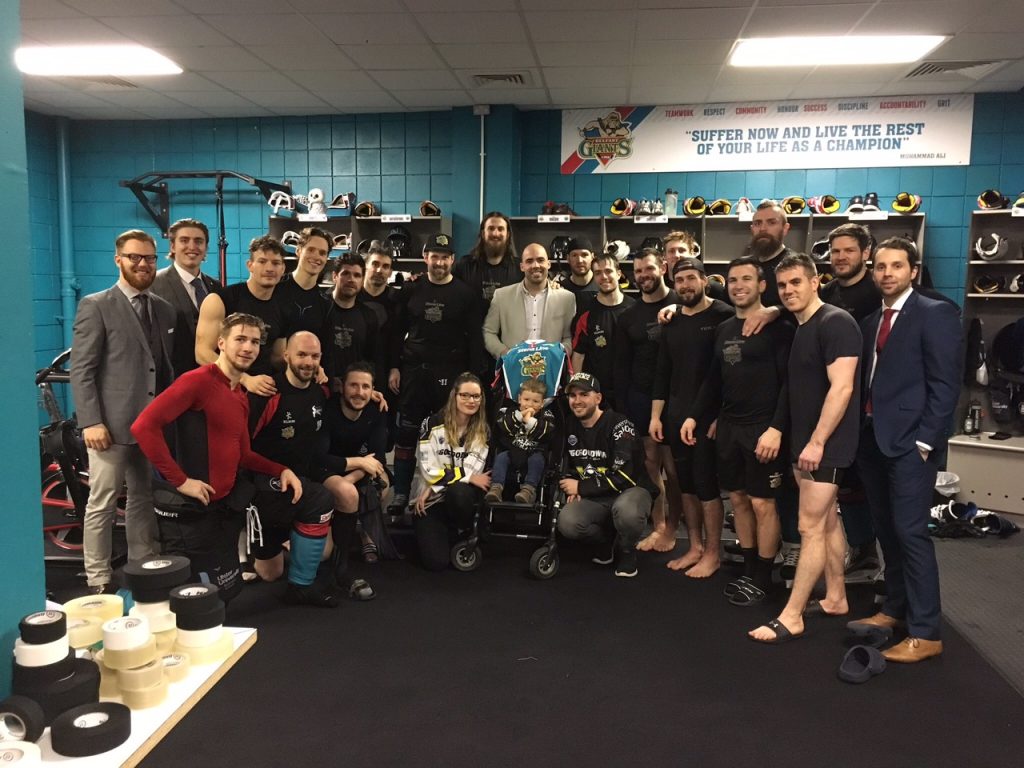 The Giants are a club very close to my heart for obvious reasons. They have great people who "get it", "get" the importance of going that extra mile for people. It's what we have tried to install here in Manchester too, being accessible, being engaged with our fan base and local community. For me, whilst other sports do this also, it's the way ice hockey does it that separates us from all other sports.
I'd like to personally thank Steve Thornton, Adam Keefe, Mark Brooks, Belfast Giants TV, and the amazing Laura Small for all their help in allowing us to make Saturday night a really special one for Sebastian and the Pitts family. Their assistance is massively appreciated.
The Storm is a club now 20+ months in existence, and in that short space of time we have seen our fan base grow and grow, but one thing for as long as i'm the GM here that we will never lose sight of is ensuring the "small things" are always done. I honestly see the Storm and all of our players as being privileged to be in a position to bring positivity to people and their lives, to make them feel a part of something special & to give back. We will never lose sight of that fact whilst i'm here and in charge of our great club.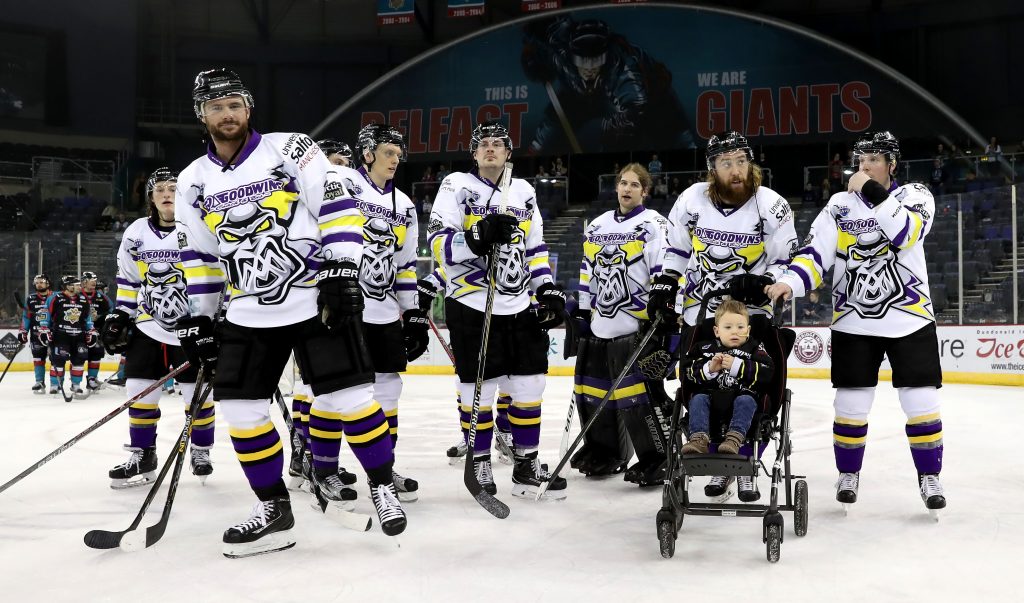 We have a video that captures everything from Saturday night which we would love all our fans to share!
I hope that we have helped create some awesome memories for Sebastian, Stephen, Yvette and the whole Pitts family. As I said at the top of my article, there are simply some things WAY more important than any hockey game. #WeAreStorm