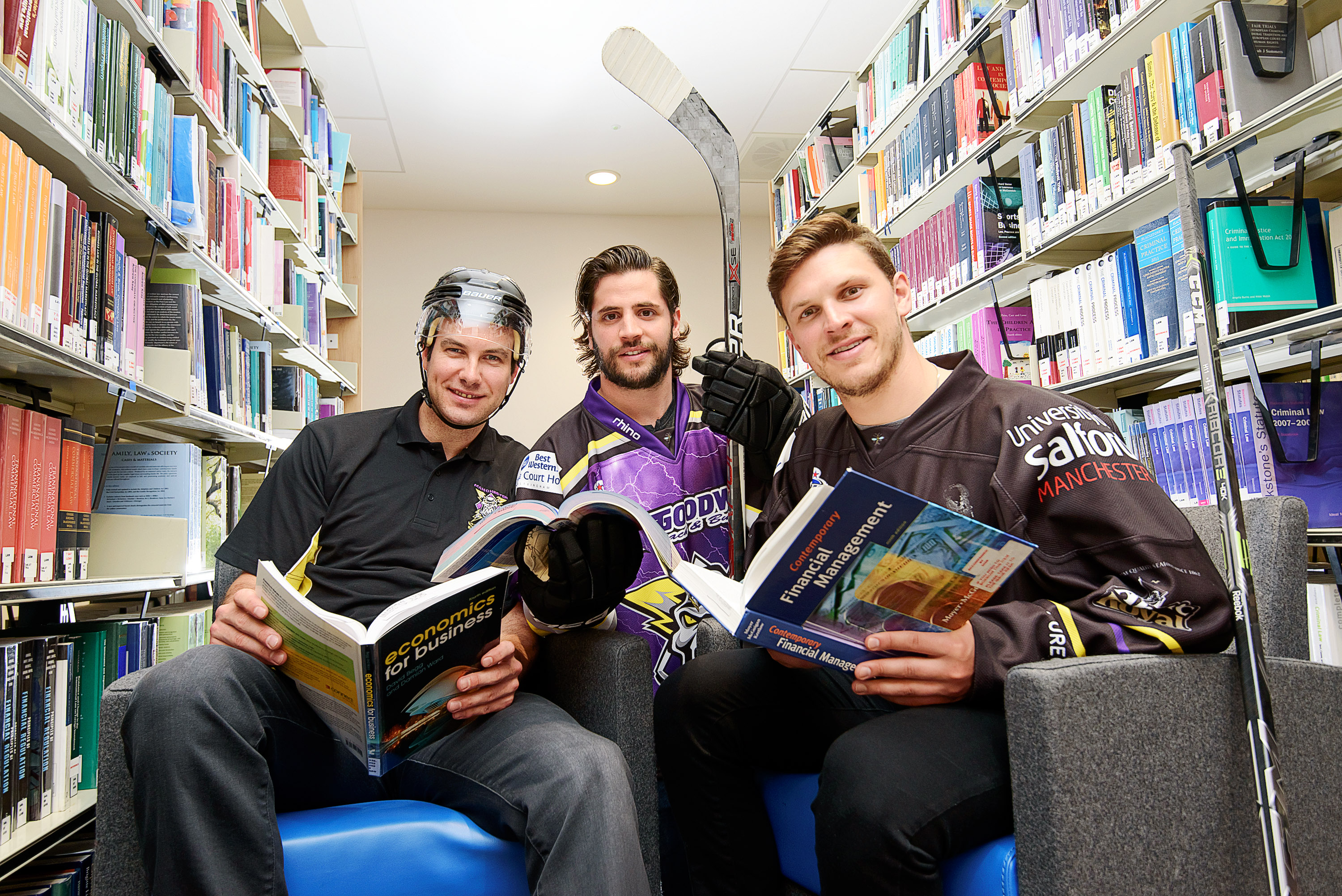 MBA stars head home after successful year
VIA Salford University
THREE international hockey stars who have spent the last year playing and studying in the North West are now on their way home after a successful twelve months in the UK.
Mark Heatley, Mario Trabucco and Paul Philips were all on a scholarship programme run by the University of Salford. They played professional ice hockey for Manchester Storm of the Elite Ice Hockey League, while completing their MBAs at University of Salford Business School.
And it has been a great year all round with Storm making the end of season play-offs in only their second year as a professional outfit, and the three players also impressing in the classroom.
Canadian Mark Heatley joined the Storm after playing eight seasons in the German DEL2 league. He said: "I would recommend this to anyone else thinking about a scholarship. It was quite a unique opportunity.  Good quality lecturers, with diverse experience and a great student teacher ratio meant I got a lot out of the course. And the quality of the hockey was great too."
Mario Trabucco, also from Canada, has previously spent seasons in Italy, Germany and Sweden. He said: "We have managed to get a good balance between school and hockey and I think we got that right this year."
And American defender Paul Philips: "It's been a good year for the team, we did some good things, was a fun year combining school and playing and balancing the two.
"We're going back home now to finish our final dissertations and we'll be coordinating with people back in Salford. By September we should have finished out MBAs."
All three players are hopeful of gaining playing contracts for next season, as well as completing their studies. The three did MBAs in Sports Business and all are planning for careers in sports management when they hang up their skates.
Professor David Spicer, Dean of the University of Salford Business School, said: "It has been great to have the three players with us this year, they have made a real contribution to the university as well as to Manchester Storm. Salford has a growing reputation in the sports business world and this move builds on that.
"Our Centre for Sports Business is home to experts in the sector and can teach the type of skills that are in demand to prepare people for life as an executive. To build on that we are launching two new courses this year.
"The agreement with Manchester Storm has been so successful that it will be extended for another year and increased, with four players potentially studying at Salford next year while playing hockey."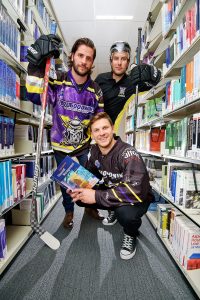 Neil Russell, General Manager of Manchester Storm, is delighted with the partnership. He said: "It has been a great season for us on and off the ice. It was only our second year as a professional team so it was a great achievement to make the play-offs and see our crowds flourish throughout the season.
"Mark, Mario and Paul all made a terrific contribution to the team this year and I'm sure this MBA programme will benefit them greatly when they finally decide to hang up their skates.
"The partnership between Manchester Storm and Salford has worked really well, it is a massive recruitment aid for us in the summer when we are searching the world for new players, so we are immensely proud to continue it for another year, and I've no doubt that together we will go from strength to strength."