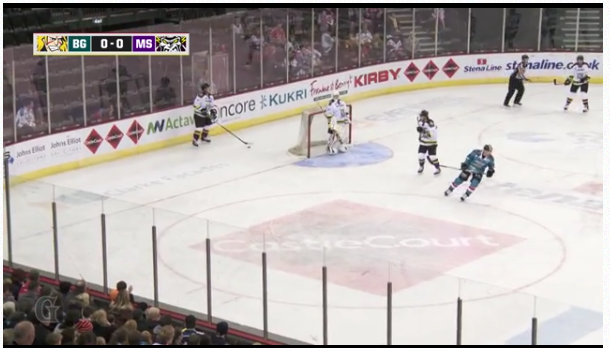 Match Report: Storm @ Giants
NEXT HOME GAME: The Go Goodwins Manchester Storm face the Coventry Blaze at the Storm Shelter this Sunday (5pm face-off). Tickets can be purchased online by clicking here, calling the box office on 0161-926-8782 or on the day at the box office.
The Go Goodwins sponsored Manchester Storm came back from 1-0 down at the Belfast Giants, to win 3-1 on the road in a closely contested Elite Ice Hockey League match.
The first period saw the Belfast Giants go 1-0 up over the Storm just before the 10th minute. Despite the continued pressure of the Giants, the Storm were able to tie things up 7 minutes later when Vinny Scarsella let a fly with an absolute rocket into the top of the net for a power play goal.
The second period was one of end to end hockey, with the Storm consistently the better side. The Giants however gave too many penalties away during the period, and the Storm once again took advantage of the power play with 5.7 seconds remaining in the period to go 2-1 up, thanks to Luke Salazar's goal.
The third period was when the Storm, who had been let down the night before by some defensive errors, really showed their ability and were able to dig deep defensively – battered by a continuous storm of shots from the Giants. With just under 2 minutes to go, the Giants pulled their netminder, Stephen Murphy, to have the extra attacker – but were caught short on a shot from Matty Davies who scored from his own end into the Giants empty net.
Final score: Belfast Giants 1-3 Manchester Storm