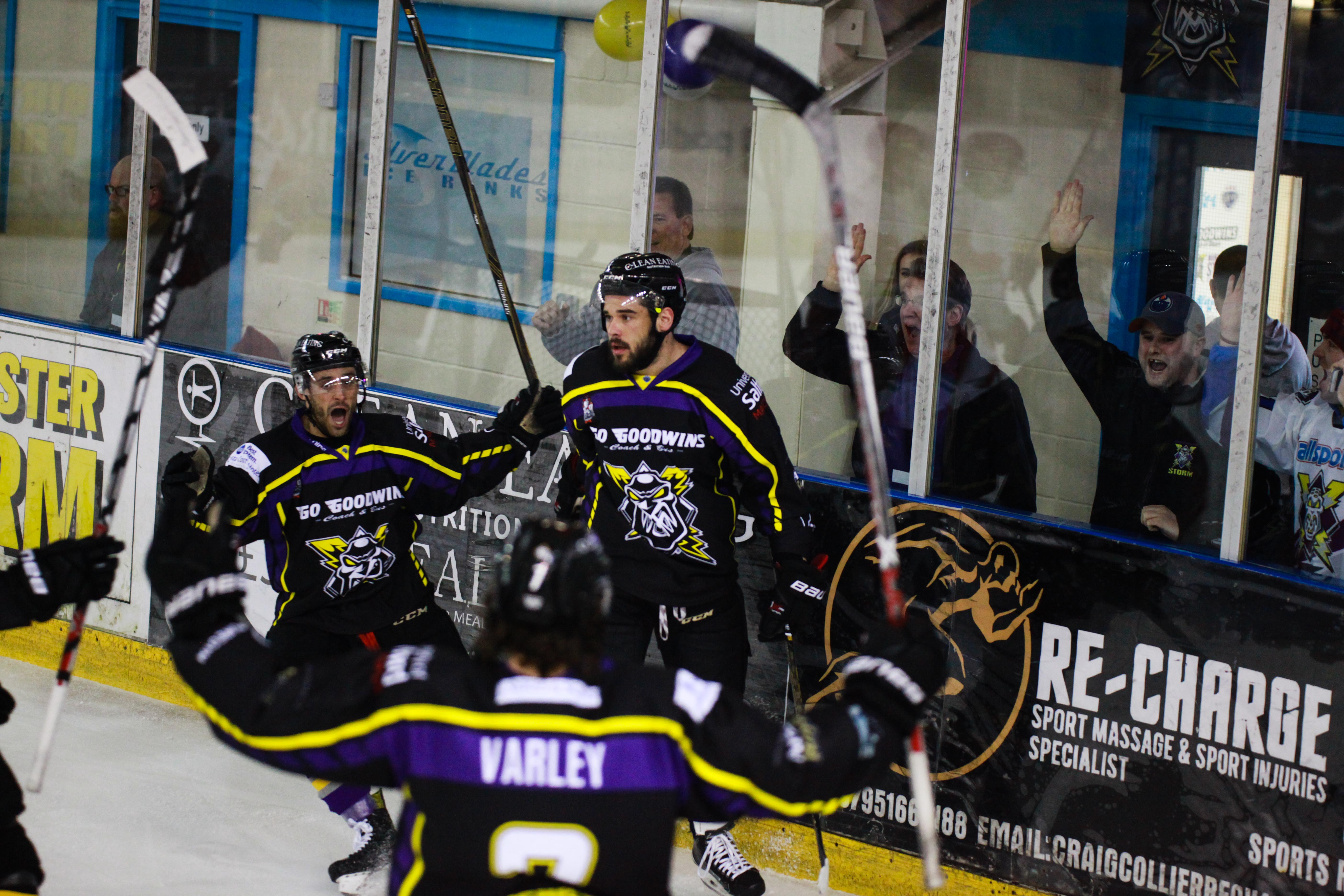 Match Report: Storm 1-3 Cardiff Devils
Your Go Goodwins Manchester Storm saw their Playoff run come to an end at the quarter-final stage, as they went down 1-3 (3-6 on agg) to the Cardiff Devils in front of a packed Storm Shelter.
With the atmosphere electric, the Storm Shelter braced itself for a HUGE 60 minutes of hockey. With Coach Pacha still unable to play due to injury, the Storm took to the ice with the sole goal of scoring one more than the Devils to take it to over time, or two or more in regulation to progress to the Playoff Finals weekend in Nottingham.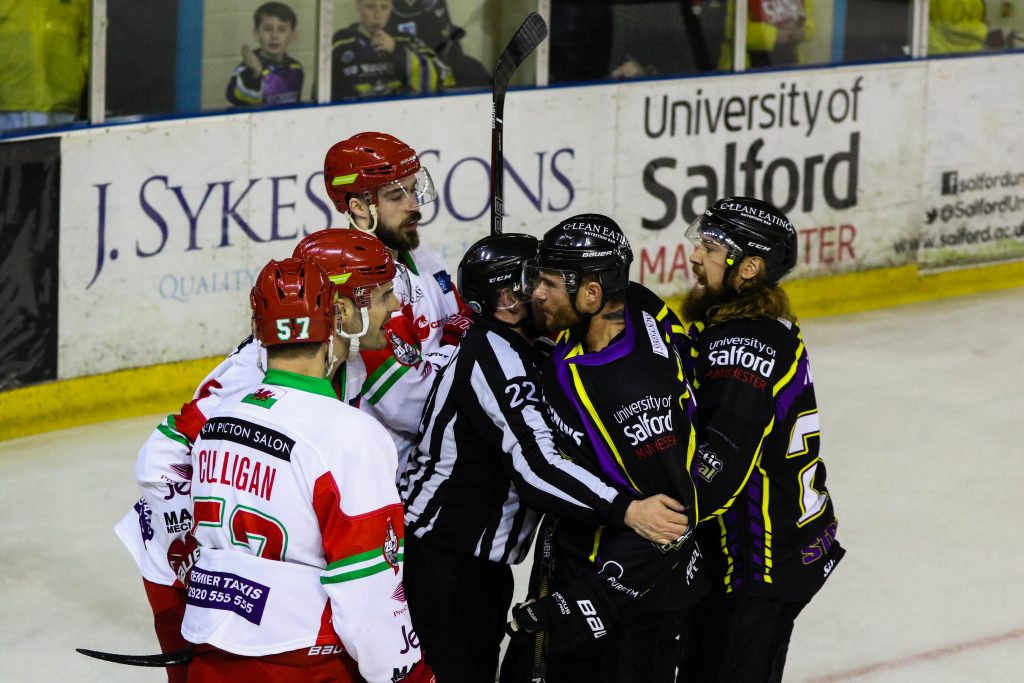 The opening period of play saw a frantic start, with chance at both ends of the ice. A couple of chances for the Devils saw the Storm D and netminder, Mike Clemente, remain solid, before Darian Dziurzynski was able to put the home side 1-0 up (3-3 on agg) with 11:39 to play in the period, with a fantastic breakaway effort to bring the Storm Shelter to its feet.
The Devils however continued to press and with 8:23 to go in the period, slotted home to once again give them the aggregate advantage, with the impressive Joey Haddad grabbing the goal. This was followed up with a second goal, with just 1:27 left to play in the period, by Chris Culligan.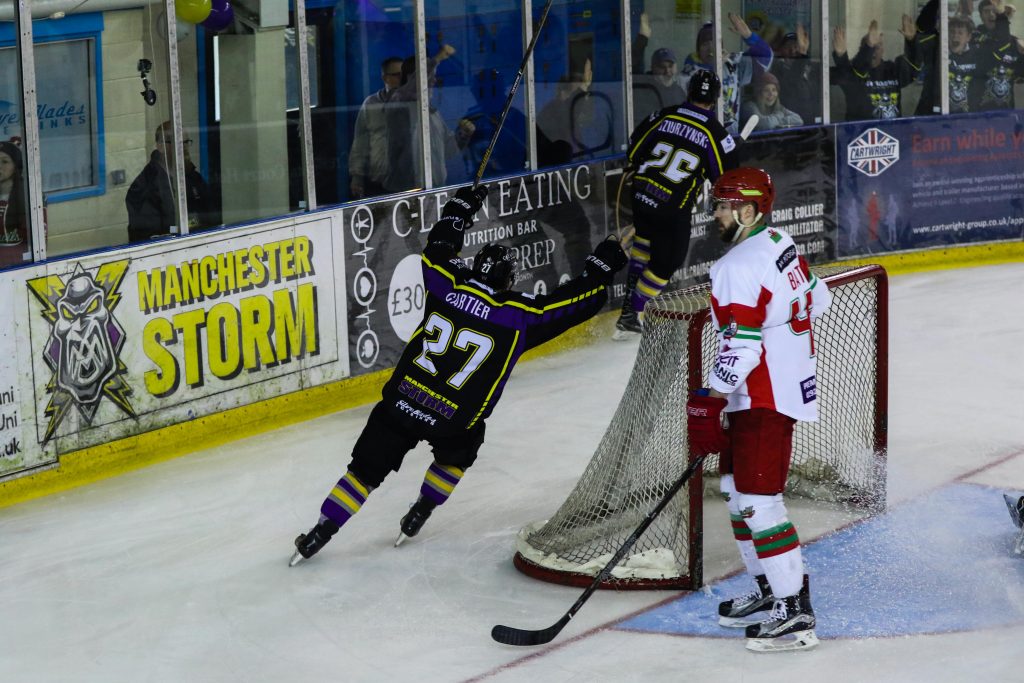 Storm struggled to find their form early on in the second, and the visiting Devils were quick to jump on the puck. Try as the Storm might, the league/conference and Challenge Cup champions found an extra gear, and eventually capitalised with Gleason Fournier grabbing the Devils 3rd, 6th on aggregate, much to the frustration of the Storm Shelter with 11:53 to play in the period! The Devils continued to mount the pressure on the Storm, however, thanks to the heroics of Clemente in the Storm net, the score was kept at 3-1 to the visitors for the remainder of the period.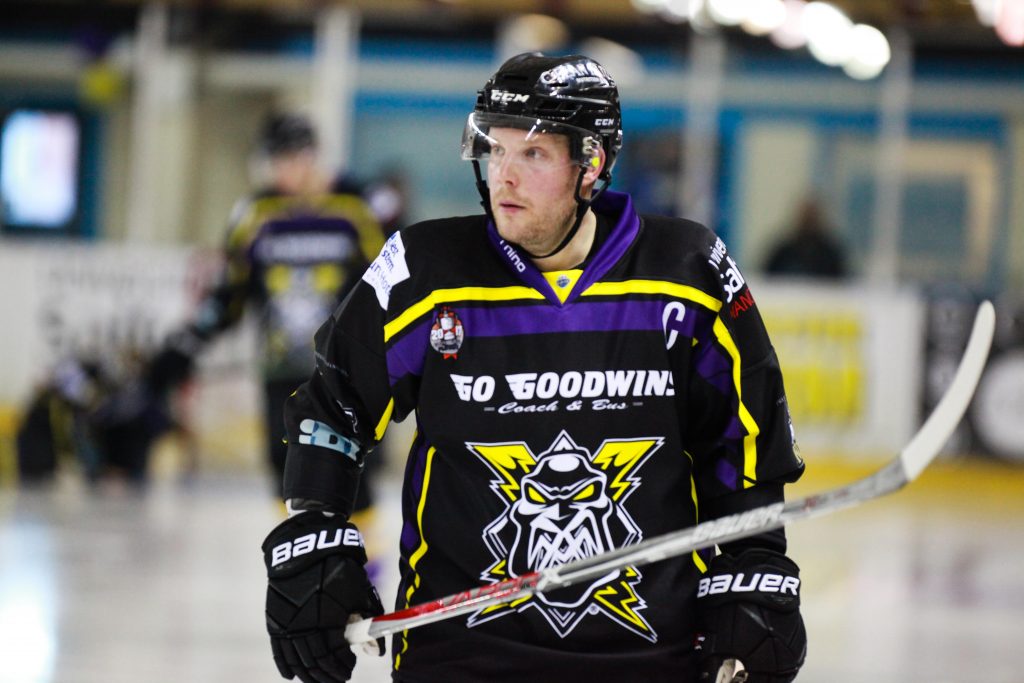 The third period saw backwards and forwards at both ends of the ice, as both teams tried to grab the next crucial goal. The Storm, who had struggled to find their rhythm in the second, slowly began to get shot after shot on Bowns in the Devils net. Yet try as they might, they were unable to find a way past the GB international. With the clock ticking down, Coach Pacha pulled Clemente from his net to give the Storm the man advantage, but the Storm couldn't capitalise. The final score 3-1 to the Devils, 6-3 on aggregate.
HIGHLIGHTS: