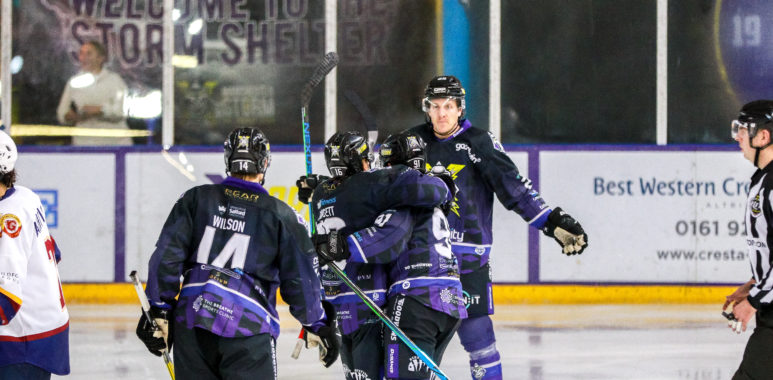 MATCH REPORT | Manchester 2-6 Guildford
A disappointing home performance saw the Storm fall 6-2 to a clinical Guildford Flames outfit.
The hosts were the first to register a goal in the game, as a shot from the point fortuitously bounced off the back of Fawcett and into the Flames goal. However, just three minutes later the game was tied. A well-worked powerplay goal saw Watson glide across the point before firing the puck accurately past Ginn. Later in the period, a defensive mistake gifted young Howlett a golden scoring opportunity, which he gleefully converted in the 19th minute. The 2-1 scoreline, in favour of Guildford, remained for the rest of the period.
The second period started with Storm's starting netminder Matt Ginn being replaced by James Downie, as the former suffered a knock in the opening twenty minutes of play. An odd-angled effort by Frankie Melton somehow found its way beyond Lindskoug in the 23rd minute, as the returning American scored on his home ice debut. The tied scoreline lasted a little over five minutes, as Watters clinically finished the two-on-one opportunity which presented itself to the Flames. An outstanding backhand finish by McNulty extended the visitors advantage to two-goals heading into the final period of play.
The final period saw the visitors add a further two-goals to their lead and run out deserved 6-2 winners, as the Storm struggled to fashion any real scoring opportunities.
#WeAreStorm | #Manchester