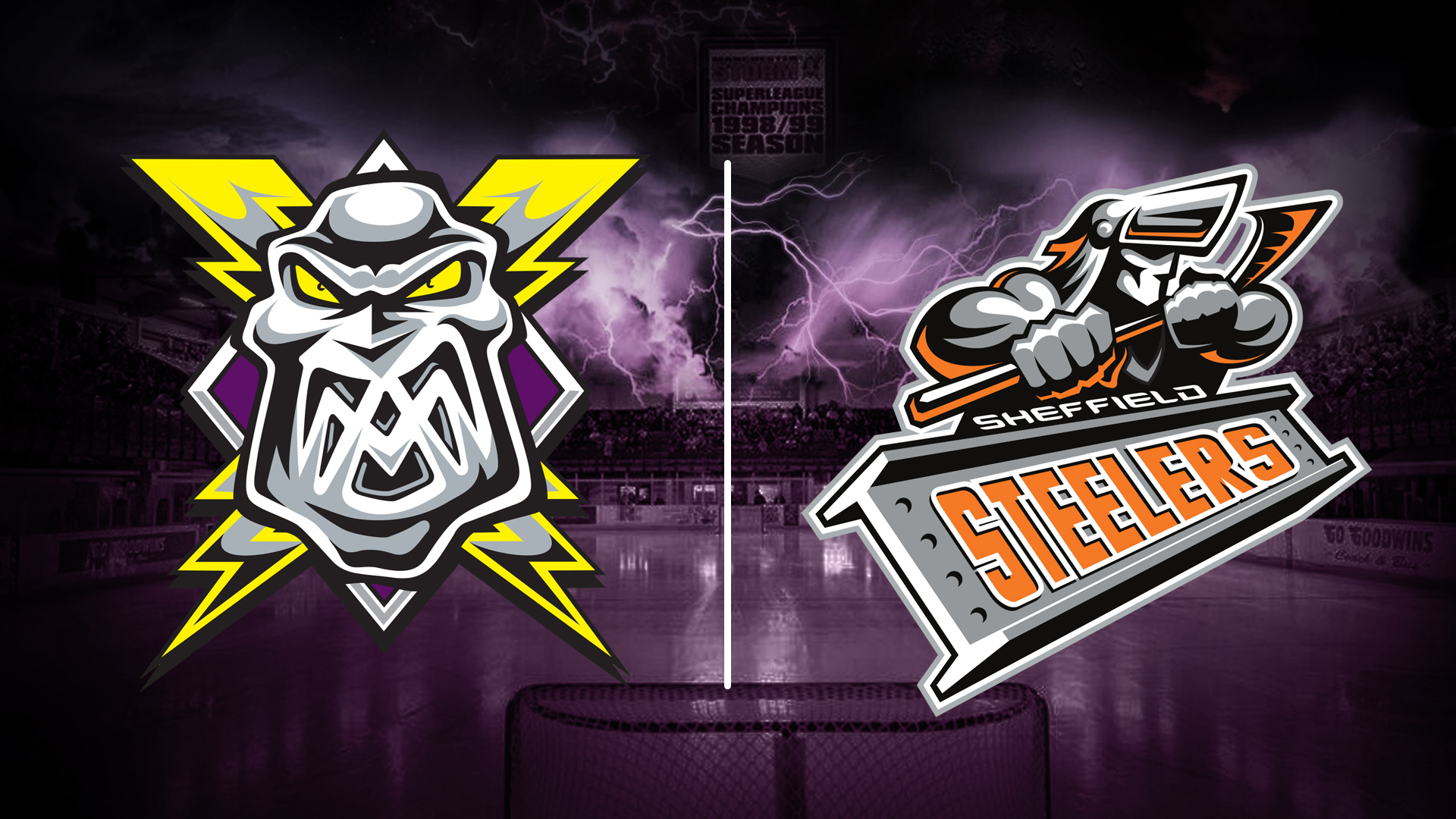 Latest News
Match Previews
Match Preview: Storm vs Steelers!
TICKETS: The Go Goodwin's Manchester Storm are back in action this Sunday 2nd October with a "War Of The Roses" Challenge Cup match against the Sheffield Steelers. Face off is at 5.30pm and tickets can be ordered online or by calling the box office on 0161 926 8782, or in person at the box office.
The Go Goodwins sponsored Manchester Storm face the Sheffield Steelers at home this Sunday 2nd October (5:30 pm faceoff) in a Challenge Cup War of the Roses clash.
This is the second competitive meeting between the two teams this season, the Steelers coming out on top in the first Challenge Cup meetup 6-4 in a tight game. Goals from Cartier, Heatley, Trabucco, and Bissonnette were not enough to overcome the Steelers who grabbed an empty net goal in the last minute to secure a 2-goal victory. The game proved to be a feisty affair, with several physical encounters as both teams tried to get the upper hand.
Both teams were in action last night, Manchester travelling to Nottingham and Sheffield facing the resurgent Braehead Clan at home. Storm lost to the Panthers 8-5 in an enthralling game that had goals, big hits, end to end action, and a centre ice scrap between Storm forward Eric Neilson & former NHL heavyweight Brian McGrattan.
Despite losing both games last weekend, Sheffield have started the campaign brightly and several players have stood out for them already this season. Summer recruit John Armstrong scored 2 goals last weekend in an impressive personal performance against Cardiff, whilst Ben O'Connor has bought his usual offensive flair to the blueline, getting a point per game in his first 5 games of the season. Storm will be looking for a repeat of the pre-season match between the two teams, where goals from Bissonnette, Dziurzynski, Varley, Neilson, and Harding secured victory for the Storm.
The Storm will be without Matt Bissonnette again today, but he is expected to back in the lineup for next weekend. Adam Harding will also be out of the side this evening after fracturing his foot blocking a shot in practice this week, and is expected to be out of the lineup for the next 4 weeks minimum.
One to watch: Mathieu Roy has already managed 5 goals and 4 assists in his first 5 games this season. The former EIHL forward of the year is deadly in front of net and the Storm defence will have to keep their eye on him all night.
MATCH DETAILS:
Doors open from 4:30pm
Face-off at 5:30pm
There is NO live stream – updates via StormLive on Twitter
"Shirt Off The Back" is #29 Eric Neilson's purple Challenge Cup shirt
50/50 & "Chuck A Puck" will also be running! Buy your tickets from sellers around the rink!
Tickets for the game can be bought from HERE