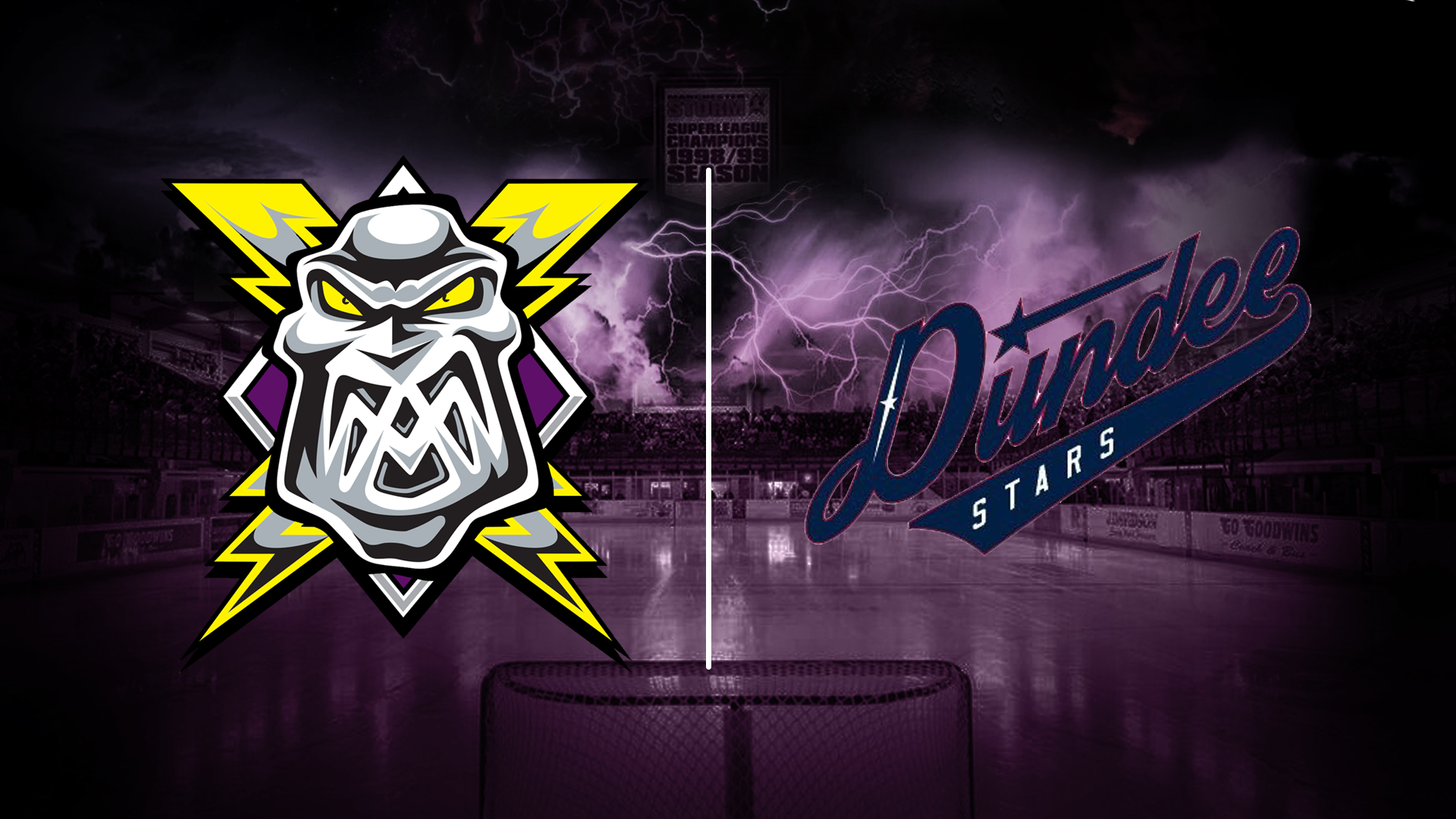 Latest News
Match Previews
Match Preview: Storm vs Dundee Stars
TICKETS: The Go Goodwin's Manchester Storm are back in action on Boxing Day with a Gardiner Conference match up against the Dundee Stars. Face off is at 5.30pm and tickets can be ordered online, by calling the box office on 0161 926 8782, or in person at the box office!
Your Go Goodwins sponsored Manchester Storm are back in action this Boxing Day, taking on the Dundee Stars at the Storm Shelter. (5:30pm)
Manchester Storm will be without injured player, Eric Neilson, but Paul Phillips is expected to return to the lineup after missing Friday's superb road victory in Cardiff. A decision on whether popular forward, Patrik Valcak, will play is still unsure after missing the last 7 weeks due to injury. He is definitely very close to a return to the full lineup.
Both teams are chasing down the Braehead Clan at the top of the Gardiner Conference standings, second placed Storm are 3 points ahead of the Dundee Stars who have 3 games in hand over Manchester. 3 points, and 3 places, also separate 6th placed Manchester and 9th placed Dundee in the Elite League standings, with Storm having a game in hand over the Stars.
The teams are coming into the game after Friday night away games against Erhardt conference opposition, the Stars travelling to Nottingham and Storm facing the Cardiff Devils. Manchester held on for a magnificent 3-2 victory over the league leading Devils, Trevor Johnson, Taylor Dickin, and Mario Trabucco scoring the goals and Mike Clemente stopping 26 of 28 shots from Cardiff. It was a different story for the Stars in Nottingham, despite a strong start from Dundee, Nottingham came back to score 3 unanswered goals in a 4-2 victory. It was another impressive evening from Stars' netminder Joe Fallon, who faced 44 shots, saving 40.
Dundee have been a bit of a bogey team for the Storm this season, securing victories in all of the games between the sides. The first meeting this season resulted in a 3-2 victory for the Stars in Dundee in mid-October. This was followed up with a another 3-2 victory for the Stars, this time after a shootout, in Altrincham in November. The last match between the sides ended 6-3 to the Stars, Brett Switzer rounding the game off with a late empty-net goal. One bright spot for the Storm in the meetings has been the performances of Matt Bissonnette, who has scored a point in each of the 3 matchups.
ONE TO WATCH: Félix-Antoine Poulin joined the Stars and has made an instant impact from the blueline for the Stars, scoring 8 goals and adding 16 assists in 24 games, making him the highest point-scoring defenceman in the league.
MATCH DETAILS:
Doors open from 4:30pm
Face-off at 5:30pm
SOHB this evening is #81 Patrik Valcak
50/50 & "Chuck A Puck" will also be running! Buy your tickets from sellers around the rink!
Tickets for the game can be bought from HERE
Webcast for the game can be found & ordered HERE
Storm will be in their BLACK home jerseys
Jacks Bar will be open post game until 11pm
There is FREE ice skating + skate hire until 11pm