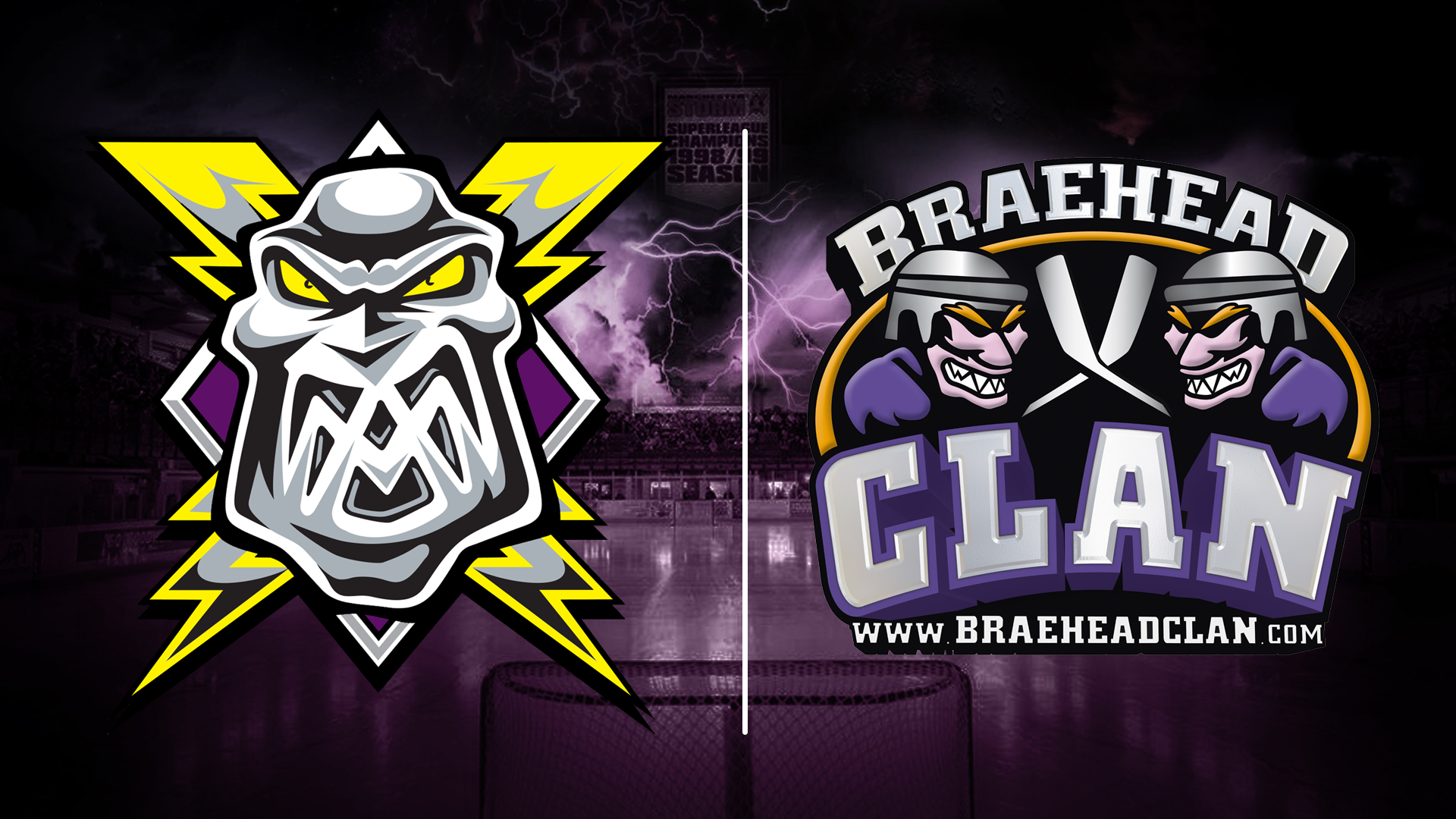 Latest News
Match Previews
Match Preview: Storm vs Braehead Clan
TICKETS: The Go Goodwin's Manchester Storm are back in action this SATURDAY 12th November, as we take on the Braehead Clan, here at the Storm Shelter. Face off is at 7pm, and tickets can be ordered online or by calling the box office on 0161 926 8782, or in person at the box office.
A busy weekend at the Storm Shelter sees the visit of the Braehead Clan this Saturday 12th November to take on the Manchester Storm in Gardiner Conference & Elite League action, facing off at 7pm.
Braehead and Manchester are no strangers this season, facing off twice already. In the first match up, Manchester took both points in Braehead, with Darian Dziurzynski scoring a double and Matt Keith scoring the solitary Braehead goal. Another impressive performance from Clemente saw him make 30 saves in the mid-September victory. Braehead took their revenge a week later at the Storm Shelter, a Scott Pitt goal and a hattrick from Matt Beca were enough to skate away with the two points, Alex Leavitt rounding the game off with an empty-net goal. Eric Neilson, Cody Cartier, and Mario Trabucco getting the Storm goals in a 5-3 loss.
Last season's Gardiner Conference champions currently find themselves on 6 points after 5 games in the Conference standings. Manchester, coming off the back of last night's home overtime loss, are sitting on 10 points from 9 games. A victory for the Storm would retain their lead at the top of the Gardiner Conference, and keep themselves ahead of the chasing pack in the tightly fought conference standings.
Braehead find themselves in the unusual situation of not having played a game for 13 days, during which the Storm have played 3 games. The Clan's last game was a 5-2 home victory over the Nottingham Panthers on the 30th October, Carlson, Leavitt, Keith, Cowick, and Beca getting the goals for the Clan. Backup netminder Gary Russell making 34 saves in an impressive performance from the Scot.
With 2 vital Gardiner Conference points up for grabs, this game should be a hard fought, tight matchup, with both teams looking to keep themselves firmly in the race for the conference title.
ONE TO WATCH: Matt Beca should be familiar to the Storm after scoring a hattrick in the Storm Shelter earlier this season. He currently has 13 points from his first 12 Elite League games, including 7 goals, and possesses impressive stickhandling and a good shot.
MATCH DETAILS:
Doors open from 6:00pm
Face-off at 7:00pm
"Shirt Off The Back" is #44 Trevor Johnson
50/50 & "Chuck A Puck" will also be running! Buy your tickets from sellers around the rink!
Tickets for the game can be bought from HERE
Webcast of tonights game can be found HERE
Storm will be in their BLACK home jerseys
Jacks Bar will be open post game until 11pm
There is FREE ice skating + skate hire until 11pm
Kids (16 & under) for £1.00
Service Personnel – Active, Retired, Reserve + Scouts and Cadets for £5.00