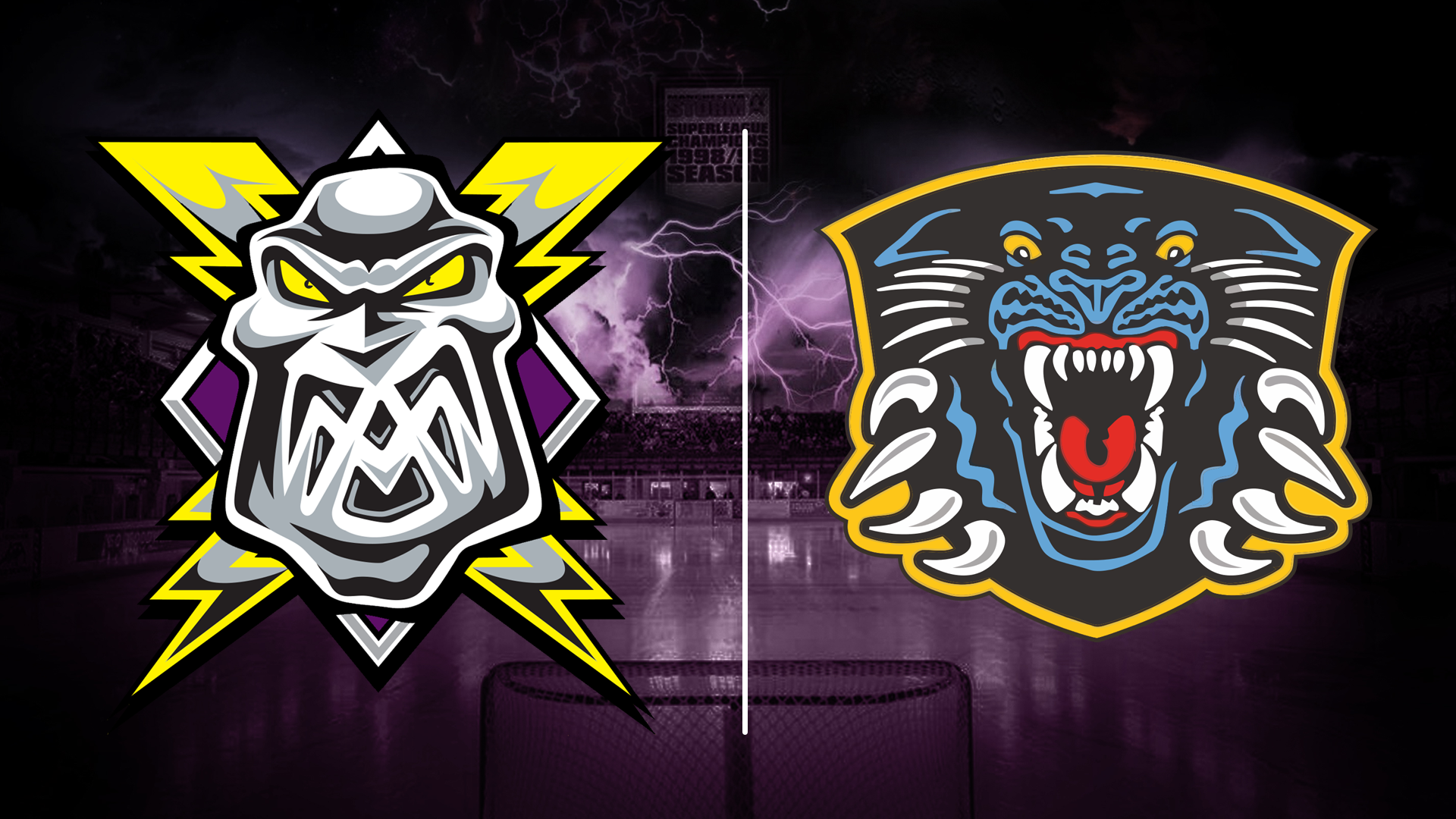 Latest News
Match Previews
Match Preview: Storm @ Nottingham Panthers
TICKETS: The Go Goodwin's Manchester Storm are back in action THIS Sunday 26th March when we take on the Nottingham Panthers in the FINAL home game of the regular season! Faceoff is at 5:30pm and tickets can be ordered online, by calling the box office on 0161 926 8782, or in person at the box office
Your Go Goodwins sponsored Manchester Storm are back in action this Wednesday, as they travel to Nottingham to take on the Panthers in a 7:30 pm faceoff.
It's another huge game for the Storm as the fight for the playoffs goes down to the final 2 games of the regular season. The equation is simple for the Storm, get 2 points more than Coventry, or 3 more than Dundee, in the remaining games to make the quarter finals of the playoffs. The Panthers are currently sitting in 4th position in the league, and they require 2 points from their final 3 games to cement that position.
Last Weekend: It was a frustrating weekend for the Storm, as they went down 6-3 at home against the Dundee Stars. A Cody Cartier hattrick was not enough for Manchester, as Dundee got two late empty-net goals to secure the points. Nottingham had a busy weekend as they faced 3 Scottish sides in as many nights, defeating Dundee on Friday night, and Edinburgh on Saturday and Sunday night. A 4-1 victory over the Stars was followed up by two tight victories over the Capitals, 3-2 and 4-3. 4 players had 3-point weekends, as the scoring was shared around the squad.
Panthers – Storm, the story so far: The sides have faced other twice in the league this season, and both Storm's remaining games are against the Panthers. The first meeting at the Nottingham Arena was a high-scoring that ended 8-5 in favour of the Panthers. Chris Lawrence scored 4 goals, with Nikiforuk, Farmer, Moran, and Waugh grabbing the rest of the Panthers' markers. Storm replied through Trabucco, Dziurzynski, Heatley, and a Paul Swindlehurst double. Storm gained their revenge in the second matchup, as they won 4-3 at the Storm Shelter in November. Bissonnette and Taylor Dickin got the Storm off to a strong start before Matt Carter reduced the deficit to one. Cody Cartier and Taylor Dickin extended the lead before Erik Lindhagen and Steve Lee set up a tense final 10 minutes, but Storm held on for the 2 points. Taylor Dickin has top-scored for the Storm against the Panthers, scoring 5 points in the 2 meetings so far.
One to watch: Panthers have spread the scoring around this season, however Stephen Schultz has stood out when fit. Now in his second season with the Panthers, he scored 14 goals and 26 assists in 35 games.
MATCH DETAILS FOR SATURDAY:
Game at the Motorpoint Arena Nottingham: Bolero Square, Nottingham NG1 1LA, United Kingdom,
Doors open from 6:30pm
Face-off at 7:30pm
Tickets can be purchased online or on the day HERE – Away fans sit in block "2"
Live Twitter updates from the game will be via StormLive
There is NO live stream for this game
Storm will be in their WHITE away jerseys