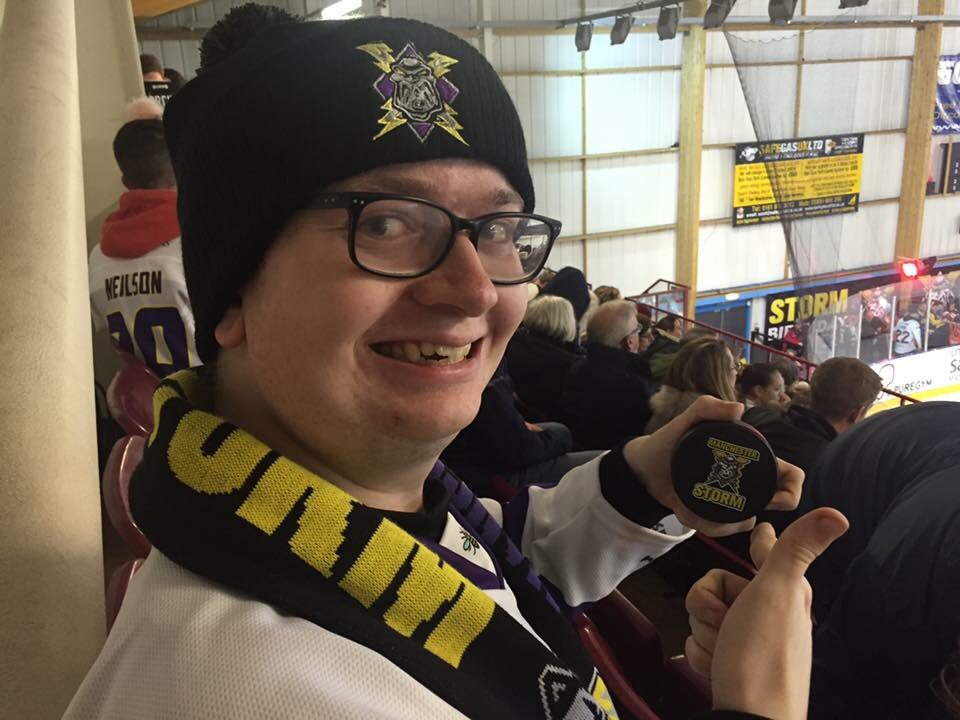 TICKETS: The Go Goodwin's Manchester Storm are back in action THIS Sunday 26th March when we take on the Nottingham Panthers in the FINAL home game of the regular season! Faceoff is at 5:30pm and tickets can be ordered online, by calling the box office on 0161 926 8782, or in person at the box office
Early on Saturday morning, in amongst the usual fantastic pre-game tweets we receive here at Manchester Storm, one tweet really stood out. A little thank you from a fan called Emily about her brother Ben, who suffers from autism. We asked Emily if she would be happy writing a blog on what the Storm has come to mean for Ben, and the rest of her family, which you can read below!
"Autism has caused Ben difficulties in a lot of ways, but I think the biggest way it affects him now is that he really struggles with social situations. He doesn't like crowds or noises and needs a lot of encouragement to even leave his bedroom, (his safe space) and he doesn't have any friendship groups. He's always been a very withdrawn character. He never chooses to go anywhere, but we (my mum and myself) have always tried to encourage him to give things a try, like the cinema or theatre. He'd always worry beforehand and even if he then enjoyed the experience, he would say no if we asked if he'd like to go back again – as though the trauma of it all outweighed the good. He's also missed a lot of school because of his anxieties.
He does love football. It's been his biggest obsession for years. He likes all the teams, but United are his favourite (Then City – he doesn't understand the rivalry, just the fact that they're both Manchester teams). Whenever we got him any tickets, he'd worship them and sleep with them under his pillow. When match day came, he'd beg not to go, even though it was obvious he really wanted to. Even with MUDSA and in the larger disabled area at United, he'd just sit and shake in terror and we'd have to leave at half time. It made him feel really down and he became even more withdrawn. I tried other things with him, but it was becoming harder and harder to encourage him out, and because the same things always happened, we ended up in a pretty bad spiral.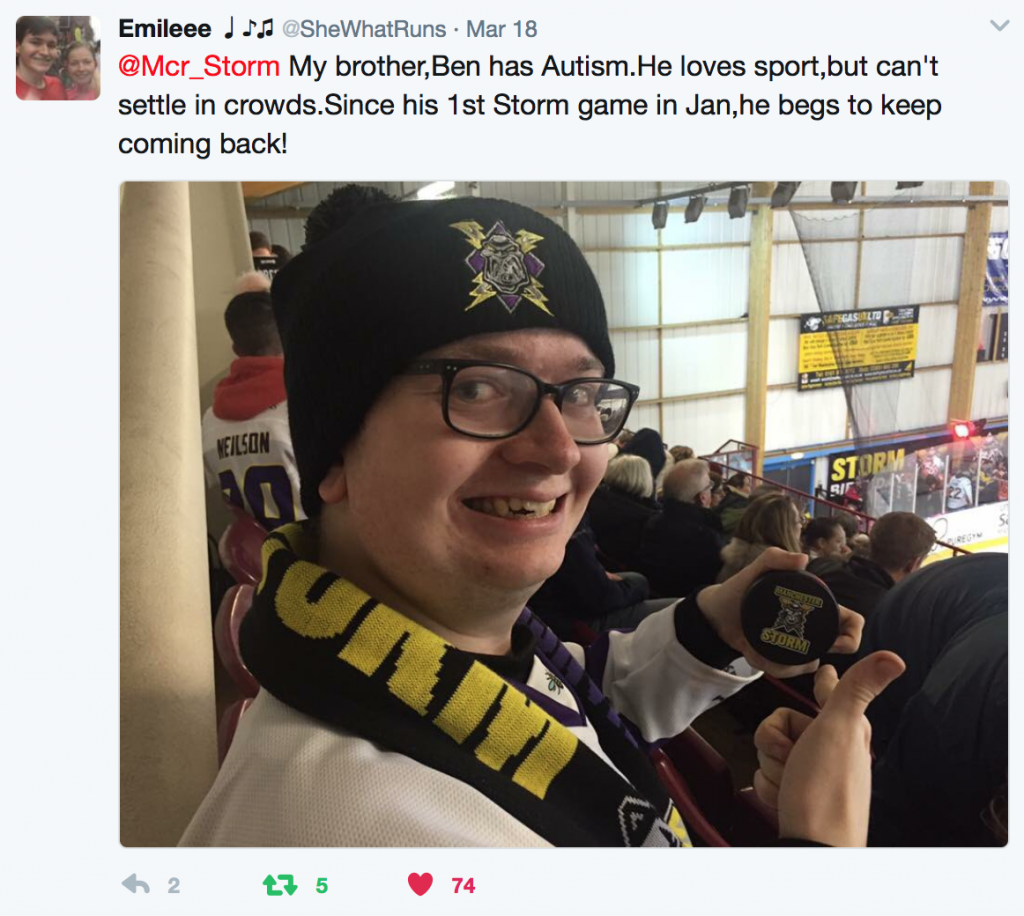 At Christmas I encouraged him to go and watch Storm. I booked tickets for the Steelers match on New Year's Day. I honestly thought we'd be leaving before the end and never returning, but I was wrong! He loved it – from start to end. He picked the chants up quickly and sang along. He was so animated and excited and he didn't ask to leave once. At the end, he said 'I LOVE THIS!' and that's a phrase he repeats after every game now. When I asked if he wanted to go back, he said yes and made me book the tickets that night for the next game. Our mum noticed an instant difference in him. He's been to almost every home game since. We've sat in almost every block, because he wanted to see what they were all like, but he's very settled now onblock 115. He looks forward to the games- something we've never seen in him before. He gets ready in plenty of time and drags me out of the door. The same people are kind to him each week and he loves to see Lightning Jack and pat him on the back, (quite a lot of times!) He shouts and cheers and celebrates like crazy after every goal and even though he loves it when Storm win, the losses don't bother him, which again is a huge difference. He's quite happy to mingle with the other team's fans and doesn't feel scared by them. You can tell that he just feels so comfortable and as though he belongs. He isn't nervous and doesn't feel intimidated at all. He actually does things that amazes us, like turning to face the crowd and conducting their singing. He even walks himself around the Shelter- unsupported. That's how safe he feels.
Having something he loves and actually feeling safe and secure enough to be a regular part of that has really changed him. He rushes into school to update his teachers or show them his latest haul from the shop and he sings the chants loudly, whenever and wherever we are! (Even in a busy shopping centre) His confidence is sky high. Another huge difference is his perseverance. He has quite a lot of mobility problems too and he isn't the greatest at staying very calm or at keeping on trying with something he finds difficult, but he asked me one day to take him skating, 'On Storm's ice' is how he worded it. He did find it difficult and he was frustrated at first.
Usually, he would have become very angry and given up, but I've never seen him so determined to succeed- there was no way he was coming off that ice until he was happy with himself. He clung onto my arm for a while (very misguided faith!) and then told me he wanted a rest. I left him sat and spied on him, but when he thought I wasn't looking he got straight back on the ice on his own and managed to get himself around. He'd broken out in quite a sweat, but he'd done it! That is something he's never done before and we remind of it when he starts to give into other things, so overall it's made him a better person in so many ways.

I've promised him a season ticket for next year. I don't think I've ever seen him so excited! He's changed so much in just under 3 months that I really can't wait for next season and to get him involved more and get him even more sociable. He's already a much happier and more confident person all thanks to the friendliness of Storm! My mum and myself can't thank everyone enough, because a happy Ben means a happy family!
Welcome to the #StormFamily Ben!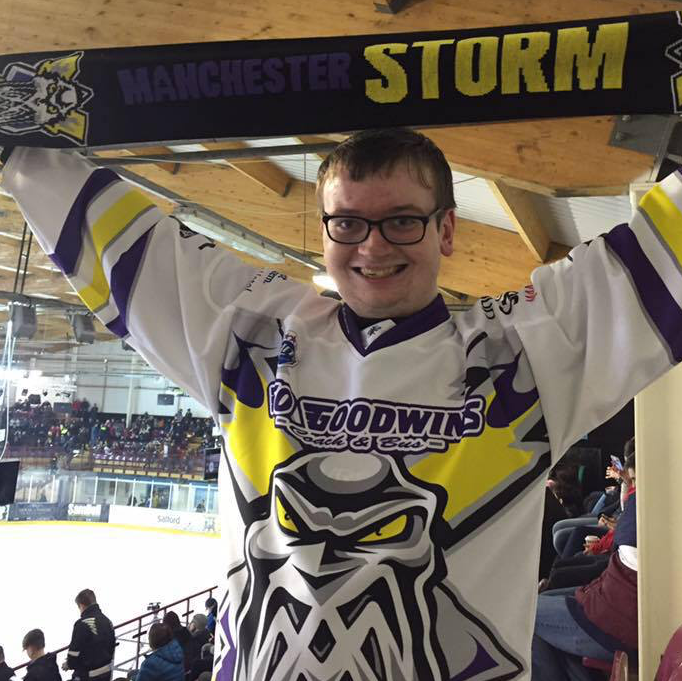 Do you have a story like Ben & Emily's? If so, we'd love to hear – you can email them to our Social Media Manager, Simon Bailey, at simon.bailey@silver-blades.co.uk! #WeAreStorm #ATTWWY