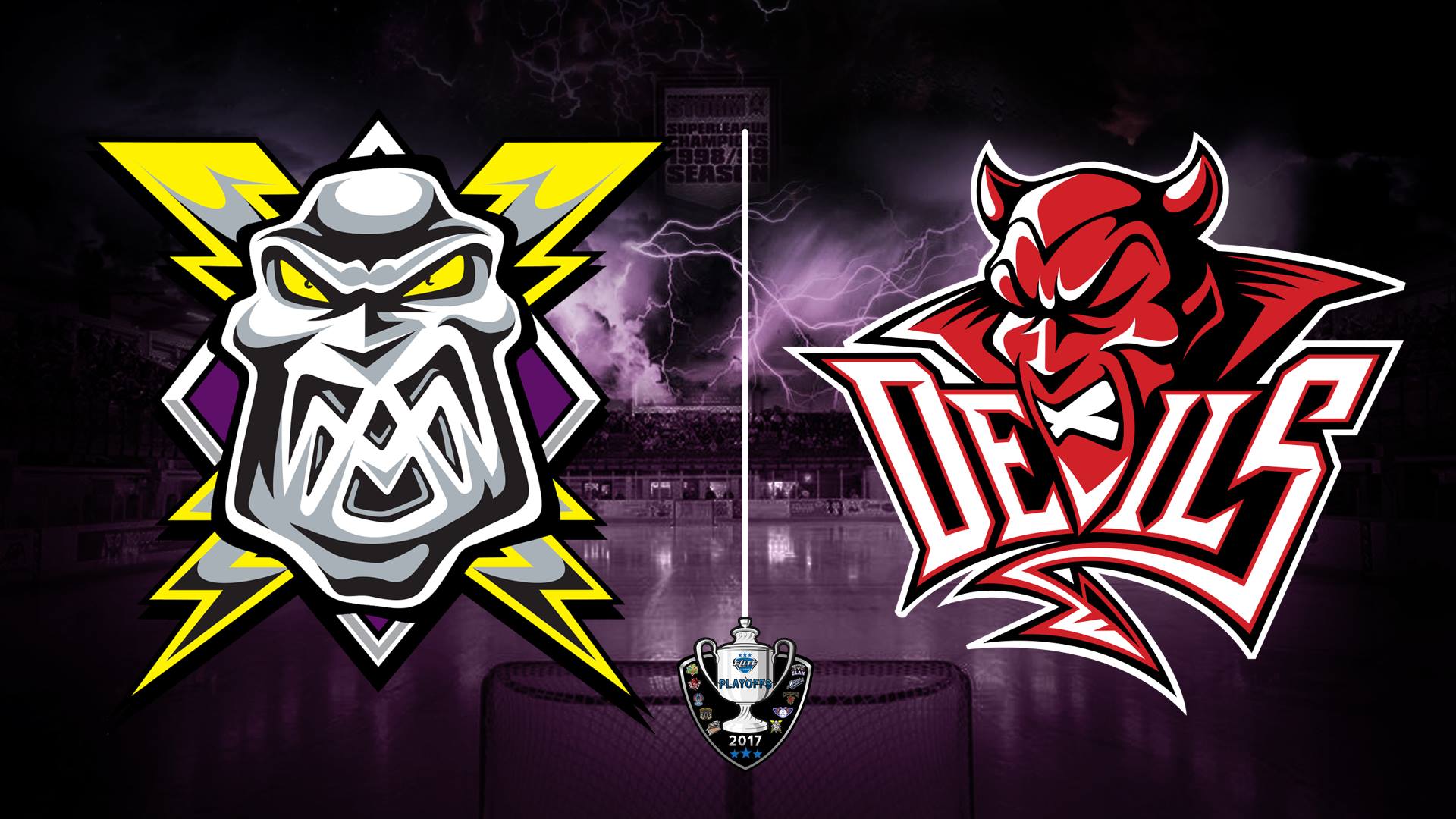 Latest News
Match Previews
Match Preview: Storm @ Cardiff Devils
TICKETS: The Go Goodwin's Manchester Storm are back in action THIS coming Sunday 2nd April when we take on the Cardiff Devils in the FINAL home game of the season, the Playoff 1/4 Final! Faceoff is at 5:30pm and tickets can be ordered online, by calling the box office on 0161 926 8782, or in person at the Box Office!
It's playoff time for your Go Goodwins sponsored Manchester Storm as they travel to Cardiff to take on the Devils at Ice Arena Wales this Saturday 7:00 pm.
A place in the playoff weekend is the prize both teams are battling for this weekend, and the team with the highest aggregate score over the two legs will play in Nottingham next weekend. Cardiff secured their spot in the playoffs by virtue of winning the league, and come into the game after splitting last weekend at home to the Belfast Giants. Saturday's game saw the Devils overcome the Giants 4-3, with Sean Bentivoglio grabbing hattrick. This was followed up by a 5-3 Giants victory on Sunday, a Layne Ulmer double was not enough to secure all 4 points for Devils. Storm secured their playoff place with a shootout loss at home against the Nottingham Panthers, after Coventry Blaze were unable to get any points in Sheffield. Mario Trabucco and Trevor Johnson getting the goals that took the game to overtime, with Matt Bissonnette getting the only Storm goal in the shootout after an impressive move.
Devils – Storm this year: The Devils and the Storm split the games in Cardiff during the regular season, with Storm winning 3-2 in December followed up with a 5-3 Devils victory in February. Top-scoring for the Storm have been Mario Trabucco, with 1 goal and 2 assists, and Omar Pacha who grabbed 3 assists in the 2 games. In nets, Mike Clemente saved 62 out of 68 shots for a 91.2% save percentage. Sean Bentivoglio and Andrew Hotham both got 3 points for the Devils in the two matches, both players getting 3 assists. Ben Bowns saved 39 of 45 shots, for a 87.7% save percentage.
One to watch: The playoffs are often a time when experienced players step up and make the difference, and Layne Ulmer is one of the most experienced players in the Devils lineup. The Saskatchewan-native has played in 133 playoff games in his pro career, and has been one of Cardiff's top performers recently.
MATCH DETAILS:
Game at the Ice Arena Wales
Doors open from 6:00pm
Face-off at 7:00pm
Live Twitter updates from the game will be via StormLive
Live stream can be bought from www.icetime.tv
Storm will be in their WHITE playoff jerseys