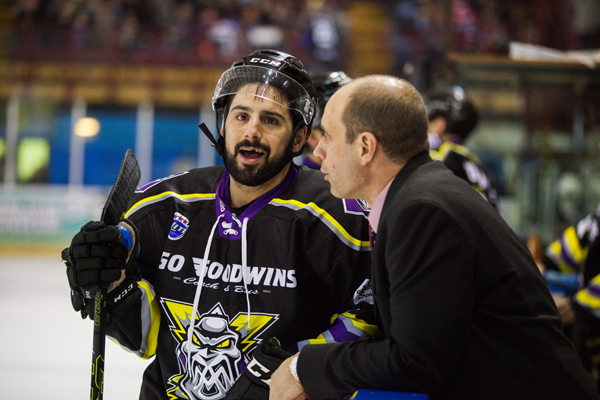 INTERVIEW: Morin – 2017 Battlers Similar To 2002 Finalists
TICKETS: The Go Goodwin's Manchester Storm are back in action THIS coming Sunday 2nd April when we take on the Cardiff Devils in the FINAL home game of the season, the Playoff 1/4 Final! Faceoff is at 5:30pm and tickets can be ordered online, by calling the box office on 0161 926 8782, or in person at the Box Office!
Manchester Storm assistant coach Mike Morin says the team's character this year is one trait similar to the team that reached the Super League Play-off final in 2002.
Morin was a scorer 15 years ago when Storm last played in the play-offs, losing 4-3 to Sheffield Steelers in the final on that occasion.
And the Storm legend, who will have his #15 jersey retired next season, looked back on his experience when the bottom of the table team went all the way to the final.
"We didn't have the best team in the world, but we peaked at the right time," Morin said. "We were underdogs and I think we had the hardest road in, without a doubt.
"We carried a lot of injuries, which I think bonded us as a team and we went to the final on the back of some gutsy performances.  It was a lot of fun and a great weekend.
"Everybody probably took us for granted, not being the best team that year, but we certainly showed we were better than had been anticipated.
"There are comparisons between the team this year and the team I played in 15 years ago.  Omar has put together a team with a lot of character.
"We didn't get the results at the time, but we stuck together and battled every night.  We didn't give up either and that's the same as the team this season.
"We've been down more than up, but we never stopped and to get three out of four points against Nottingham in the last two games when it was crunch time proves what this team has."
Morin and his Storm team 15 years ago finished bottom of the Super League, but came through their play-off group in fourth place to set up a semi final with Ayr Scottish Eagles.
Storm, coached by Daryl Lipsey, squeezed past the Eagles 2-1 to set up a final with the Steelers, but went down 4-3 after penalty shots.
Morin now works with Omar Pacha's class of 2017 and like the 2002 team, come in as heavy underdogs when they face league champions Cardiff Devils in this weekend's quarter final.
The 46-year-old insists all the pressure is on Andrew Lord's men going into the double header and believes despite their trophy winning exploits, may not have seen the best of them.
But, drawing on his play-off experience, has urged the current Storm players to give it everything, despite the odds being against them.
He added: "All the pressure is on them for this weekend and, like 15 years ago, we go in as the underdogs.
"But Cardiff have a smart side over there and we've had some good results against them so maybe we haven't seen the best of the Devils yet.
"It's a little disturbing, but if we're very ready, it could be the heck of a series, but we're under no illusions at the task ahead.  We have to be on it 110% in every department.
"That's a solid team, but a good result in Cardiff can give us an advantage.  I think our rink is the last place anyone would want to go to for a game like that.
"Going into the weekend, we have to pretend this is our Stanley Cup weekend.  Play-off hockey is a whole different thing and mentality.
"Carry yourselves professionally.  We've earned where we are so act like it, play like it and don't get too up or down as things can change quickly and just enjoy it.
"Don't take it for granted as it may not come around again and my biggest message, don't have any regrets.  Leave it all out there and whatever happens, will happen."
AUDIO: