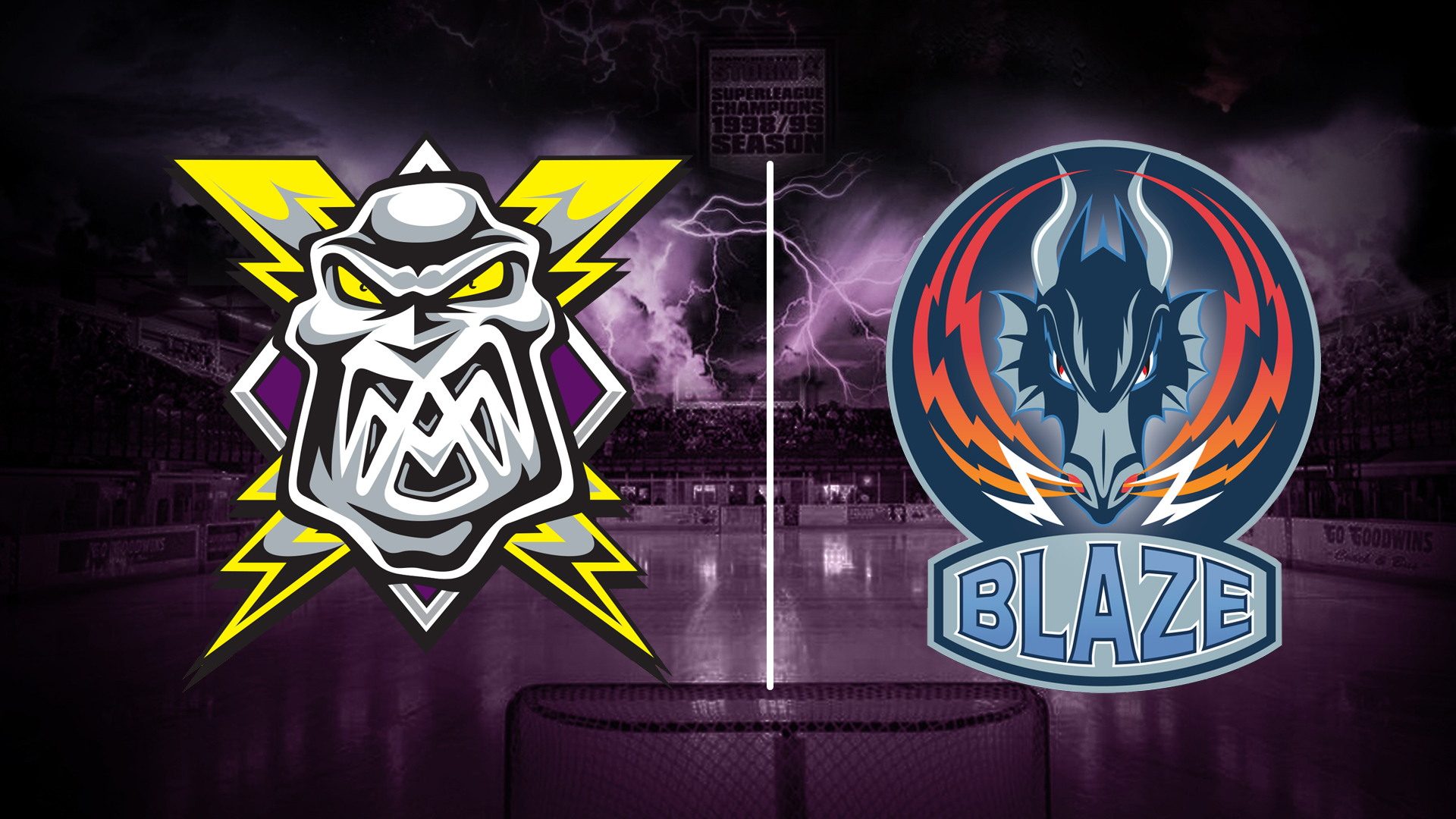 Match Preview: Storm vs Blaze! Sunday @ 5.30pm
The Coventry Blaze are next up at home for your Go Goodwins Sponsored Manchester Storm, facing off at 5:30 pm on Sunday 18th September at Silver Blades Altrincham in Challenge Cup action!
The Blaze and Storm are no strangers to each other this season, facing each other in 2 highly contested, tight pre-season friendlies. In the Storm Shelter, the teams shared 13 goals between them, with the Blaze nicking the overtime winner after a frantic finish to the game that saw the Blaze score twice in the last 2 minutes to level the game up 6-6. Storm goals from Cartier, Phillips, Harding and Trabucco were not enough for victory and Brett Robinson grabbed the 3 on 3 overtime winner for the Blaze. In the return fixture at the Sky Dome, the game finished 3-3 in a "foggy" game. Phillips, Heatley, and Prince getting the Storm goals and backup netminder Phil Spanswick impressing in his first Storm appearance.
Both teams were in action on Saturday night, the Storm made the long trip up to Braehead where we faced the Clan in Elite League action. Storm skated away with a 2-1 victory, with both goals coming from #26 Darian Dziurzynski. Meanwhile, Coventry faced the Sheffield Steelers at home in the Challenge Cup, where they went down 3 goals to 4 to the Yorkshire side.
Prior to Saturdays matches, both teams had started their Challenge Cup strongly. Coventry overcame the Nottingham Panthers 3-1 at home thanks to goals from Bombis, Jorgensen, and Godfrey. The Storm suffered a narrow loss on the road to Sheffield, before overcoming the Cardiff Devils 4-2 in the Shelter last weekend. Coventry have also started their league campaign well, taking Belfast to overtime before succumbing to a David Rutherford goal in their only game so far.
Qualification for the quarter finals is a key target for both clubs, so both teams will be battling hard to get the 2 points.
One to watch: Shawn Boutin is a calming presence on the Blaze blue line, who likes to control the play and makes a good first pass.
MATCH DETAILS:
Doors open from 4:30pm
Face-off at 5:30pm
There is NO live stream
"Shirt Off The Back" is D-man #44 Trevor Johnsons CC shirt
50/50 & "Chuck A Puck" will also be running! Buy your tickets from sellers around the rink!