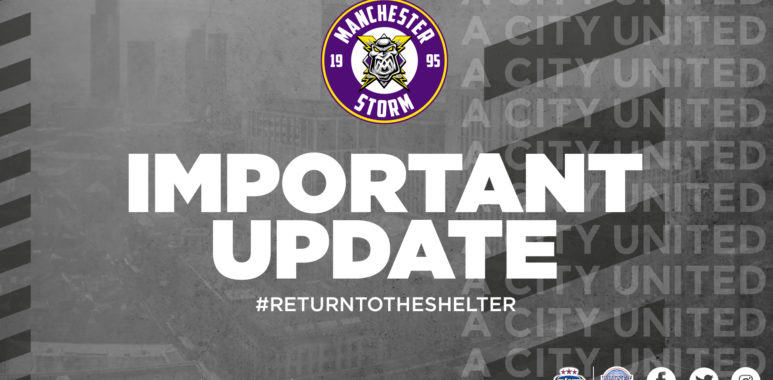 MANCHESTER TO PLAY NOTTINGHAM ON NEW YEARS DAY
Manchester Storm are delighted to announce the club WILL play on New Years Day after it was agreed the Nottingham Panthers would make the trip to the Storm Shelter on Saturday 1st January 2022.
As the news broke that the Sheffield Steelers would enter covid protocol, the club immediately began to look for a replacement to fill the void left by Sheffield so we could still fulfil our New Years Day fixture.
The club would like to thank the Nottingham Panthers organisation for stepping in on short notice.
Losing our fixture on Boxing day, as you can imagine was very tough for the club. Although the opponent has changed, the goal remains the same, to pick up two Elite League points and win in-front of a sold out Storm Shelter. Manchester, we need your support and we want to see you all on New Years Day as we bring in 2022 together!
Tickets for our New Years Day fixture are still available and can be found online HERE or by calling 0161-926-8782 or in person at the Planet Ice Box Office!
Blocks 103, 104, 105, 108, 109, 110, 113, and 114 are close to capacity to please book as soon as possible to avoid disappointment.
Tickets will automatically be transferred and face-off remains 7PM. Doors open 6PM.
A MESSAGE TO SHEFFIELD STEELERS FANS
Sheffield, thank-you for your patience whilst we manoeuvre through this difficult time.
We are working on scheduling the Manchester v Sheffield fixture, with more news expected on this imminently. If you would like to move your tickets from the New Years Day fixture to the re-scheduled date (TBC) please contact the Planet Ice Box Office on 0161-926-8782 once the date and time has been officially announced.
We understand that the vast majority of Sheffield fans will want to watch their team play, but you are more than welcome to join and support us (hopefully) beat the Panthers at the Storm Shelter and if not, please be patient whilst both clubs work on a re-scheduled date at which point this will be communicated across our website, social media channels and newsletter.
We should have a re-scheduled time and date for this fixture within the next 24hrs – once again, thank-you for your patience.
You can also contact Planet Ice on 0161-926-8782 to move your seats to the fixture on the 19th February 2022.
A MESSAGE TO NOTTINGHAM PANTHERS FANS
#WeAreStorm | #Manchester