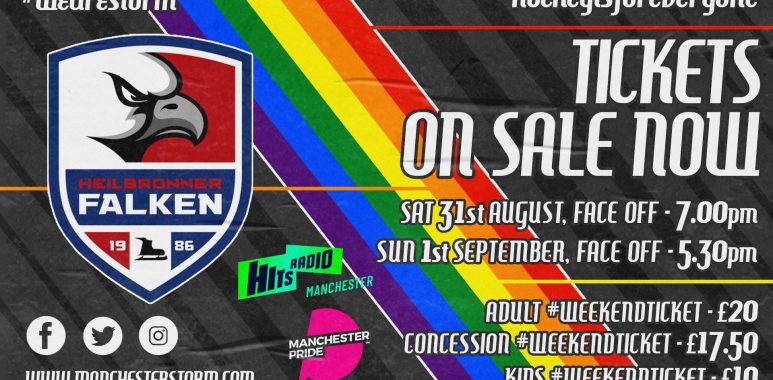 Manchester Pride joins forces with the Storm!
SEASON TICKETS: Don't miss a moment of the action. Season tickets can be ordered online here, by emailing seasontickets@storm-office.com, or in person at the Storm Sports store.
Manchester Storm are thrilled to announce the preseason weekend against DEL2 side, Heilbronner Falken will be #PrideWeekend in the Storm Shelter. The club will team up with local charity, Manchester Pride as an extension on Pride Festival – which takes place across the city centre this Bank Holiday weekend. Saturday 31st August and Sunday 1st September will see the Storm celebrating he LGBT community. The match night proceedings will be hosted by the Manchester Pride Charity.
The club and Manchester Pride will also look to collaborate for the wider Elite League weekend in January 2020, as part of the 'You Can Play' project.
Not only is hockey back, but the Storm will also be wearing a brand-new special edition Pride jersey for these pre-season games. We would love to see our fans join in and turn up in pride colours! We want to see everyone in the Storm Shelter showing their support for this fantastic cause.
The local charity will be presenting the Man of the Match awards on both nights and resident Storm DJ, 'John Ardolino' will be unveiling a Pride Music playlist to entertain the hockey family throughout the weekend!
Keep your eyes on our official website and social media channels THIS weekend as we unveil the special edition Pride jersey and more information on this very special event!
About Manchester Pride Charity
Almost all charities and fundraising events come from humble beginnings and most share a common link, in that the reason they started was through necessity and the fact that someone or a community needed help. Our story is no different.

Starting life as a simple fundraiser, activities marking LGBT+ life in Manchester began as a 'bring and buy sale' organised by a few bars and members of the gay community on an August bank holiday weekend. Their goal was to raise some much-needed money for AIDS organisations in the city who were dealing with the beginning of the epidemic.
Tickets are on sale NOW including a special #WeekendTicket, which gives you access to BOTH home games against Heilbronner Falken!
Adult #WeekendTicket £20
Concession #WeekendTicket £17.50
Child #WeekendTicket £10
Read more about Manchester Pride Charity here
Our special Weekend Ticket can be purchased from the Planet Ice, Altrincham Box Office or by calling 0161-926-8782!