Manchester Storm OSC Members 2016/17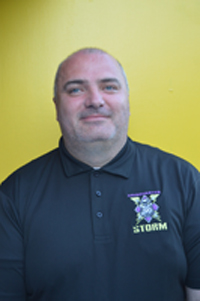 Name: Nick Barlow
Title: Chairman
Nick watched Manchester Storm in the 'Arena' days and was a season ticket holder in Block 103. Whilst following the Storm (both home and away) he was privileged to attend a number of European (EHL) Cup away games, and two Pre-Season Training Camp Tours across Germany and Switzerland. He is the proud owner of a Brad Rubachuk (#41) Pre-Season Training Camp Jersey. Now a season ticket holder in Block 107, Nick was delighted to "Own and Loan" Zane Kalemba (#40) Home Shirt in the Storm's returning season. He is also an active member of The Forecast – Manchester Storms Podcast, and can regularly be heard providing game highlights and predictions, as well as bringing a fans perspective to the return of Manchester Storm.
Nick is currently the Chairman of Broadheath Central Junior Football Club, which incorporates 500+ members and offers football from little kickers through to open age (and soon to include Veterans). He is also Team Manager of U10 Athletico, U13 Avalanche and U17 Falcons football teams. As well as these roles, Nick is age group coordinator for U10s and U13s, coordinator of the club's Chartered Standard Accreditation and holds the additional position of lead Child Welfare Officer.
Nick is the Company Director of a "Management Consultancy Services" business and lives in Brooklands. He is a father of 3 to sons Harry, Sam and Thomas, and has been married for 18 years to Lisa.
Over the years Nick has visited and watched many NHL games across the USA including the legend Wayne Gretzky at Madison Square Garden. Nick's favorite football club is Liverpool Football Club, a team he has supported and followed since 1976. His favorite other sport (excluding Football and Ice Hockey!) is Major League Baseball.