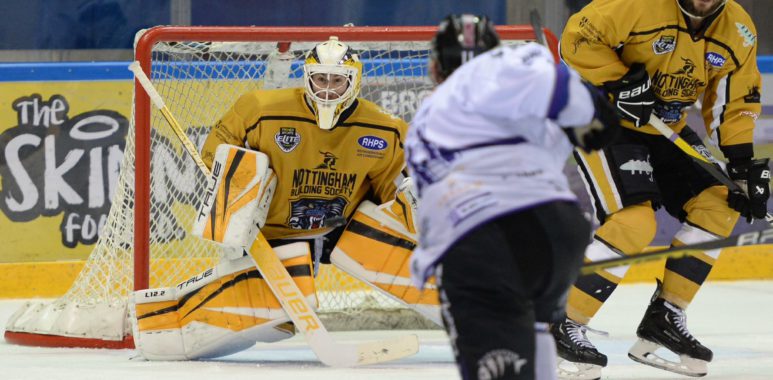 MANCHESTER PICK UP HUGE WIN IN NOTTINGHAM!
Manchester Storm ended their six-game losing streak and in the process spoiled Corey Neilson's first game back in Nottingham as Panthers Head Coach with a well-earned 3-1 victory at the Motorpoint Arena on Sunday afternoon.
Although the Panthers had the better of the early play in the opening period, Storm grew into the game and after a couple of good spells took the lead with 16:05 on the clock – Cole Carter picking the puck up behind the net after Dallas Ehrhardt's shot went wide, and wrapping-around Alex Dubeau to open the scoring. Jeremy Welsh levelled at the second attempt in front of Jeremy Brodeur with 26 seconds left in the period.
Brodeur was on excellent form in period two, pulling off a point-blank save when Jordan Kelsall looked sure to score. That allowed Storm to re-gain the lead with 4:09 left in the second after Stephen Johnson's initial shot was deflected and the puck fell kindly to Cam Critchlow to put the puck home.
Brodeur stopped all 11 shots that came his way in the final period as the home side pushed for an equaliser, and they got close in the final minutes with the puck a bounce away from rolling over the line. Anthony DeLuca put the final nail in the Panthers' coffin with an empty net finish with six seconds remaining.