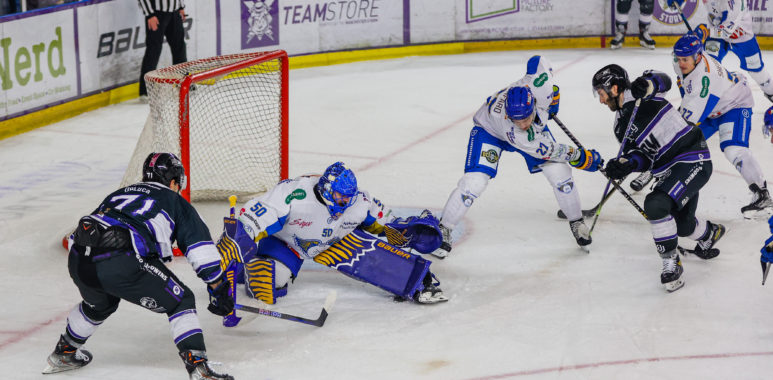 Manchester defeated at home by battling Fife side
Storm welcomed the Fife Flyers to the Shelter on Saturday evening looking for an important two points ahead of a busy festive schedule. In the 42 previous games, in all Elite League competitions, the results have been fairly even with Storm ahead by two wins and the Flyers having scored just one time more than Storm.
Tempers flared early on in the game when Fawcett dropped the gloves against Johansson after the former laid a questionable hit on Herrmann. Fawcett acquired a total of 17 penalty minutes for his troubles. Despite a collective 27 shots on goal and numerous power play opportunities neither netminder could be beaten in the scoreless first period.
It was Sandstrom for the Flyers who broke the deadlock a minute into the second, combining with Laakkonen and Sherbinin on the power play. Emmerdahl added another for the Flyers beating Lavigne at his near post with a well placed wrister from the hash marks. Ginn called a time out shortly after the Flyers extended their lead to three – Phillips scoring from a play straight from an offensive zone face off.
The Storm came out from the team talk firing on all cylinders but failed to find a way past Owen in the Flyers goal who made some impressive saves to maintain his teams advantage heading in to the break. Kivilahti made Storm's route back in to the game seem unlikely as he scored to make it 4-0 within the first minute of the final period.
A fifth followed for the Flyers, Laakkonen finding the back of the net this time. With four minutes remaining the Storm finally got on to the score sheet when Simmonds lofted the puck over Owen on the power play. The final goal proved only a consolation of sorts as the Flyers celebrated the win on this occasion.